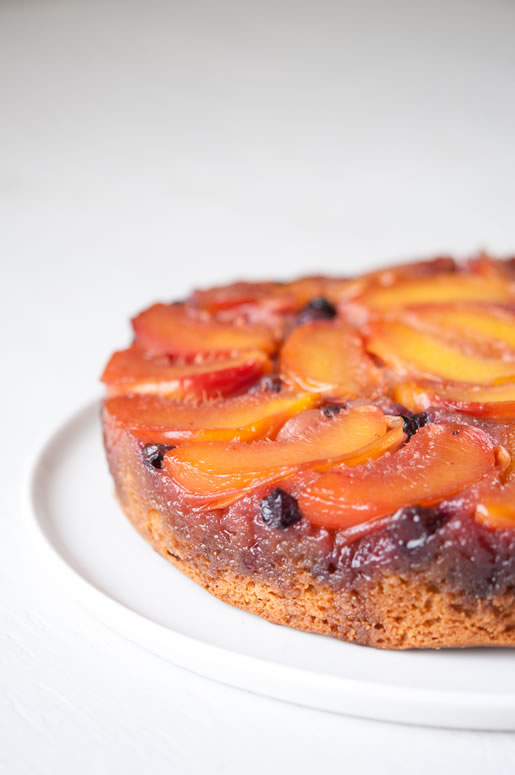 Attacked by a week of intense heat back in June, I resigned to merely survive the summer -- and not expect to enjoy it. Back then, my energy was zapped and even the produce at the farmer's market looked defeated. All I wanted was fall foliage and the feel of cool crisp air.
The last days of July offered a respite, and then after a series of of fantastic events in August, I was ready for a couple of extra months of summer. It started with our anniversary, then a fun, romantic and oh so delicious trip to Montreal, followed by our annual visit to Ogunquit, where I reunited with my favorite Blueberry Martini.
After the vacations and with Labor Day behind us, I've once again discovered the joy of easy baking with summer fruits. I've selected my favorite, nectarine, and blueberries (thank you Ogunquit for the inspiration). I prefer nectarines over peaches for their sweet and tart balance. Blueberries adds extra fruitiness and a good dose of antioxidants.
Compared to other cakes, this Nectarine-Blueberry Upside Down Cake is pretty easy to make. There's no need for frosting or additional decoration. A careful arrangement of fruit wedges will reward you with a visually enticing dessert. All it takes is 15 minutes of patience...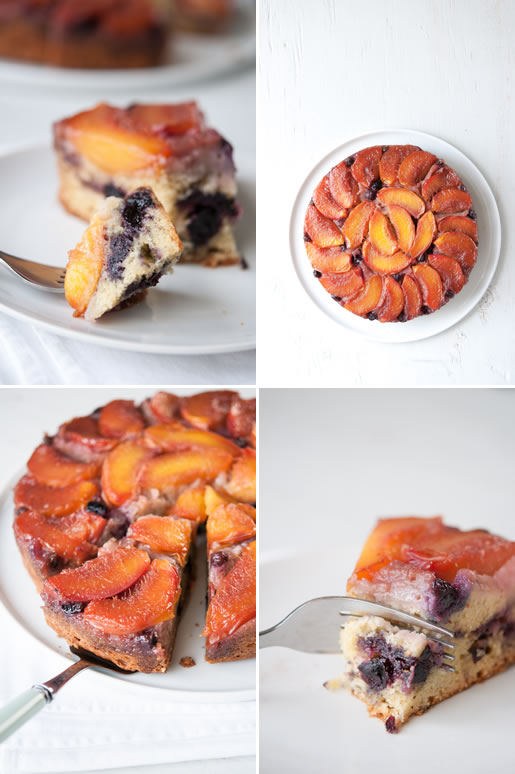 yield: One 9-inch cake
Blueberry Filling
Ingredients 1-1/2 cup (6-3/4 ounces) fresh blueberries 1/2 cup (3-1/2 ounces) granulated sugar 1/2 teaspoon lemon zest 1/8 teaspoons fine sea salt 2 teaspoons Sure-Jell for low-sugar (pink box) 2 tablespoons brandy 1 teaspoons fresh lemon juice
Directions 1. Coarsely smash blueberries in a medium saucepan with a potato masher; add sugar, pectin, lemon zest and salt, stir to combined. Bring mixture to a simmer over medium heat, about 3 minutes. Stir frequently to dissolve pectin and sugar. Add brandy and continue to cook mixture until thickened, about 2 more minutes. Remove from heat and stir in lemon juice. Set aside to cool, about 20 minutes.
Cake
Ingredients 10 tablespoons (1-1/4 sticks) salted butter, softened 1/2 cup (4 ounces) packed dark-brown sugar 4-5 fresh nectarines, pitted and cut each into 8 wedges 1/4 cup of fresh blueberries (optional) 1-1/2 cups (7-1/2 ounces) unbleached all-purpose flour 1-1/2 teaspoons baking powder 1/2 teaspoon baking soda 1/2 teaspoon fine sea salt 1/2 cup (3-1/2 ounces) granulated sugar 1/4 cup (2ounces) packed light brown sugar 2 large eggs, room temperature 1 teaspoon pure vanilla extract 1/2 cup sour cream Blueberry Filling, recipe above
Directions 1. Adjust oven rack to middle position and heat oven to 325℉. Place 4 tablespoons butter in a 9-inch round cake pan and melt in oven. Remove pan from oven and sprinkle dark brown sugar evenly over butter.
2. Arrange nectarines wedges in a decorative pattern over brown sugar mixture in pan. Sprinkle fresh blueberries to fill the gap between wedges (if use). set aside. In a medium bowl, stir together flour, baking powder, baking soda, and salt.
3. In a large bowl, using an electric mixer, beat remaining 6 tablespoons butter and both sugars on medium-high until light and fluffy, about 3-4 minutes. Beat in eggs, one at a time, until combined. Add vanilla and mix until just combined. With mixer on low, add flour mixture in three additions, alternating with two additions sour cream, until fully incorporated.
4. With a spatula, spread half the batter over nectarines, smooth surface. Spread blueberry filling over batter into an even layer; leaving about 1-inch border around the edges. Spread remaining batter evenly on top and smooth surface with the spatula.
5. Bake until golden brown and toothpick inserted in center of cake comes out clean, 55-70 minutes. Cool cakes in pan on wire rack 15 minutes, Run a knife around edge of pan and invert cake onto a serving plate. Serve warm or at room temperature.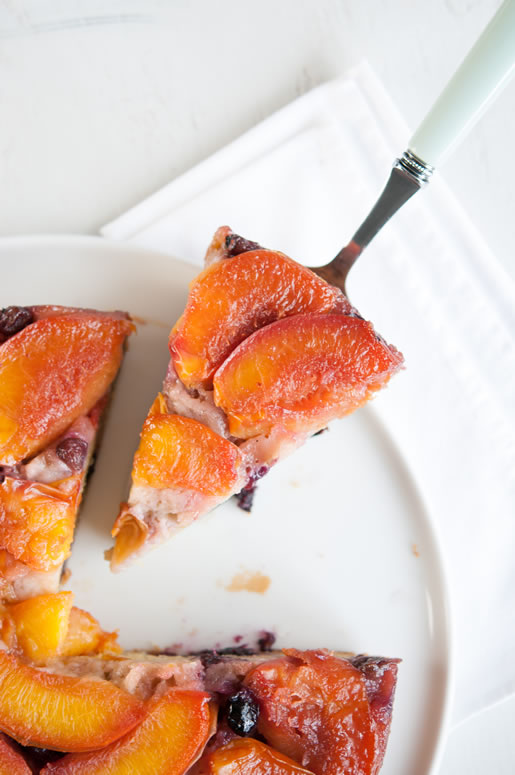 Popular in the Community