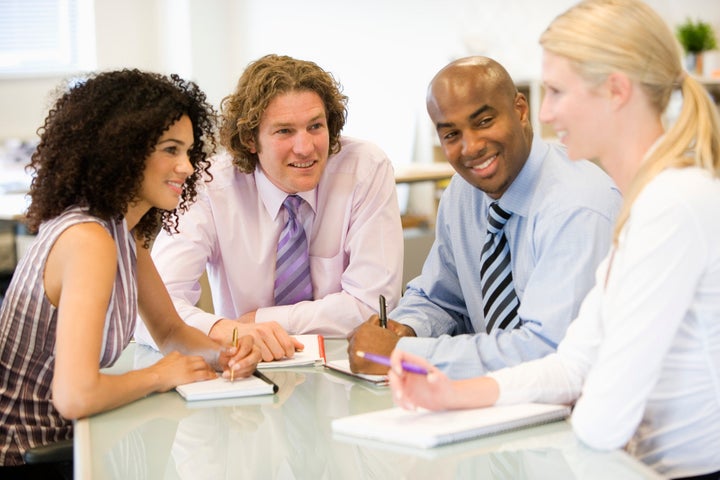 Jonathan Greenglass graduated in 2009 from Holy Cross with a degree in Sociology and something maybe even more important, a job. He was hired as an analyst by the investment banking firm, Sandler O'Neill, and attributes his success in getting the job to the alumni network.
Greenglass started reaching out to the alumni network early -- while he was still a sophomore -- targeting alums in financial services. He sent an introductory email to 10 individuals, most were willing to meet, and some allowed him to shadow them. After each meeting he asked for a referral, one of which led to a summer internship at JP Morgan Chase. Armed with some relevant experience, he continued to network through the alumni, "I approached everyone from an associate to a partner to get different perspectives." He eventually got his dream job.
Chris Perry took a similar approach. While an MBA student at William & Mary's Mason School of Business, he worked in the career center and learned firsthand which alumni approaches worked and which ones didn't. Rather than calling and asking for a job, which he says is "me focused", Perry turned the call into an informational interview asking how they broke into the business, etc. Through this effort he was offered a job at Nestle Purina, which he turned down because he had already accepted a brand management position at Reckitt Benckiser, through another alumni connection. Perry, appreciative of the help he got along the way, started Career Rocketeer a networking site to help others.
Recent grads are not the only ones getting jobs through alumni networking. Josh Hall with 10 years of work experience used his alumni network at the Naval Academy to land his current position as Director of Real Estate Projects at the real estate firm, Trigild. Emmett Daly, the partner at Sandler O'Neill who hired Jonathan Greenglass, agrees that the network is not just for entry level people. Daly recently hired a senior person into the firm whom he met through the network, "I know a number of senior people who got jobs through alumni connections they had just met."
Another great vehicle for increasing job prospects are alumni networking events. Sam DeHority took this route after hitting the jobsites hard. He had applied to over 50 positions, but hadn't gotten any responses, "I was scared out of my mind thinking I'm not going to get a job." That's when he noticed that Ithaca College was having an alumni event. He attended and met an Associate Editor at Men's Fitness. Over the next few months, DeHority stayed on his radar screen and eventually landed a great position at the magazine.
Doreen Amorosa, Associate Dean & Managing Director of the McDonough School of Business at Georgetown University, says their alumni network is stronger than ever, "When we ask our alums to help with career activities like informational interviews, it's safe to say over 90% say 'yes'".
Employee referral programs are on the rise, which gives alums an added incentive to help, so alumni networks should absolutely be leveraged. Here are some things to keep in mind:
Target -- use the alumni database to target specific individuals in your field. Send them an email introducing yourself and ask for their advice (e.g., How to leverage trends in the industry?). Don't ask for a job. Do ask for a referral.
It's a Numbers Game -- but a relatively small one, according to what we heard and reinforced by Doreen Amorosa. She recommends job seekers contact 20 alumni, "That seems to be the number that works". She should know -- last year 88% of McDonough's 250 MBA students had jobs when they graduated thanks to the network.
Attend Alumni Events -- you'll meet a ton of people who you automatically have something in common with -- your school. It's an easy icebreaker to ask when they attended and what they studied. These events are a quick way to expand your network exponentially and help you stay in touch both personally and professionally.
Network Before You Need Anything -- This is the best way to manage your career. When you meet people without an agenda it takes the pressure off and allows the conversation to flow more freely. There's a strange phenomenon that occurs when you don't ask for anything -- people will usually offer you something.
In this job market you need to be strategic. Tapping into your alumni network is a smart and effective way to land a great job. As Emmett Daly says, "With such high alumni participation, the question would be, why not use it?"
Calling all HuffPost superfans!
Sign up for membership to become a founding member and help shape HuffPost's next chapter