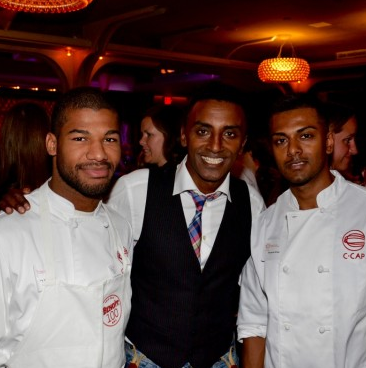 As the new hit movie, Inside Out, so powerfully illustrates, being a kid is tough. You have all these emotions, you don't know what to do with them and that's even before puberty kicks in and your hormones go beserk. As I describe in my new young adult memoir, Make It Messy, when I was a 14-year-old kid growing up in Sweden, I didn't know how to answer the dozens of questions that were swirling in my head. My adoptive father was a Phd, but I was not academically inclined. My parents were also white and Swedish, I was black and Ethiopian. My sisters and I were the one of only a handful of black kids in our entire city. Soccer was my passion and I dreamed about becoming a professional athlete. But then when I was in the ninth grade, I was cut from the team. Not because I wasn't good, but on a team of Nordic big kids, the coach didn't trust that my scrappiness and ball skills could compensate for my being small and whippet thin. By my second year of high school, where I struggled to pass just the core requirements, my parents and I knew that college wasn't an option. Cooking saved me, figuratively and literally. Cooking Sunday supper with my grandmother sparked my interest and helped me land a scholarship to culinary school, which launched the career I have today.
In our technology driven age, there are fewer and fewer paths to success that don't start with a strong foundation in STEM -- Science, Technology, Engineering and Math. Cooking is a really old fashioned profession because while there is some math, some science and increasingly, some technology, it has much more in common with metal work and wood working, it's a very hands-on craft. That's why I'm so passionate about C-CAP, which helps disadvantaged, mainly minority youth where college might not be an option pursue careers in the culinary arts. Restaurants are great places to launch a career because of the demand within the food services industry, the inability for these jobs to be outsourced and the opportunity for career advancement and long-term career growth.
A professional kitchen is a band of misfits in the best way. One of the kids we've mentored in C-CAP was this super awkward, shy girl. She wasn't good at sports. She wasn't the popular girl who could crack jokes and chat up anyone in the room. But in the kitchen, her natural gifts emerged almost like magic. She was a rock star in the kitchen. You could see how at home she was as she moved through each step of preparing a dish. But we would have never had the opportunity to witness what was really a transformation without a program like C-CAP. In honor of C-CAP's 25th anniversary this year, I've launched a fundraiser to try and help raise 25K for this amazing program. More information can be found here, including how you could win a trip for two to Bermuda.
At its heart, C-CAP is one of the best afterschool programs in the nation. If you give $25, then you can be confident that what your donation will give a kid a great afterschool cooking lesson that will keep her or him off of the streets and give them some practical skills to boot whether or not they ever chose a career in culinary services. For those that do, the stars of the C-CAP program are also guaranteed full scholarships to culinary school. Some of those kids will take that training and find their way into other areas of the hospitality industry. A few of those kids who get full scholarships will work in professional kitchens and without a college degree, leave school with the skills they need to earn a good living, buy a house and find a job anywhere in the country, from Portland, Oregon to Portland, Maine and every juicy, make it messy, eating town in between.
And every year, there are one or two kids who have the talent, the skill and the drive to take cooking all the way. Those are the kids who will become the chefs you love tomorrow -- they will be household names. You'll eat at their restaurants, buy their cookbooks, revel in the deliciousness that they create and maybe you'll remember that by giving to C-CAP, you actually invested in all that brilliance. Your gift helped that future chef take the messiness of teenage life and limited opportunities and turn it into something yummy.
REAL LIFE. REAL NEWS. REAL VOICES.
Help us tell more of the stories that matter from voices that too often remain unheard.