Co-authored by Amanda Bohan
"Good morning everyone - need anything?" These simple words were recently tweeted by entrepreneur, bestselling author, and social media icon Gary Vaynerchuck to his nearly 1 million Twitter followers.
Shortly after they were tweeted, numerous followers sent in their random requests, ranging from winning Powerball numbers, a haircut, flowers, suggestions for lunch, a 15-minute phone call to regain one's "hustle," and even a new MacBook Air.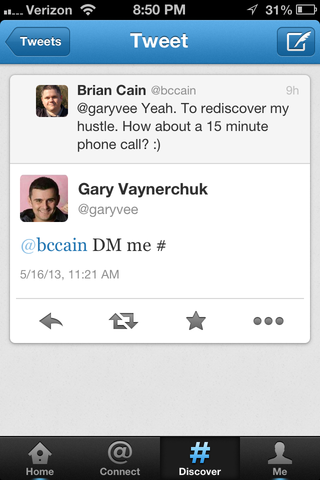 And Gary's generosity apparently came through for at least one Twitter follower, Daniel Bentley, when he tweeted he was "out of eggs." "address? I mean it," said Gary in his usual terse reply. Roughly an hour later, Daniel's buzzer rang and at his doorstep was a box full of twenty dozen or 240 eggs.
"Now I don't know Gary, but he seems like a stand-up guy, so I sent him my address and got back to work," said Bentley in his blog post on Medium, a new blogging site by Twitter co-founder Evan Williams.
One marketing and advertising agency asked for a meeting with Gary on how they "can grow as an agency." Gary replied, "winter - hold me to it."
Yet another request was more life advice, in which someone asked for "A new challenge?" and Gary replied, "your in full control."
And at least one person turned the tables on Gary, asking him if he needed anything. Gary said that he was "good."

But not all the requests were met. For instance, one follower who asked for a new MacBook Air was told "hmmmm big ask" while another who requested, "three swans, a barrel of spiked apple cider, and a tweet back that says "ASH WINS."" was told, "Too much?"
Quite a few people also asked for an advanced copy of his upcoming book entitled "Jab, Jab, Jab, Right Hook," but those requests were replied to with a simple "can't."
Random acts of kindness. It's something we all should practice more of in life. Doing something for another not because it's going to benefit us, but just because. (The ironic thing is that we usually get when we give anyways.) And while we might not all be able to give 200 plus eggs away like Gary, we can at least do something. And a little something can go a long way to brighten up someone's day.
Of course, "needing something" is a lot different from "wanting something"--the latter of which seems to be the case most of the time.
Still, it's a great gesture he's doing and hopefully those people who receive random acts of kindness will in turn pay it forward. In fact, one person already did. Daniel, the follower who received the eggs, decided to share them with his neighbors, and in turn "the offer was appreciated."
And Gary's generosity extends further, as he's taken on a project to dedicate time to be interviewed by someone for 365 days of the year. "I remember through the years that people were leveraging my interviews to build up their blogs and that felt nice and I wanted to do that for a lot of friends," said Gary in a video interview on the project.
But if you "need" an interview, just note that he's already booked up this year so it will have to wait until 2014.
Amanda Bohan is the founder of Amanda Bohan Marketing, a social media and digital strategy company that works with arts & entertainment clients, as well as a variety of growing businesses and start-ups. Follow her on Twitter at @amandabohan.
Popular in the Community