Text 314-456-5318 to chat about what cleanser you should be using...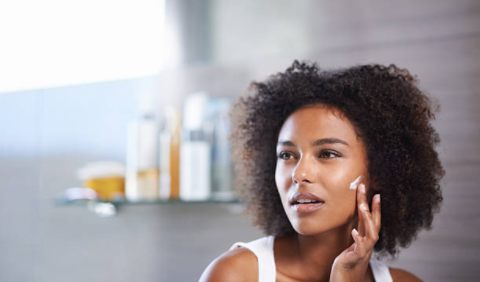 Move over Ulta! It's about time we have a new site that we trust to sift through thousands of skincare brands to find ones that can actually benefit our skin. After over 15 months of research, Yourskincarespot.com, founded by Bianca Townsend, launched in August 2017 with a curated a list of medical grade, Korean and clean beauty products. " It took me years to find cure my own bad skin, so I merged my knowledge of marketing with my passion skincare to develop a platform that sells a select list of the best products in the market." With just a few months online, the website has already amassed a few thousands followers on social who a habit of buying straight from her page. There's no better time to be in the a new brand or influencer in the beauty industry, which is worth billions of dollars. Like the founder herself, you can't have a conversation about beauty without millennials. Whether, pro-aging, face mask or eye creams, Your Skincare Spot seeks out indie and well-known brands to populate their digital shelves. You may ask, what makes them unique? They don't cater to the mass consumer. There are estheticians available to help the customer make the best purchase. With endless space and ideas, Mel Writes talks with the founder of the site, Bianca about her journey of curing her bad skin, her regimen and her inspiration for launching Your Skincare Spot. Go inside our conversation here.
Mel Writes: : Let's start off with your skincare regimen. What is your daily routine?
Founder/Owner of YourSkincareSpot.com Bianca Townsend: My skin is more on the dry side. The first step in my routine is my Creamy Cleanser by PCA. It removes all the traces of the day off my skin and its hydrating. Next, I use VitalEyez + C Serum by Urban Skin Rx. This eye serum is perfect for hydrating the skin around the eye and brightening my dark circles. Since it's now getting colder, I've switched my moisturizer to Pro-Collagen Marine Cream by Elemis. This is one of my favorite steps because my skin is so soft and silky feeling when I use this moisturizer. It's not heavy on my skin yet, so hydrating.
What are 3 brands from your site that are absolute must haves?
My three favorite brands on the site would be Elemis, PCA and Derma E. Elemis is more on the luxury high end. PCA is the highly concentrated line since it's a medical skin care line. Derma E is a cruelty-free, natural skin care line. I use the Purifying 2-in-1 Charcoal Mask from them once a week and it's amazing. It cleans your pores really, especially after wearing makeup.
When did you have your "ah ha" moment to venture into the beauty industry?
Since high school, people knew I was crazy over skin care. Now that was back when we would use rubbing alcohol to clean our skin and toothpaste for pimples. [cringing just the thought] I always just was in the loop with skin care trends. As I got older, my obsession grew and I became really knowledgeable about the skincare basics and brands that worked for me and my friends. My ah-ha moment was when people would ask me what do I use, product recommendations, what dermatologist and esthetician went to. I knew that this was something I was passionate about, so I went for it.
OMG! I totally used toothpaste for pimples in HS, and it worked! LOL, What has been your biggest challenge so far?
My biggest challenge right now is juggling everything. When you launch a business, it's a brand new baby. You don't want everyone to touch it but you need the help. So right now my challenge is developing and finding a solid team to help take this company to the next level. Along with overcoming the fear of adding new people to the team. I know I can't do it all even though I try.
That's definitely something many entrepreneurs go through, but you're protecting your brand identity! What makes Your Skincare Spot unique?
Your Skincare Spot is unique because we are very customer service driven. We offer free consultations via phone or video whichever they prefer. This allows our licensed esthetician customer service team to better serve our customers with their concern. We've also just partnered with First Derm ™ which is an online dermatologist service to where you can snap a photo of your concern and send it to a dermatologist for review. This allows our customers to get the best service possible, and each concern addressed all in one place.
Are there any products or brands specific to black women?
Urban Skin Rx is one our favorite brands specifically for the melanin! Urban Skin Rx is a full line of corrective skin care for diverse skin tones of women and men of color. We carry one of their number one sellers which is the Even Tone Cleansing Bar. This product helps get rid of hyper-pigmentation and uneven skin tones due to acne, and blemishes.
What is your advice for achieving great skin?
My advice to achieving great skin is to love yourself through the good and bad days with your skin. Know that it's not the end of the world. What worked for me was writing down everything pertaining to myself and my skin. I would write down what I ate, what I was feeling, and what products I was using. With writing all this information down, I got to know myself and better understand what my skin reacts to. No one knows you better than you know yourself. I remember going to a dermatologist and they would ask me a series of questions I didn't even remember or knew about myself. Outside of that wash your face and neck twice a day, use an eye cream and a moisturizer. Wear SPF all the time! Incorporate a detox mask once a week if you wear makeup often. If you have a breakout, don't go product crazy, or else it will become worse! Keep a balanced diet and stay hydrated!
Calling all HuffPost superfans!
Sign up for membership to become a founding member and help shape HuffPost's next chapter
This post was published on the now-closed HuffPost Contributor platform. Contributors control their own work and posted freely to our site. If you need to flag this entry as abusive,
send us an email
.