Since it dropped a week ago on HBO, Beyoncé's most recent visual album has left the world thirsty for every last melodious drop of Lemonade. To refill your glass (while hunting for a non-Tidal link to the now-elusive "Formation" video), try sipping on a few songs from Queen Bey's former Musical Director of five years, Divinity Roxx--a badass songstress in her own right, with an inspiring album that makes lemonade of lemons all the way from track one to 12.
ImPossible (pronounced "I'm possible"), the April 2016 release from the virtuoso bassist and indie-pop R&B goddess, begins with a heart-melting message from her mother on "Miracle": I just pray that this year is definitely your year. I really do think that it is...So hold on, get ready for the ride...and always expect a miracle. As the album immediately launches into song two, "Break Down These Walls," it's hard to disagree with Divinity's mother. Blending rock and rap as skillfully as any track on Lemonade, it feels as though this has to be Divinity's year. There's too much talent on the LP for it to remain under the radar for long.
The record is full of standout tunes. "Can It B SO Hard" mixes Caribbean rhythms with soulful R&B vibes reminiscent of Lemonade's "Hold Up." Divinity's easy and effortless rap flow is expertly showcased on "Stinger (So Real)," while "We Are," the LP's lead single, uplifts with inspiring verses and a toe-tapping, head-nodding, feel-good chorus, inspired by June Jordan's poetic line, "We are the ones we've been waiting for." The album also features back-to-back beautiful, unapologetic lesbian love songs--"WhachaDoiNWhereUATWhoUWit" and "Question" (the later includes a quick shout-out to Yonce herself).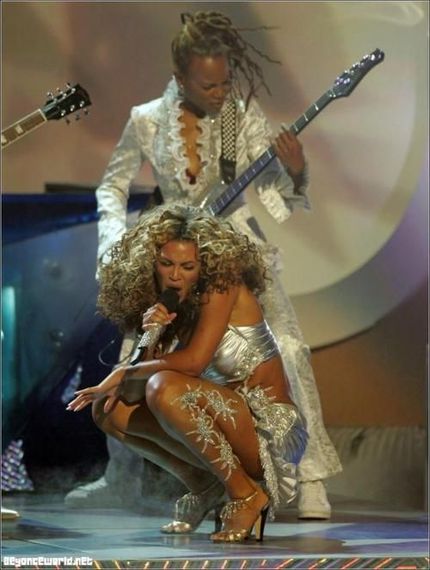 Playing alongside Beyonce, Divinity has appeared on The Beyonce Experience, I Am...Sasha Fierce, and IV tours, as well as the concert DVD's of the same names. She played the 2011 Glastonbury Festival when Bey made history as the first female headliner, and has preformed with Queen B for special audiences like President Obama, Oprah, and Ellen.
Her 2012 release, Roxx Boxx Experience, received critical acclaim as the ultimate funk mash-up of hip-hop and rock, and featured Grammy award-winning artists Bootsy Collins and Killa Mike.
For sick examples of Divinty's masterful bass playing, just see the clips below.
Related
Popular in the Community