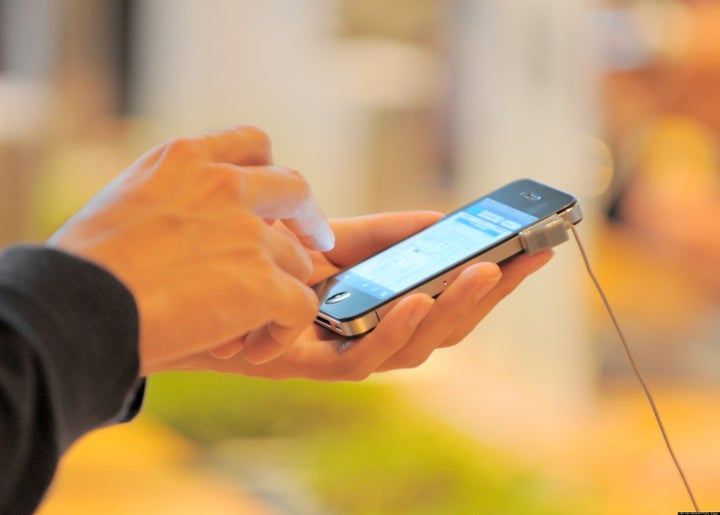 Looking for a little old-time religion?
Many of us use our smart phones for much more than making a traditional phone call. They have become tools for living (faithfully).
I have dozens of spiritual applications loaded onto my own iPhone and have sampled hundreds more. If you're looking for simple ways to foster your spiritual discipline -- whatever it may be -- there are applications to help you do so, for less than $5, and many of them are free.
Here are a few of my favorites, chosen for their ease, price and general niftiness.
iBlessing ($.99): Find a Hebrew blessing and/or prayer for just about anything. Search for a food and hit the "Say a blessing!" button to hear a prayer recited in Hebrew and English.
Azan Alarm Clock ($3.99): Muslims can turn iPhones into bedside alarm clocks with alerts for daily prayer times anywhere in the world. And it has a flashlight function!
iBCP ($4.99): Complete liturgy and texts used in the Anglican/Episcopalian church (and in many other places in Christian tradition) based on the 1979 Book of Common Prayer.
Buddha Box ($2.99): With more than two dozen chants and sounds, such as Tibetan singing bowls, for enhancing meditation practices, the "box" also includes a slide show of Zen images and a gong timer.
iBreviaryPro (FREE): The official prayers of the Catholic Church in five languages. This app also includes the entire Catholic missal for Mass and a special section on the saints.
Note to God ($.99): "When you don't have anyone to talk to, you can write a note to God." This app allows users to submit notes anonymously to a database (and to the Divine). There's even a "prayer cloud" option that shows the most popular words from "God notes" around the globe.
World Religions Pocket Book ($.99): Learn about 680 religious traditions from Abenaki mythology to Zoroastrianism in easy-to-read, searchable summaries.
Al Mus'haf (FREE): Online Quran, the Muslim holy book.
The Torah Bible Pentateuch (FREE): The five books of the Hebrew Bible in Hebrew.
Bible via LifeChurch.tv (FREE): Complete searchable text of more than a dozen versions of the Bible, including the New International Version, the Amplified Bible and The Message.
iGita ($.99): The unabridged Bhadvad Gita, the central text of the Hindu tradition
myTithe (FREE): Create an account, upload credit card info and give on the go; keep track of your giving and calculate how much to give (houses of worship can also set up accounts so members can give with ease anytime, anywhere)
The Mitzvah Project (FREE): Whether preparing for Bar/Bat Mitzvah or planning an act of kindness at any time, this app helps plan, organize and execute a project.
Muslim Calculator ($.99): Zakat (alms giving) is one of the Five Pillars of Islam. This app helps Muslims calculate and track their zakat and also has a function to determine faraid, the distribution of one's estate after death.
CauseWorld (FREE): Buy toothpaste or moisturizer and help feed the hungry, plant a tree or send aid relief to Haiti. Using GPS technology to offer shoppers a list of nearby partner stores where they can earn "karma points" by purchasing or scanning in the bar codes of particular products or special offers and donate their "points" to more than a dozen charities.
iConfess, the [Catholic] Confession Handbook and Guide ($2.99): Keep track of your sins in a list you can take with you next time you're in the confessional booth.
NewYearAmends ($.99): Whether it happened 10 years ago or 10 minutes ago, write a short apology, enter the recipient's email address, hit send and make amends.
FastingnPray ($.99): Track sunrise and sunset times via GPS, get advice for fasting and prayer and time alerts for the Muslim holy month of Ramadan.
Lent ($.99): Shake your iPhone for spiritual discipline suggestions (including fasting, prayer and scripture readings) during the 40-day period before Easter.
iLocate-Yoga Classes ($.99): Find a yoga class nearby wherever you are using your GPS location.
Soto Timer (FREE): Track Zen meditation with gentle gong or vibration alerts.
Sword Drill (FREE): iPhones up -- CHARGE! Mimics the traditional Bible verse search competition from Sunday school days by connecting users to the popular scripture site, Bible Gateway
The Oracle of Kabbalah ($1.99): For thousands of years, mystics have taught that Hebrew letters embody spiritual power and guidance. Get quiet, take three deep breaths and ask a question. Choose a Hebrew letter and see what it wisdom it might have for you.
Hallelujah Button ($.99): Feeling joyful? Grateful? Worshipful? Hit the button.
Popular in the Community