Raising funds for a business can come from many different avenues. Bank loans seem like an obvious choice, but there are other ways you can fund a business.
Whichever you choose depends on your financial situation and your intentions for your business. Here, are five options available to help you finance your ideas, and set things in motion.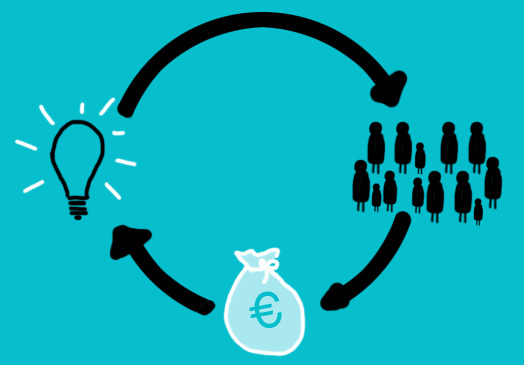 Image Source: Rocío Lara
Secure an SBA Loan
Loans guaranteed by the Small Business Administration have become increasingly popular in the wake of the credit crisis. SBA Loans are available to any small business, but there are some qualifications that need to be met:
- Your business must not be able to receive a loan from a traditional bank.
- Your business needs to meet the government's definition of a small business for your industry.
- You will need to apply for a loan from a commercial lender, since the SBA doesn't actually provide the loan.
Try the Merchant Cash Advance Program
Merchant cash advance companies, like
, provide cash advances to small businesses. In as little as 72 hours, and without costly fees and stringent qualifications, you can receive up to 500,000 to fund your business. In return, they receive a small percentage of your credit card receipts. This works great for restaurants, bars, beauty salons, auto shops, retail stores, and just about any type of small business.
Take a Microloan
If you can't secure a loan through a bank, have no collateral, or lack of credit history, don't despair. It doesn't mean that nobody will loan to you. Microloans are small-business loans ranging from 500 to 35,000; most banks won't bother with such small amounts.
Microlenders are nonprofits that require less documentation than banks and have less strict underwriting criteria. However, the interest rates may be slightly higher than a bank loan.
Crowdfunding
Crowdfunding sites like Kickstarter offer a different and effective way to raise money for creative, low cost projects. Family, friends, and strangers can pledge any amount they wish to help you fund your project. You set a goal to raise a certain dollar amount in a certain timeframe, say 2,000 in 30 days.
Often, contributors will be offered an incentive to pledge, such as a T-shirt or a signed copy of a book. Crowdfunding isn't designed for long-term funding, but it can be enough to give traction to ideas that can turn into a well-established business.
Attract an Angel Investor
Angel Investors can be experienced entrepreneurs interested in helping the next generation out, or doctors and lawyers that are wealthy and willing to invest hundreds of thousands of dollars in your company, receiving equity in your business in return. Angel investments are great if you have some revenue, but need more cash to expand your business.
Often, these investors will become a mentor to you because of their vested interest in the company. ABC's Shark Tank is a perfect example of angel investing. The downside is that you could be giving away anywhere from 10 percent to 50 percent of your company, and the investors could oust you before you have a chance to do what you want to do.
These five sources of funding are only a few of the ways you can come up with the capital to bring your idea to fruition. Be creative and think outside the box for ways to fund your startup -- you'll likely need funding from a combination of sources.
Explore your options and consider all points, but most importantly retain the confidence that got you to the point of searching for financing options in the first place.
REAL LIFE. REAL NEWS. REAL VOICES.
Help us tell more of the stories that matter from voices that too often remain unheard.