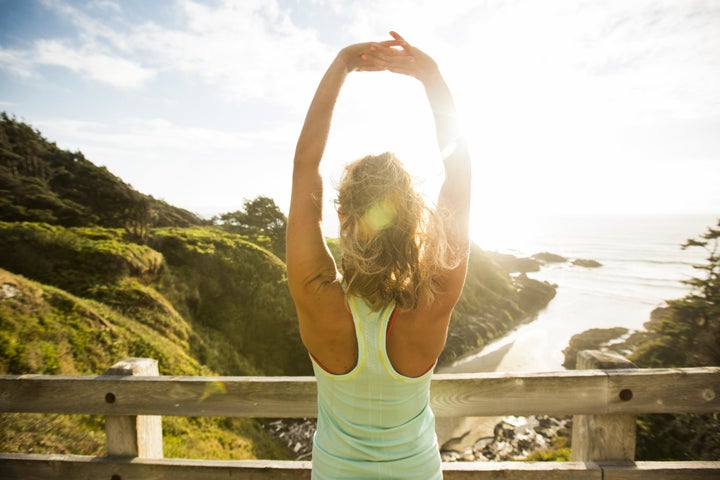 Day after day, you're deluged with all manner of media pushing you to do this or that to achieve your holy grail of optimal health and well-being. Guzzle the green shake, hit the hot yoga, hold a five-minute plank or unplug for an hour. Despite repeated efforts to do what the guru de jour is advocating, you keep falling down on your behind, feeling defeated by what's beginning to look like mission impossible.
Instead of an overhaul, why not start small, so that you're not overwhelmed? I like to think of it as a daily self-care sprint. Rather than investing tons of time upfront, try out new healthy habits for five minutes at a time to see if they stick. That way, whether you're time-starved, sleep-deprived or otherwise overburdened, you can get past excuses or fears and finally take that first step toward establishing a healthy lifestyle. Do what you want – and what you need.
Commit to performing just one daily sprint in each of three areas – improve your mind, eat well and strengthen your body – and work on each new habit until it sticks. Heck, that's just 15 minutes a day at the very least. You can do this!
To help get you started, I've created just a few guidelines:
All devices and screens should be turned off unless required for the sprint.

Do as many sprints as you wish throughout the day.

Stepping it up: If you're just beginning, limit any new habits to five-minute sprints. Once you get in the groove, you can expand any five-minute sprints that "stick" to 10 or 15 minutes and add more sprints. Finally, as you advance, you can continue to increase the amount of time you spend on a self-care sprint and the number of sprints you do.
To get started, here are some ideas of self-care sprints you might try. Of course, feel free to create your own lists that focus on areas you'd like to improve or address.
Meditate or pray.

Write in a journal.

Take five deep, cleansing breaths.

Sit silently and be mindfully observant of everything around you.

Write a list of five things for which you're grateful.

Write a list of five things that bring you joy.

Integrate at least one thing that brings you joy into each day.

Read a book.

Listen to music.

Watch the sunrise or sunset.

Send texts, emails or handwrite a brief note of friendship, love or gratitude to a friend or loved one.

De-clutter a messy home or work area.

Write down five terrific things about your body, appearance or performance.

Make plans to go out with friends or family.

Soak in a tub.

To wind down before you go to sleep, spend five minutes laying in muted light reflecting on one positive highlight of your day.
Remove processed or refined foods from your kitchen.

De-clutter your kitchen and eating area.

Chop vegetables.

Make a smoothie.

Learn how to read a nutrition label.

Pack your lunch or snacks.

Create a lovely ambiance for eating – a place setting, music, table flowers, or whatever else you wish to include; it's worth reiterating, the TV and all other devices and screens should be turned off.

Write your grocery list.

Identify three to five foods you might binge on and substitute in a tasty, healthy substitute for each.

Sign up for a food-tracking app or program.

Learn a new recipe.

Pull out the best china for tea or coffee, and savor.

Schedule a family or friends shared meal date.

Log your foods in a journal or on a tracker.
Get up and move your body for five minutes after 45 minutes of sitting.

Take a five-minute walk.

Walk stairs.

Walk hills.

Crank up the music and dance.

Jump rope.

Choose a wearable tracking device.

Do a combination of one or more exercises, such as bent-knee or total body push-ups, wall squats, standing on one leg until you can't any longer, planks or bridges.

Strength train using one or more body parts, such as your back and biceps.

Do ab exercises.

Do yoga poses.

Do pilates.

Run in place, on a treadmill or outdoors.

Use any cardio equipment, such as an elliptical, a treadmill, a cycle or a rower.

Choose new exercise music.

Register for a charity walk, run or bike event.

De-clutter your workout clothes closet area.

Launder and organize your workout clothes.

Pack your gym bag.
Related
Before You Go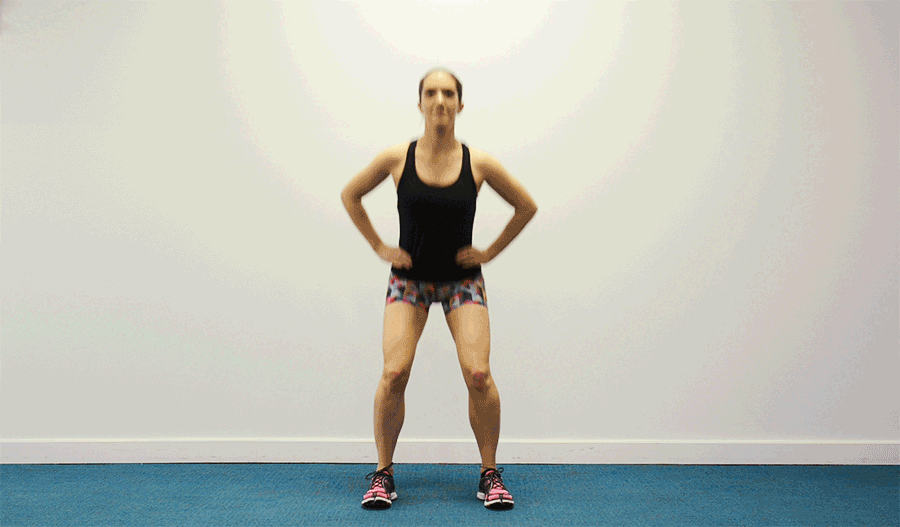 6 Of The Best Butt Exercises You're Probably Not Doing