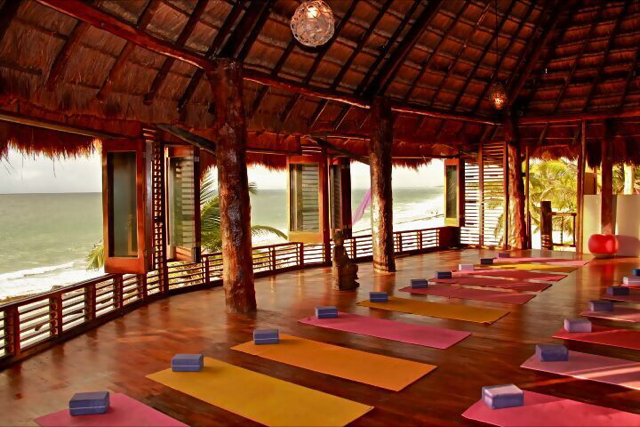 I have had the words yoga retreat written on my must-do list for years, so when a savvy colleague shared her experience at the Amansala Eco Chic Resort and Retreat in Tulum, Mexico I decided to wait no more and booked my first week long, solo yoga retreat experience. It will definitely not be my last.
I left for my Mexican get-away without any preconceived notions of what my days would be like or what I would focus on in particular. I wanted to be open and leave room for what awaited me. I did know that this retreat would be marked by the Solar Eclipse on day one. With this first auspicious day dedicated as a day for global meditation and healing, it seemed like a sign that I somehow landed in the right place at the right time.
Just the idea of setting aside 7 days to just write, meditate, swim in the ocean, walk by the sea and do yoga twice a day sounded like heaven. And it turned out to be pretty darn close. What I did not anticipate was what a rich mix of wisdom I would inhale from sitting by the sea and from the yoga instructors and staff I would practice with during my stay or how healthy and tasty the meals would be (I opted for 3 per day).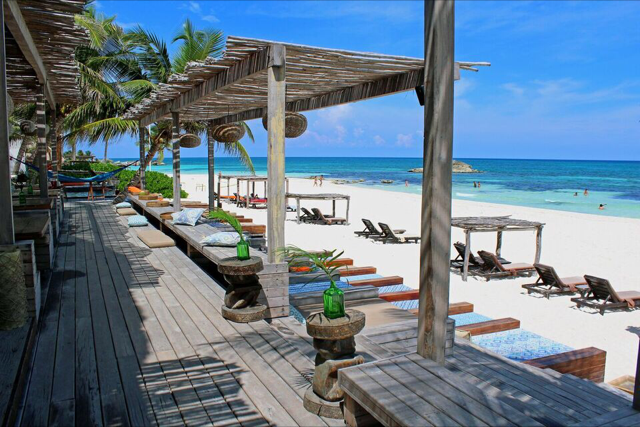 What I noticed, almost right away, was how easy it was to fall into a state of dreamy solitude.The resort offers you a schedule to follow that allows one to just flow through the day without having to make too many decisions. What a nice change that is!
My days at Amansala were a mixture of balmy warm weather with bright sunny skies and windy, rainy days with stormy tumultuous seas. The variable days worked beautifully to allow me to deepen my writing and meditation practice and keep me planted on-site rather than wandering around town.
Each morning began with journaling, a short meditation, one hour beach walk then 60 mins of flow yoga followed by breakfast. Some of the other guests who opted for more of a Bikini Bootcamp experience than a yoga retreat would have several more fitness workouts before and after lunch followed by all of us regrouping for a pre-dinner restorative yoga class. Several people each day showed up from other nearby hotels to join the yoga classes, too.
I moved right into the steady pace of a schedule aptly titled, Beach and Bliss, which included all the meals, yoga and meditation and lots of free time to just relax at the beachfront or swim. There were also daily biking or van excursion options to interesting caves, ruins and swimming holes not too far away.
Did I mention the massages? Each person had two massages included in their retreat package. I opted for one deep tissue massage and one deep healing Mayan massage. Both were amazing and wonderful and very different.
Mid way through my week of reprieve, I found myself writing more freely than in months and while my body was feeling stronger and more balanced my mind and soul was feeling light and relaxed and free.
By weeks' end I began to anticipate how I would smoothly make the transition from contemplative living back into an engaged and often hectic work life. How would I continue to incorporate some of the new teachings and refreshed perspectives that I had learned from the instructors of balance, breath, intention into my daily practice when I got home? What could I realistically bring home to my daily ritual and routine?
Waking up for the sunrise each morning, and expressing my gratitude for all that was good in my world was a huge bonus. It set the tone for all kinds of wonderful things to happen each day and motivated me to crawl into bed a little earlier each evening. The extra sleep was another form of rejuvenation unexpected but very much needed.
The other women (and one man) that were in residence for the week came from all over the world and added a richness and diversity to the days that I spent in Tulum. The Amansala surroundings made it easy to be alone but not feel lonely. My room was spacious, comfy and well maintained, with a balcony right on the sea. The view was spectacular rain or shine.
Founder Melissa Perlman, likes to call the accommodations at Amansala, "back to basics with style and comfort." Perlman made it clear that her intention is to, "provide a place that makes it easy for women traveling alone but a good fit for friends and family to come together, too."
This Bohemian beachy resort was absolutely sophisticated enough for the well-heeled traveler or the big city urban girl but casual enough to feel good about staying in your bathing suit all week long.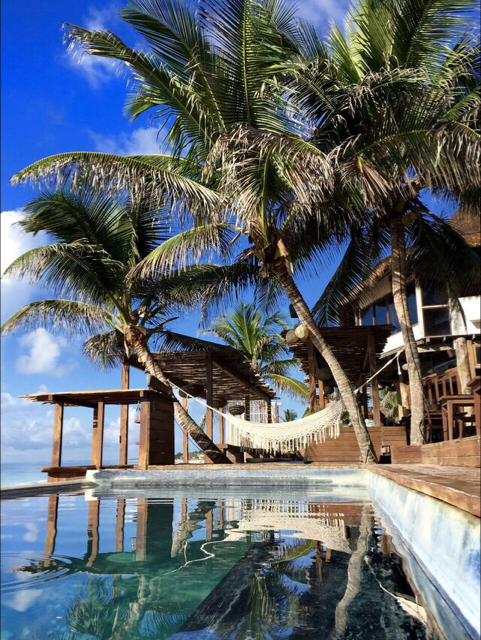 Related
Popular in the Community