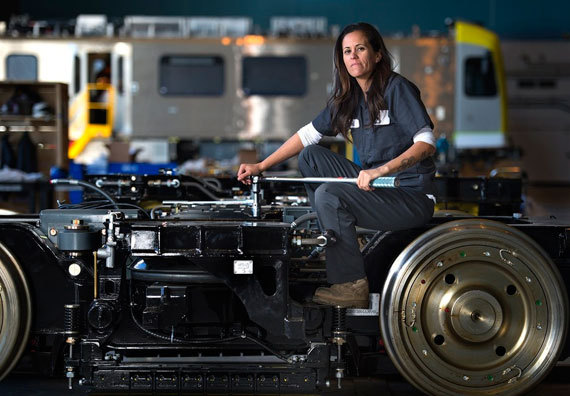 Ami Rasmussen, interior assembly technician. Photo: Deanne Fitzmaurice

Some of us remember Norman Rockwell's Rosie the Riveter, her goggles, her uncanny biceps, the larger-than-life rivet gun in her lap. Most of us, however, remember a different Rosie, her red bandana, her clenched fist and her in-your-face, flexed bicep.
Though both Rosies were a propaganda tool created during WWII to recruit women to work, one thing is undeniable: these Rosies revolutionized the U.S. workforce. Between 1940 and 1945, six million women entered the workforce and, as a result, forever changed the course of our economy, politics and nation.
This month we have a unique opportunity to showcase how women are a critical part of our workforce and economy. Women Can Build: Re-envisioning Rosie is a photography exhibit that celebrates modern-day Rosie the Riveters and invites Los Angelenos, policymakers and the businesses community to work together to give women equal opportunities in the manufacturing industry.
The exhibit was created by Jobs to Move America to accompany a sobering study by the USC's Program for Environmental and Regional Equity.
The study titled "#WomenCanBuild: Including Women in the Resurgence of Good U.S. Manufacturing Jobs" finds that women comprise just 30 percent of the manufacturing industry workforce and that the majority are employed in lower-paying, clerical positions instead of middle class-sustaining jobs.
Furthermore, the study finds that the pay disparity is significant in the manufacturing industry: women make just 74 cents for every dollar men make.
This research is important because manufacturing jobs—and in particular transportation equipment manufacturing jobs—are poised to grow in California due to significant federal and local investments in mass transit systems, including bus and rail. In places like Los Angeles County, voters are taxing themselves to build out their transportation systems. And then there's the voter-approved, albeit highly controversial, California's high-speed rail system and all the jobs that would be needed to build it.
We know that the manufacturing industry is poised to expand and we must ensure that women are poised to enter these new jobs that will pay a living wage.
The study and the exhibit point out the elephant in the room: California must create opportunities for women to equitably participate in this manufacturing boom—and our economy.
If women are to enter traditionally male-dominated industries like manufacturing, we need to recognize and remove barriers currently in their way. One of the barriers is psychological -- we need to help women see that they can do manufacturing jobs, the way the propaganda machine of the 1940s showed women they could build planes and tanks. Hence the exhibit.
"Women might think they can't lift anything heavy, but they'd be surprised that they can do this—better than half the guys…I want to prove to my girls that they can do anything they put their minds to and commit to. I want to lead by example, to them and to other women," said Ami Rasmussen, US Army veteran, a mother of two teenage daughters and one of the fifteen Rosies featured in the exhibit.
In addition to showing women that they can indeed build as well as men, we must remove the biased, outdated and unresponsive public policies that make it difficult for women to enter male-dominated (and traditionally higher-paying) industries in the first place.
We need to find policy solutions to issues such as unequal pay for equal work, lack of affordable, reliable childcare, unregulated scheduling and lack of paid family and sick leave. A groundbreaking coalition of California women's rights and poverty advocates is tackling many of these important policy challenges at this very moment and the Women's Foundation of California is proud to be one of the members.
Join me on Thursday, May 21, for the opening night of the Women Can Build exhibit and come listen and get inspired by the stories of modern-day Rosie the Riveters. We hope more women, especially young women, will be motivated to enter these traditionally male jobs and earn middle class, family-supporting wages.