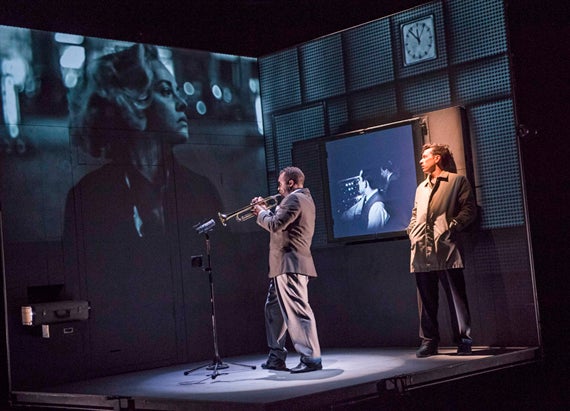 On shifting ground: Wellesley Robertson III as Miles Davis, Olivier Normand as Robert
Photos by Tristram Kenton
Needles and Opium has to be seen to be appreciated. Even if the text were available, which doesn't seem to be the case, the script by Canadian actor-director-playwright Robert Lepage wouldn't offer the slightest impression of what the play has to offer. His words sketch a story of shattered loves, addiction and perhaps the solace brought by making art, but it's flimsy at best.
On stage in ACT's Geary Theater, though, Needles and Opium is spellbinding, hallucinatory and even capable of producing vertigo through visual and technical genius. Lepage's drama even discards the notion that a stage is a place where actors can stand upright and usually speak to each other.
His concept unfolds almost entirely in an open-faced cube suspended above the stage, revolving a full 360 degrees vertically and a lesser amount horizontally while taking its characters and viewers from New York to Paris to the depths of infinite space. The journey is superbly abetted by a seamless flow of movie clips and still images, along with furnishings that are firmly anchored to their shifting environs, and music that reinforces every moment and transition.
Two of the characters are drawn from reality: the French poet-playwright-filmmaker Jean Cocteau and American jazz trumpeter Miles Davis. The third, it can reasonably be inferred, is a fictionalized representation of author Lepage. Like the playwright, the character's name is Robert. What holds the three together thematically is heartbreak; for Cocteau and Davis, another parallel stems from opium and its derivative, heroin.
The play's first moments are magical and dizzying. The production uses no curtain, so audiences see the open cube as a puzzling, tilted, gray object until the stage goes black. After some seconds, perhaps a long minute, it re-emerges from the inky background as a star-filled universe, turning and swelling, devoid of life. Then Robert appears, brightly spotlighted and spinning in an undisguised harness, to tell us about 1949, when Davis travelled to Paris and Cocteau visited New York.
As a jazz great in a time and place where jazz was big, Davis became an instant celebrity and a member of an elite circle of artists and intellectuals, among them Jean-Paul Sartre and Simone de Beauvoir. He fell in love with singer Juliette Greco, with whom he had a torrid affair, and considered marriage. But he returned to New York without her, fearing his countrymen's hostility to interracial marriage. Despondent over the breakup, he turned to heroin, a craving that lasted five years.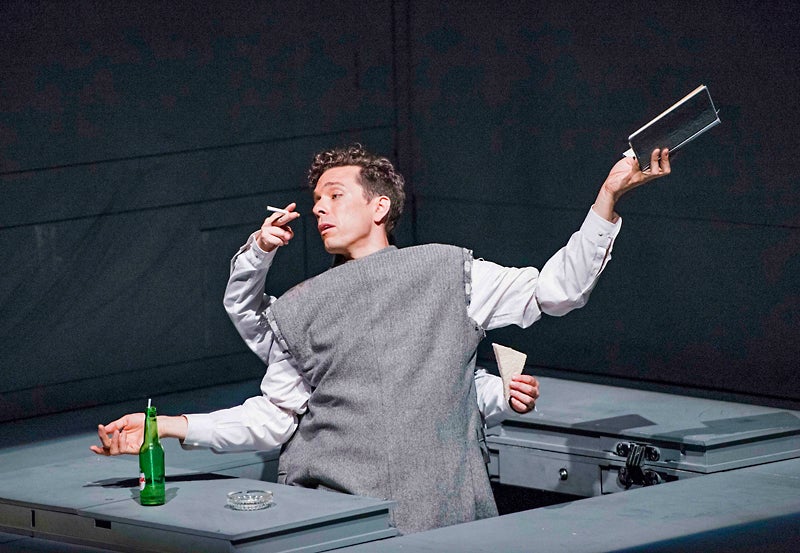 Normand as Jean Cocteau, at a dizzying photo shoot for Life magazine
As Davis, Wellesley Robertson III delivers an impassioned performance even though he does not speak a single word. His trumpet speaks for him, and Robert (Olivier Normand) fills in the biographical details.
Normand does the same for Cocteau, in two ways: He plays both the French artist, whose presumed grief arises from the death of a lover many years earlier, and Robert, whose gloom followed a romantic breakup. Although he delivers every line in the play — at times in French, translated by projected titles — Normand cannot draw much emotional engagement out of either character. The fault, I fear, lies with the script and not with the fine, versatile performance.
Cocteau, who crossed the Atlantic to attending a premiere of one of his films, tosses out a few conflicted feelings about Americans, drawn from his writings. And Robert, despite his verbalized despair over lost love, comes across with little more than daytime-serial suffering.
Under most circumstances, those defects would make Needles and Opium a 95-minute bore. But the visual magic designed by Lepage's team and executed by 10 technicians — whose appearance after the final curtain drew a huge ovation — transforms a thin story into a unique artistic event. If that sounds like your kind of theater, don't miss it.
Needles and Opium runs through April 23 in American Conservatory Theater's Geary Theater, 415 Geary St., San Francisco. Tickets are $20-$105, from 415-749-2228 or act-sf.org
REAL LIFE. REAL NEWS. REAL VOICES.
Help us tell more of the stories that matter from voices that too often remain unheard.
This post was published on the now-closed HuffPost Contributor platform. Contributors control their own work and posted freely to our site. If you need to flag this entry as abusive,
send us an email
.