Back in 2004, when Sideways suddenly became everybody's favorite indie film, I thought it was a reasonably nice movie that failed to live up to the amount of hype and word of mouth it was generating. I was happy for the people involved, wished them well, but was not particularly impressed with their film.
Since then, I've seen numerous indie films which far outshone Sideways in creativity, casting, script, and direction. While many of these films spend a year or two on the festival circuit, not all of them reach the audience that would embrace them (if only they were given a chance). Often, their failure to break through to the general public has to do with insufficient money for marketing and distribution. Some films never even make it to DVD because they lack a bankable actor's name. Although the following three titles all qualify as indie gems, only the first two are currently available in DVD and on Netflix.
* * * * * * * * * * *
Filmmaker David Russo's background includes 10 years in janitorial work, where he once found a miscarriage in a women's toilet. He is also the founding artistic director of Greenstage (Seattle's Shakespeare in the Parks theater company). Rest assured that religious conservatives will be mortally offended and thoroughly enraged by Russo's deliciously disrespectful, impudently iconoclastic, and intoxicatingly inappropriate farce entitled The Immaculate Conception of Little Dizzle. As the filmmaker notes:
"The Immaculate Conception of Little Dizzle was extremely challenging to get made due to the perceived toilet humor in the script. But in the words of a janitor in the film, when asked about his janitorial-themed artwork, he replies, 'Yes, there's toilet humor, but there's also toilet sadness, toilet triumph, toilet a lot of things. That's because I'm a janitor and this is my world.' I can't defend my movie any better than that."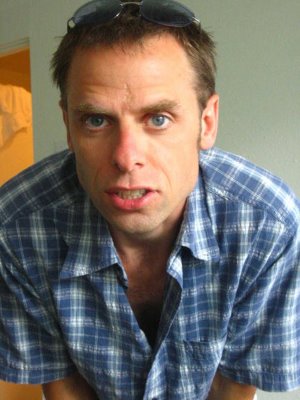 Filmmaker David Russo
The Immaculate Conception of Little Dizzle's opening credits follow a bottle containing a written message as it bobs in the ocean and eventually finds its way to shore. Standing nearby while eating a banana as he clutches his copy of the Holy Bible is Dory, a young and faith-filled computer nerd who likes to refer to himself as "The Datameister." No sooner does Dory reach for the bottle than he falls headfirst into the cold waters of Puget Sound. Retrieving the message, he unravels a piece of paper and is confronted by two words: "FUCK YOU!"
From that moment on, Dory's life goes hilariously downhill. Returning to his office cubicle (where he must listen to a bubble-brained colleague chirping nonsense into her cell phone), he finally loses it, takes drastic action, and quits his job.
As Dory leaves the building, a colleague gives him a referral to a company that might be hiring. Spiffy Jiffy is not what anyone would call a high-tech operation. Nor does it really rely on computer expertise. Owned by a mysterious cross-dressing Persian Gulf war veteran with a heavy dope-smoking habit, its employees are mostly angry, disenfranchised young people who thrive on whatever perks they can scrounge from the garbage pails they empty during the night shift. Their supervisor, O.C. (the hilarious Vince Vieluf), is a janitorial rebel/wannabe artist with a Dane Cook-style chip on his shoulder.
"You don't need band practice to play the fuckin' wind chimes!" he insists.
O.C. has developed a crush on a shapely blonde executive who works for a market research company and has invited Dory to bring some of his friends to a focus group. Why? Tracy's firm is test marketing a new type of cookie that has been chemically engineered to taste oven fresh and give people huge bursts of energy and a feeling of warm-all-over satisfaction.
Although women seem to be immune to the addictive power of these cookies, the men who eat them suffer bizarre hallucinations and disturbing mood swings. Realizing that the cookies she has left in the conference room each night have become a big hit with the building's smarmy janitorial staff, Tracy decides to use Spiffy Jiffy's motley crew of counter-culture employees (including two janitors named Ethyl and Methyl who indulge in passionate nightly fuck-a-thons atop an elegant corporate conference table) as her firm's guinea pigs.
It doesn't take long for Dory to stumble upon a bright blue, placenta-like mess in a toilet. Although he thinks he sees something moving, he's not quite sure what he has witnessed. But when Dory himself ends up having cramps in the shower as he hallucinates various words and fonts washing all over his body as they head toward the drain, he looks down to discover that he has shat out a blue mess containing a tiny-winged creature that resembles a flying fish. Before he can catch it, the mysterious clump of blue tissue slips down the drain.
Dory soon becomes convinced that sinister forces are at play.
The challenge, of course, is for Dory's rowdy crew to capture the next mysterious blue birth on camera so that they can cash in on the kind of money and tabloid fame that is sure to follow. But with a group of feverishly confused male potheads (one of whom might be destined to give birth to an alien life form), any concerns about what could happen if the shit hits the fan take on a new and toxic urgency.
According to Russo, "Finding funding among generally anal retentive people for a film that derives its power from the opposite tendency was a feature film worth of comedy in and of itself. Finding distribution is shaping up to be equally hilarious." Here's the trailer:
In 2002, a marketing survey revealed that nearly 30% of consumers in the Czech Republic liked to shop at "hyperstores." Those who remember the high times of the dot.com boom (when an expensive launch party might have been the only thing produced by a startup's young entrepreneurs) will find Czech Dream very much like a master class in marketing, branding, and media manipulation. Created by Vít Klusák and Filip Remunda, the film documents a huge hoax perpetrated on Czech consumers in 2003.
Initially conceived as their final project for film school,
Czech Dream
became a biting satire of rabid consumerism. Pretending to be businessmen, the two film students went through every step of creating a major product rollout:
First, they created a product that didn't exist (the Cesky-Sen hyperstore) but which market research indicated was extremely popular with consumers. Then they proceeded to build a brand around its name.
With help from an advertising agency, billboards promoting the opening of a new store appeared next to highways in the Czech Republic.
A tuneful jingle was composed and frequently broadcast over the radio.
Television commercials for Cesky sen appeared on a regular basis.
Pamphlets (resembling a local supermarket's advertising) were distributed all over Prague.
On May 31, 2003, despite a campaign whose basic themes were "Don't Come" and "Don't Spend," more than 3,000 potential shoppers showed up for the grand opening of the Cesky sen superstore. When the shoppers discovered that the front of the superstore was nothing more than a canvas facade standing alone in a meadow, all hell broke loose.
Those who were horrified when, following the attacks of 9/11, President George W. Bush urged everyone to "go shopping" may develop a perverse affection for
Czech Dream
, which shows how easily crowds can be manipulated. Here's the trailer:
* * * * * * * * * *I first saw
several years ago at a private screening. Made on a shoestring budget, this knowing and often hilarious indie gem has never found a distributor (which, to my mind, is a crying shame).
Whether one chooses to describe Callback as a twisted mockumentary, a sick joke, or a brilliant screenplay that ended up being filmed without a single famous actor in its cast, Callback is one of those guilty pleasures for film fans. Basically, it shows how everything that could possibly go wrong during the making of a small-scale independent movie does -- to spectacular effect. The three aspiring actors who have been cast in Bloodstain are:
Carl, a dimwitted, small-time thug who doesn't want to carry a gun but thinks he can act.
Tony, a manic depressive schizophrenic who has recently been released from a mental care facility but, in order to get an acting job, has stopped taking his antipsychotic medications.
Peter, a confused, broke heterosexual who is trying to stay afloat by working at a gay phone sex company when not starring in his one-man piece of performance art entitled Hamlet, My Homie.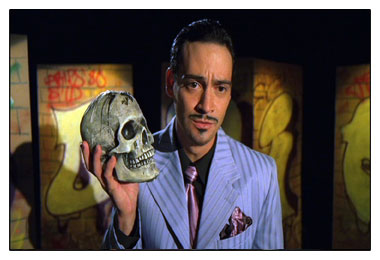 Johnny Moreno in Callback: The Unmaking of Bloodstain

What sets Callback apart from many other indie films is the fact that there isn't an ounce of fat in the final product. This film boasts a wonderful script, some brilliant editing, and a supremely talented cast. Beautifully crafted from start to finish, Callback proudly takes its place in the mockumentary genre made famous by Christopher Guest (Waiting For Guffman, Best In Show, A Mighty Wind).
Jeff Parise delivers a knockout performance as the confused, demented Tony with co-writer Michael DeGood's Carl and co-producer Johnny Moreno's sexy Peter offering solid backup. Others in the talented ensemble include Kate Orsini as Marci (the aspiring filmmaker who gets mugged by Peter and who, after connecting the dots, takes vengeance on him while directing Bloodstain), Jennifer Hall as Jill (the clueless intern who gets romantically involved with the crazed Tony), Burnadeen Jones as Carl's social-climbing girlfriend Beth, and the hilarious Michelle Begley as Moana, the owner of a gay phone sex service. Megan Schoenbachler's cinematography is a major contribution to the immaculate look of the production.
By the time I had a second chance to see Callback, director/co-writer Eric H. Wolfson had cut the hilarious scene in which the clueless Peter does his best to show a house to a young couple acting as potential buyers without realizing that their real goal is to score a three-way with a willing realtor in someone else's bedroom.
The final product is such an obvious labor of love (created by a group of actors who have been thoroughly humiliated by the Los Angeles film industry's casting process) that I can't recommend this movie highly enough. I hope someone acquires the distribution rights to Callback so that the Netflix crowd can discover the hidden joys of this meticulously crafted black comedy. Here's the trailer:
Popular in the Community