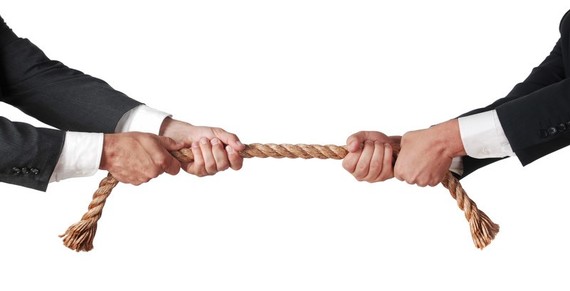 OK, maybe a tug of war image is overdoing it a little, but they say all life is a negotiation. When it comes to selling or buying a home, you can negotiate with the real estate professional. At least you can if they can. Huh? Most real estate agents are licensed under the supervision and responsibility of a broker. They get their instructions and business practices from that broker.
That doesn't mean that you can't negotiate with an agent who must get approval. But, get ready for some of that "used car" thing with "I'll have to check with my broker" thing. If the agent has certain latitude, it does make the process faster and easier. Let's look at both sides, first a home seller and then a home buyer.
Negotiating with a Listing Agent
Ten years ago, it was difficult to get a home listed at anything but an industry-wide 6% fee. Prices can't be fixed, but that was the generally accepted commission, and most brokerages just quoted it and stuck to it. However, the average commission has slipped, coming down to around 5% average nationally. So, just ask for a better rate and see what happens. If they tell you that they have to spend a lot of money to advertise your home in magazines and print, you could tell them to forego that, as it's most likely to be sold because it's listed in the MLS.
Another thing few sellers know about is the "dual variable" commission. You see, the total commission paid by the seller is split between the listing brokerage and another brokerage who brings the buyer (the most likely scenario). However, if the listing brokerage also brings the buyer, they double their commission, getting both sides. You can negotiate that dual representation commission down, usually by around one-percent.
Last, you could look for a "real estate consultant" or flat rate listing real estate company in the area. They may offer some reduced level of service or the consultant may charge a base and get paid for their time, but it's almost always significantly less expensive.
Negotiating with a Buyer's Representative Agent
OK, you're a buyer. Like many these days, you've spent days, weeks or months searching the Internet and locating a few homes for your short list. The agent isn't going to be showing you twenty or thirty, as you've done a lot of the prep work yourself. First, ask if they can rebate a portion of their commission. It's not legal in all states, but it's becoming more so these days.
If it isn't legal, don't ask them to do something that could cost them their license. It gets more difficult if legality is an issue. The seller is paying the entire commission, so you would have to get both sides involved in getting some relief. You could ask for a concession in the selling price if your agent will take less in commission, but the seller would have to be involved and their agent as well. Another option would be a credit from the seller for closing costs, but again, your agent would need to offer to give up that much in commission.
Just know that everything is negotiable in a deal. It's a little more direct when you're the seller, but still doable as the buyer. Just asking can get some suggestions. They make no money unless you go through with a deal.
Calling all HuffPost superfans!
Sign up for membership to become a founding member and help shape HuffPost's next chapter