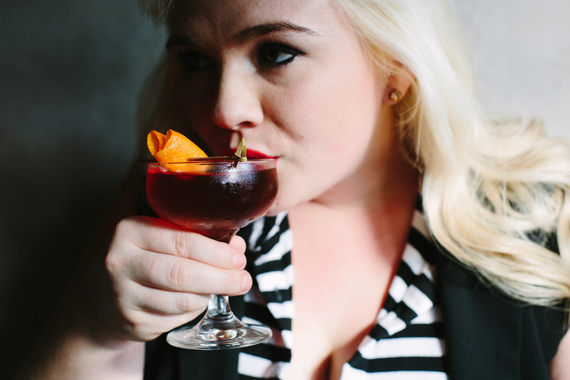 Your first time is always a memorable experience. Did it live up to the hype? Was it all you expected? From sex to your first time doing anything (driving, flying, drinking), there are expectations and sometimes, let down. I remember my first time drinking Campari, an Italian bitter aperitif. It was some six years ago and I was excited that I was going to the swank House of Campari booze party, even if I didn't know what Campari was. As soon as I walked into the chic soiree I was given a shot of the stuff. Yuck!
My second drink was a Campari and soda; not any better. After one more failed attempt with a Campari cocktail we headed out in order to salvage our evening. A year or so later, I told a bartender about my experience and he looked at me funny and said, "You drank it wrong!"
He explained Campari is an ingredient in a cocktail, not the base spirit and convinced me to try a Negroni. I wasn't a convert on the spot but there was hope. Now, I'm a huge Campari and Negroni fan. Truth be told, I'll even drink Campari over a big rock, and I do love a Negroni. So you can imagine how excited I am that Negroni Week is back this week June 1-7.
Negroni Week was founded by Imbibe to raise disaster relief for the American Red Cross after the Oklahoma tornado in 2013. Now in its third year, over 1700 bars and restaurants around the world will celebrate the classic drink, and at least in the U.S. help raise money for charity. Not to be outdone, Campari has pledged to donate $10,000 to the charity chosen by the bar/restaurant that raises the most money during Negroni Week.
Since I like nothing better than to belly up to the bar and chat with bartenders while watching them work, I've come to realize that bartenders really love the the Negroni.
According to Marcos Tello, barman extraordinaire in Los Angeles, responsible for creating bar programs at 1886 Bar, Killer Shrimp, Killer Café, Seven Grand Whiskey Bar, The Edison, The Varnish, and Los Balcones, his fondness for the drink is simple.
"My fascination with the Negroni is that it's a lower alcohol drink," Tello said. "Campari is a lower alcohol; sweet vermouth is lower alcohol; the only big spirit in it is gin. So it's a great before-dinner-drink because it's not going to crush you or numb your senses. And I like to eat so it's the perfect drink for me because it prepares me to eat. Put into a mixing glass, stir maybe ten rotations with ice, strain over a big rock in a rocks glass with an orange peel expressed and swapped over it and then tossed. And that's it. And then serve me a big meal afterwards."
The Negroni's roots can be traced back to 1919 in Florence, Italy where it originated as a stiffer version of the Americano (equal parts Campari, sweet vermouth and club soda). Like so many of the classics, the Negroni is a simple drink: one part gin; one part Campari; and one part vermouth (red, semi-sweet) always stirred, never shaken. A word of warning about vermouth, it can go bad so stay away from dusty bottles of sweet vermouth when ordering at a bar. And because the Negroni is so simple to make, impress your friends by making this tasty drink.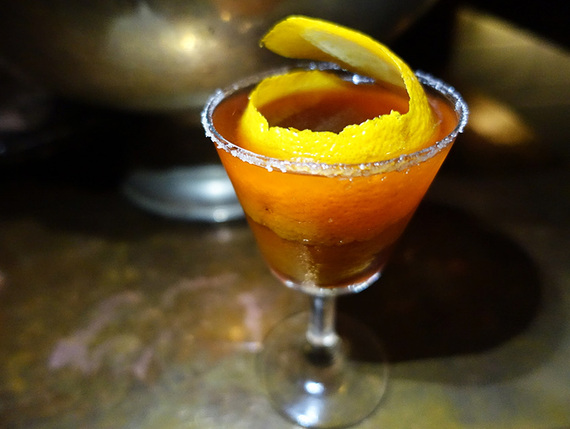 Personally, I like the blend of bitter and sweet in a Negroni, and the herbal complexity is nice, not to mention its refreshing taste. Popular the world over, it's appreciated differently throughout.
Recently, I've discovered the Mezcal Negroni (substitute mezcal for gin) and it has quickly become one of my favorite and new go-to cocktails. Pistola on Third Street in the Fairfax District in Los Angeles will be pouring its own Mezcal Negroni during Negroni Week. So why isn't this classic cocktail on every drinker's radar?
The best I can gather is that Campari scares people, and gin really scares people but in bartender culture, it's very popular.
"The Negroni is one of the pillars of classic cocktails," Dave Karraker of Campari told me last year.
Another great Campari variation is the Rome with a View, a smooth and refreshing mix of 1 oz Campari, 1 oz dry vermouth, 1 oz lime juice and ¾ oz simple syrup. Delicious!
While Karraker believers that "every week is Negroni Week," he's proud that the cocktail can help raise money for charity (each participating bar gets to choose its own benefiting charity).
"If we can be a catalyst to raise money for any number of causes, that's fantastic."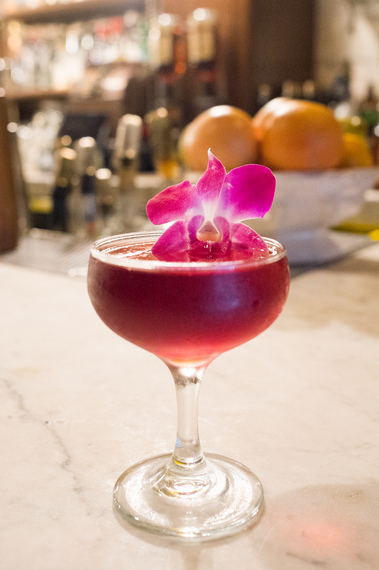 Because the Negroni recipe is so simple, it's easy to create your own take. Substitute the spirit of your choice in place of gin and the possibilities are endless. There's the Negroski (vodka), Kingston Negroni (rum), Tegroni (tequila), Oaxacan Negroni (mezcal), Parisian Negroni (cognac), and Dutch Negroni (Genever). Newer Negroni spin-offs include the Old Pal (Campari, rye whiskey, dry vermouth), Boulevardier (Campari, bourbon or rye whiskey, sweet vermouth) and the Negroni Sbagliato (Campari, prosecco, sweet vermouth).
In Los Angeles, there will be tons of opportunities for cocktail aficionados to drink and help worthy causes. The Venice Whaler will be serving its popular Snowgroni (yup, Snowgroni) made with Bulldog Gin, Campari, Antica Carpano and shaved ice to benefit Heal they Bay. Think of this as a grown-up and sophisticated snow cone. "It is all red and yummy looking, and served with a cherry on top, but it is still a bitter Negroni," bar manager Anthony Settecase explained. "It is freaking people out, but they love it."
Melrose Umbrella Co. will be pouring its Negroniña, which will benefit Inspire Artistic Minds, which allows bartenders to continue their education. The brainchild of bar manager Dave Purcell, the drink is a mix of 1 ½ oz of Beefeater gin, a 1oz Aperol/Campari blend steeped in Intelligentsia Coffee for ten minutes, ¾ oz sweet vermouth, with a pinch of salt and a grapefruit peel. Purcell described this drink as a "great daytime brunch drink." Just like all the original drinks at The Co., it is created thinking outside the box. "I really like that this is essentially the classic Negroni with our little twist on it," Purcell noted.
At Scarpetta in Beverly Hills, they'll be pouring a barrel-aged White Negroni with money going to The Wallis Annenberg Center. Harlowe in West Hollywood will be serving a Frozen Chocolate Negroni with Beefeater Gin, Sweet Vermouth, and coco-infused Campari with a salt tincture with money going to Inspire Artistic Minds. Eveleigh on Sunset Boulevard along the famed Sunset Strip will be serving its Eveleigh Negroni (1oz Beefeater, .5oz Campari, .5oz cynar and 1oz M and R Sweet Vermouth) and donating $2 of every Negroni sold to Communities in Schools.
I have to admit, I like the idea of drinking for a good cause. It's almost like the more Negronis you drink, the more you're helping out. I can drink to that. Cheers!
Click here for a list of participating bars around the country for Negroni Week.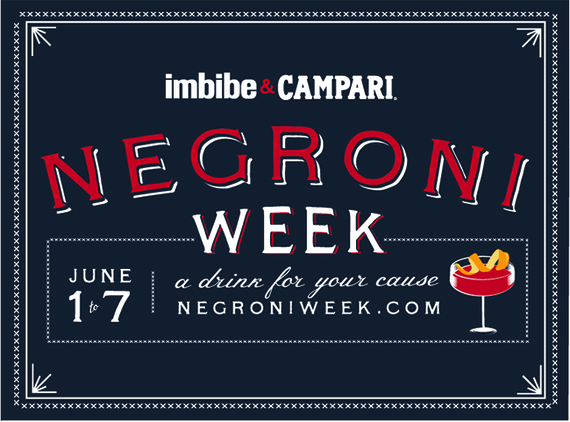 Participating bars during Negroni Week in Los Angeles include:
The Normandie Club
Break Room 86
Far Bar
Villains Tavern
The Must
Seven Grand
Beelman's Pub
Spring ST Bar
Sixth St Tavern
Library Bar
The King Eddy Saloon
Golden Gopher
Honeycut
Bestia
Tony's Saloon
BLVD 16
El Condor
TAIX French Restaurant
Harvard & Stone
Big Bar
Pour Vous
Dirty Laundry Bar
The Spare Room
4100 BAR
Oldfield's Liquor Room
Sotto
Morels French Steakhouse & Bistro
Sassafras
Three Clubs Cocktail Lounge
La Cuevita
Melrose Umbrella Co
Harlowe
Terrine
Culina, Modern Italian
Pistola
Bar Toscana
Westside Tavern
Frankies Private Bar
E.P.
L.P.
Eveleigh
LIVELLO at L'Ermitage Beverly Hills
Scarpetta Bar
The Wallace
Lobby Bar at Terranea
Settebello Marina Del Rey
The Venice Whaler
Open/Closed
Lago
Belcampo
Tacoteca
Gelbes Haus
Lou's On The Hill
Norwegian Pearl
320 Main
The Federal Bar
Auld Dubliner Long Beach
Panxa Cocina
Roxanne's Cocktail & Lounge
Crossings Restaurant
Magnolia House
Vertical Wine Bistro