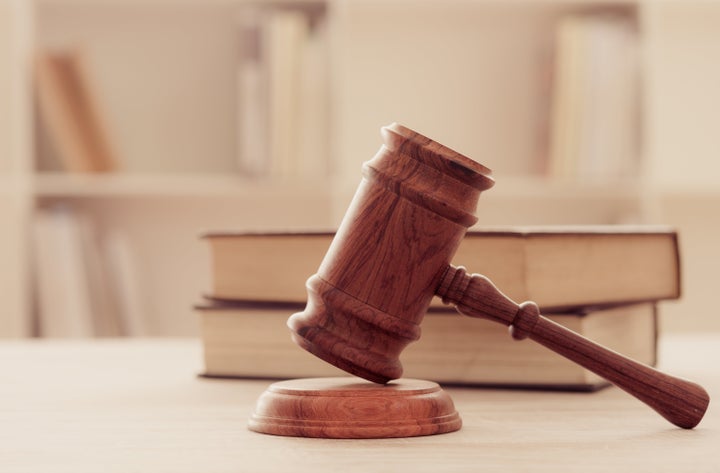 A Silicon Valley woman who allegedly suffered a decade of physical abuse at the hands of her CEO husband has offered up a heartbreaking account of her experience.
In a victim impact statement read aloud in court last week, Neha Rastogi, a former engineer for Apple and Cisco, described what she said was a nightmare marriage to Abhishek Gattani, CEO of the Silicon Valley startup Cuberon.
"He hit me, multiple times during each incident on my face, arms, head, belly, pulled my hair and abused me and called me a bitch, whore, slut, bastard and much more in my language," she wrote. She accused Gattani of beating her while she was pregnant and forcing her to stand for long periods of time as a form of punishment.
As The Daily Beast originally reported, Gattani was arrested twice for assaulting his wife ― once in 2013 and again in 2016 ― and is awaiting sentencing for the most recent incident. He pleaded no contest to offensive touching and felony accessory after the fact, and under a pending plea deal offered to him by prosecutors, he would only spend 30 days behind bars. A judge is expected to formally sentence him next month.
Experts say the short sentence offered to Gattani is not surprising. Lenient sentences are given all the time to domestic abusers, especially in cases where the victim does not have severe, life-threatening injuries. But with her statement, Rastogi has pinpointed the frustrations so many domestic violence victims have with the system.
"What's the point of me speaking up now?" she said to the courtroom. "I get heard to be ignored? To be told that the system understands the abuse and the impact it has had on our child and me, but sorry ― it is what it is?"
Rastogi's four-page victim impact statement describes the effects of her husband's abuse, and her ongoing disappointment with the criminal justice system's lack of substantial response to her plight. She said she feels she's been "effectively silenced" twice ― first by her husband and then again by the system meant to protect her.
By coincidence, the courthouse in Santa Clara, California, where Rastogi spoke is the same one where Brock Turner was sentenced to six months in jail for sexually assaulting an unconscious woman. His victim's poignant impact statement went viral and led to national outrage over lenient sexual assault sentencing.
Kim Gandy, CEO of the National Network to End Domestic Violence, said she hoped Rastogi's statement would have the same impact.
"She described a decade of physical, verbal, emotional, and financial abuse that would outrage the hardest heart, but would not surprise those of us working in the domestic violence field," Gandy said. "The minuscule sentence, the judge and prosecutor's preoccupation with the abuser's work and status, and the disregard for the safety of this victim whose life has been clearly and repeatedly threatened, reflect a denial of reality and a deep disregard for women's lives."
Ruth Glenn, executive director of the National Coalition Against Domestic Violence, wondered if Gattani's considerable social status may have played a role in the sentencing.
"We also see quite frequently that money, power and privilege in our society is a free ticket for less accountability," she said. "More than a few instances of high-profile domestic violence perpetrators have received lighter sentences than their less-than-high-profile counterparts."
Maureen Curtis, vice president for Safe Horizon's criminal justice and court programs, said the criminal justice system is designed to respond to specific incidents of physical violence, not patterns of abusive behavior. The focus on eruptions of physical violence can miss the bigger picture of the terror present inside a home, she explained.
She pointed to the concept of coercive control, a pattern of verbal and psychological maltreatment that abusers use to dominate their partners. Many elements of coercive control, such as "isolating a victim, obsessive behavior, harassing or threatening, [and] threatening to take the children, is often not criminal behavior in most, if not all states," Curtis said. "It does the most damage, and is the most terrifying, to victims and children who live in those homes."
Rastogi, for her part, characterized the abuse she suffered as "terrorism."
"That's how I felt ― terrorized and controlled, held hostage by the fear of pain, humiliation and assault on my being and my daughter's," she said in her statement last week.
She said Gattani encouraged her to commit suicide and threatened to kill her. He blamed her for feeling scared and unsafe with him, she said, and called her mental state a "self-inflicted depression." Experts call this type of abuse "gaslighting," a psychological tactic that causes victims to doubt their feelings and question their own sanity.
Rastogi said she is speaking out because she believes her husband will abuse other people unless he receives appropriate punishment.
Anger management classes can't help a man "who doesn't think he did anything wrong when he HIT and ABUSED others to control them, once someone escapes their guilt the only thing that stops them is serious consequences ― which is a rightful conviction," she wrote. "I can almost confirm he will do the same again."
Gattani is expected back in court on May 18 for sentencing.
Related
Popular in the Community