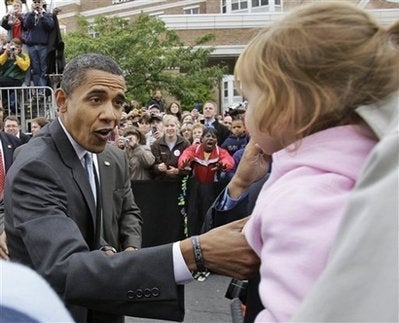 Marc Ambinder recently judged the "tech innovation" race between the Obama and McCain campaigns to be roughly equal, crediting each side with two web-savvy innovations.
But Obama's campaign has been adding new tools to its array of online initiatives, giving them confidence that they have the edge in this arena.
The voter registration and information site VoteForChange.com has gotten the most attention so far, as it has drawn over half a million users since its debut in August. (An Obama aide said the goal was to achieve one million new voters through the site by the various state deadlines for registration, which fall next week in most places.)
Less-covered, though, is a web utility that the campaign had dubbed "Neighbor To Neighbor." According to Obama online guru Chris Hughes, the site is not only more user friendly than past volunteer coordination efforts, but also yields more high-value information for the campaign.
"For supporters in battleground states, this is really a huge leap forward. Instead of doing anonymous phonebanking and canvassing as campaigns have done in the past, you can log onto the system and in a matter of seconds have a list of undecided voters on your street, many of whom you probably know, that you can target for the campaign," Hughes told the Huffington Post.
"From our perspective, this is a huge leap forward because all of the information that our supporters collect -- such as, who is a supporter, who isn't a supporter -- then syncs immediately and directly back into the master voter file. That in turn allows our staff to really focus in on the people who we have identified as still being persuadable. ... In the past the way this would have been done is by relying on field organizers to print out walk lists, get in cars and ferry around volunteers all across an unfamiliar area."
Hughes also sketched a scenario in which battleground-state volunteers walking their own neighborhoods the weekend before election day could then feed back their data on the last remaining undecideds in something close to real time. According to Hughes, that info could be re-tabulated within hours. And then volunteers in non-battleground states could receive new phone lists for follow up calls with just the remaining high-target undecideds the Monday before election day.
In that respect, Neighbor To Neighbor is not just for volunteers in swing states. "If you live in a non-battleground state, you can still call into battleground states and talk to undecided voters from anywhere at anytime" by using the site, Hughes added.
VoteForChange.com will also serve a function after registration deadlines pass. "It's going to turn into a polling and early vote locater," Hughes said. "Anyone who heads there will be able to input their address and find out where to go, or how soon they can vote. So we're going to continue to push people directly there."
Popular in the Community