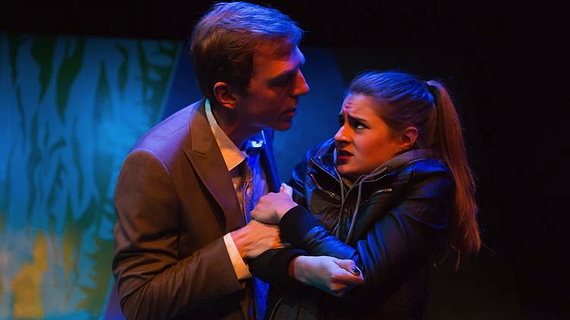 Two members of the ensemble cast in the Flea Theater production of Neighborhood 3: Requisition of Doom (photo by Hunter Canning)
In Ray Bradbury's story "The Veldt" (1950), a parent who's growing concerned about what his children have created in a simulated environment muses, "They were awfully young, Wendy and Peter, for death thoughts. Or, no, you were never too young, really. Long before you knew what death was you were wishing it on someone else. When you were two years old you were shooting people with cap pistols." Jennifer Haley, in Neighborhood 3: Requisition of Doom, a 2008 play perhaps inspired by Bradbury's story and perhaps an independent creation, offers a contemporary take on a similar idea. A video game captivates teenagers in a community by duplicating their neighborhood, even its inhabitants, and allowing them to battle zombies--modeled on their parents--in a quest whose ultimate goal is to get away. For the teens, the game represents their consuming desire to grow up, take charge, fight their way free; for the parents, the game is taking their children away, from the dinner table and from the life of the family. The stakes are raised when, as in Bradbury's story, the simulated world begins spilling over into the real one.
Haley's original script, which has been produced at Actor's Theatre of Louisville and elsewhere, relied on a cast of four playing multiple parts. For the current production, playing at the Flea Theater in New York City through December 20, Haley gave permission for a larger cast--surely that's not often asked for--and this version employs 15 members of the Bats, the resident ensemble at the Flea. It's refreshing to see a play about a community, especially when it's fully embodied by different performers. And there's a rigorous, driving symmetry to the play's structure; it's a sequence of two-person scenes, bridged by voice-over instructions that from the outset emphasize parallels between the game world and the physical world.
Haley's concise, elliptical script sketches a social critique of the privileged, suburban middle class. The parents' notion of providing for their children seems to mean indulging their wants more than engaging with them or acting as responsible models. That criticism is rather old-fashioned--coincidentally, it's detectable in the Bradbury tale--and today we're more likely to worry about excessive hovering, but Haley's analysis is at least a useful reminder of the dangers of inattention. Likewise, the play's view of suburban life as somewhat vacuous and conformist--neither the parents nor the teens are altogether distinct, just like their houses--has been around a while, but it may still apply.
The adults in this community may have earned their designation in the game as soulless zombies. What of the teen players? Are they genuinely bloody-minded? Or are they only trying to escape the domination of their parents, in a conflict that escalates too far? Is the game responsible, or is it only a vehicle, channeling urges that already exist? To me, the play suggests that they have murder in their hearts (as do the children in Bradbury's story), which the technology of the game only enables. Thus Haley's play, flecked with glints with dark humor, gradually reveals the suburbs to be a metaphorically frightful place at the same time as it unleashes literal horror.
At the Flea, Neighborhood 3 runs only about 70 minutes, with no intermission. I can't help feeling a longer exposition could've carried more weight. It builds quickly, delivers a few brief jolts, and is done. What's more--to indulge in an old-fashioned criticism of my own--the production seemed unpolished in its fourth preview. The practice of showing and charging for work in progress is well established by now, but it leaves me nearly as uneasy as the play itself did. The production was staged by veteran film director Joel Schumacher, who did as well as an enterprising novice, which, in a sense, he is: according to a Times feature, he has directed only one previous theatrical work. On the night I attended, there were a few clunky moments, and the tone seemed shaky, sometimes veering too far toward melodrama. (For what it's worth, a friend who saw the play a week later felt it progressed smoothly.)
Nonetheless, Haley is a thinking playwright. In September, a Bookends piece in the New York Times Book Review considered "Whatever Happened to the Novel of Ideas?," especially (for one of the two respondents) in American fiction. Could one adapt a complaint of Philip Rahv's quoted in that piece and say, "Everything is contained in the American drama except ideas"? That's a question for another debate. But, whatever one makes of the rest of the field, it's clear from this play and from The Nether, which was presented in New York earlier this year (my review is here), that Haley is concerned with more than traditional forms of private experience and recognizes the personal and social import of technology. For that reason, anything she writes is worth seeing.
Calling all HuffPost superfans!
Sign up for membership to become a founding member and help shape HuffPost's next chapter