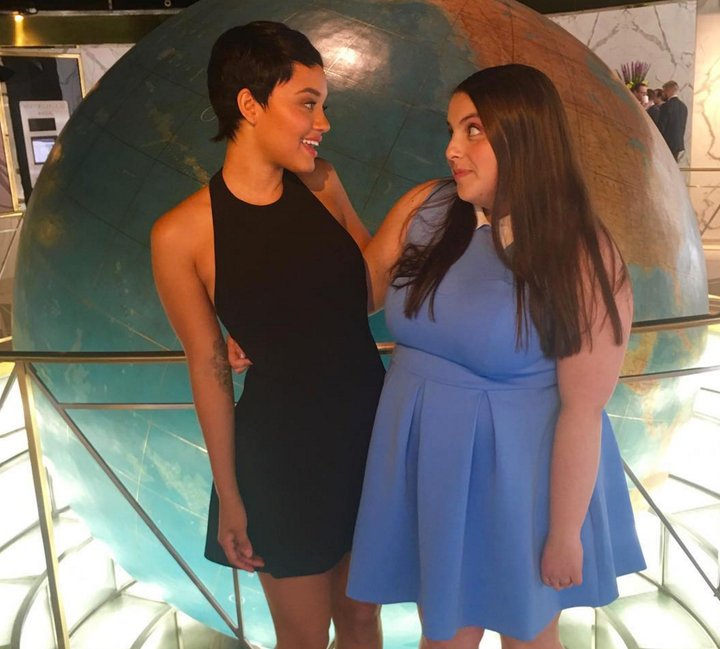 After three college freshman learn how the Greek system forbids sororities from throwing parties in their own houses, they decide to form their own, in which no one can tell them no -- least of all their next-door neighbors. That's the basic plot of the very funny "Neighbors 2: Sorority Rising."
The Huffington Post caught up with the films' stars Beanie Feldstein and Kiersey Clemons during a recent press day to chat about the film, which is as refreshingly progressive as it is hilarious.
Like 2014's "Neighbors," the sequel again pits married couple Mac (Seth Rogen) and Kelly (Rose Byrne) against their college-aged neighbors. But since a sorority has moved in next door this time around, the film has a hearty dose of sisterhood and feminism. And it's better for it.  
The friendship between Shelby (Chloë Grace Moretz), Nora (Feldstein) and Beth (Clemons) is the heart of the movie. There's a palpable chemistry between the three actresses that comes from the fast bond they formed in the weeks prior to filming. 
"We got to Atlanta about two weeks before we started shooting and [director] Nick [Stoller] would bring us in and we would do table reads and just work it through at the table," Feldstein, Jonah Hill's younger sister who makes her breakout performance in the film, told The Huffington Post in a recent phone interview. "We talked about each of the characters and how they relate to each other.  It's such a hugely important part of the movie, just believing this friendship and rooting for this friendship because it's the core of the story."
And much of their own bonding experiences ended up working into the film.
"We were joking with Nick, like, 'Girls when they want to become close they just start heart-to-hearting.' So they kind of put that into one of our first scenes in the movie where it's just the three of us and we're kind of going over our high school lives, and ex-boyfriends and all this stuff. I think it's very true to how, at least my college experience, was the first two weeks of school. In order to get to know people you want to open up to them," Feldstein said. "So we did that in our personal lives as far as as meeting each other, but we would also add it into the movie." 
"A lot of things that ended up in the movie were inspired by conversations that Nick Stoller, our director, would hear us having," Clemons, who's best known for her roles in the movie "Dope" and Amazon's "Transparent," told HuffPost. 
Clemons said the three of them would be hanging out and someone would inevitably say something funny and they'd pitch it to Stoller. "A lot of the movie is inspired by our actual friendship, which is always cool," she said. 
One particularly memorable scene was inspired by Clemons' and Moretz's synchronized menstrual cycles. 
"The scene when we throw the tampons at the window, that was something that me and Chloë brought up," Clemons said. "We were on our period at the same time and we were like, 'Oh, this is cool, we're hanging out so much that we're on our period at the same time.' And Nick was like, 'That happens?'"
The movie has a distinctly feminist feel, but it's not something that's overtly discussed. (Stoller told the New York Daily News that they had to cut a running joke where they were constantly talking about feminism, but in the wrong way. "When we tested it, the word feminism was so divisive to the audience that we literally had to cut the word out of the film," he said.) The joke is on any viewer who can't deal with hearing the F-word, and Feldstein has no problem using it.
"I think we're all feminists that we're making the movie, from Nick across the board all the way down to me," she told HuffPost. "The best thing about this movie is that it's giving jokes and giving scenarios to 18-year-old women that usually would be given to guys."
The movie also addresses the rape culture associated with Greek life with a fairly light touch -- the girls call the frat party they attend "super rapey" and are warned "don't ever drink the punch." Feldstein graduated in 2015 from Wesleyan University, a school that's had more than it's fair share of drama when it comes to the Greek system. In 2014, the school's officials announced that fraternities with campus houses would be required to become co-ed. The policy change came after the university's board of trustees asked its president to "prepare a plan to address the future of Greek life" after "highly publicized incidents of sexual violence." By the start of the 2015-16 school year, there were no frat houses left on campus. When asked if she had any personal thoughts on the situation at her alma mater, Feldstein said:
"I just graduated a year ago, so it is pretty fresh. It was a very complicated topic and it was definitely something that was talked about a lot and debated and discussed and analyzed. And I think Wesleyan approached it in a great way. Obviously, there were improvements to be had, always, but I think it's better to be included and the most important thing is that you just feel safe. As far as it ties into the movie, in a lighthearted way it shows the Greek system is a little outdated and could use some improvements," she added. "I like the idea of starting conversation and changing and progressing to match our society right now instead of staying kind of rooted in tradition."
"Neighbors 2: Sorority Rising" hits theaters May 20.
Calling all HuffPost superfans!
Sign up for membership to become a founding member and help shape HuffPost's next chapter
BEFORE YOU GO
PHOTO GALLERY
Summer Indie Movie Preview 2016