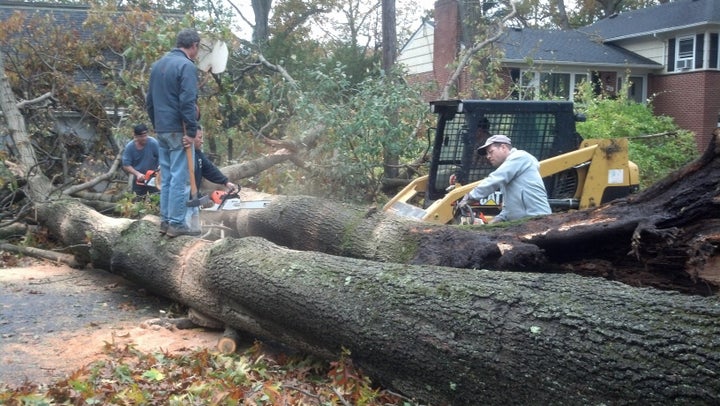 Among the 11 million others who went dark during Sandy, and the tens of millions who were battered and frightened by the storm, and the swaths of neighborhoods still lying under tons of branches, water and debris, ours is just one story.
We're not likely to forget it anytime soon.
Ours has never been just a street, but more like an enclave. Built at the top of an intimidating hill in the town of Dobbs Ferry, NY, the first houses date back to the 1920s, when, real estate lore has it, an eccentric professor bought up all the land, intending to create an intellectual community. He had built a few of the houses, and started a few more, when the Depression hit. You can still see the skeletal foundations of the abandoned plan in the surrounding woods.
We are not necessarily intellectuals, but we are a community. The only way in or out of The Hill is a steep winding road -- one that breaks all the zoning rules, but remains because it predates them, too. It serves as a barrier against the world -- you have to know we are here in order to find us -- and gives us the feeling of being in this together. We know each other's names, and each other's business. We hold impromptu barbeques, well-planned block parties, and (usually) elaborate halloween celebrations.
We also -- now we know -- come together during hurricanes.
The first big tree hit Paul and Erica's at dinnertime Monday night, cracking the brick wall that anchors the back of the house, shaking the foundation so hard that a pipe came dislodged beneath the kitchen sink. In quick succession came Cathy and Javier, who were not in their bedroom when a tree lopped off a corner the roof above it, then Bill and Eileen, whose towering elm sideswiped their daughter's room and flattened their car.
Next it was our turn. With a crack and a bright flash, the majestic oak that stood in front of our house for about 75 years snapped at its base, crashing across our street and coming to rest atop our neighbor's garage. It ripped all the wires attached to both houses as it fell, and the only way in or out of our neighborhood was now barricaded with wood, leaves, and live electrical cables.
Cell phones worked, so we called each other in the dark, made sure no one was hurt, and tried to get some sleep on mattresses placed away from windows on cold floors. Twitter on our phones told us that homes were burning in Queens, babies were being evacuated from NYU Hospital, subway tunnels had become part of the Hudson river, half of Manhattan was in the dark.
So we already felt lucky by morning when we emerged to survey the damage. Some had generators, but no heat. Others had heat, but no hot water. We lent each other what we had and they needed. We scouted tarps from basements and climbed on each other's damaged roofs to provide some protection. And we understood when the overworked head of the village's department of public works came to tell us that yes, ours was an emergency, but so were the other 48 streets in our mile-square town where trees also blocked the roads. It felt as it must have back when the eccentric professor first moved in -- we were alone and cut off at the top of The Hill. Alone, but together.
Someone appeared with a chainsaw (thanks Chris!) and started hacking at the several tons of wood that had us trapped. When that ran out of gas, a call was made (thanks Bruce!) and friendly reinforcements arrived, carrying not only gas cans, but an aresenal of (much bigger) chainsaws. Upwards of ten men, slicing through nearly a century of tree rings, creating chunks that were smaller, true, but still far too heavy to lift.
That problem was solved when Sal chugged up with a bob-cat -- an adorable powerhouse of a dirt mover. (Thank. You. Sal!!!) It was being stored behind Robert's old house, the one that is being renovated, and it was just what was needed to scoop up the pieces and deposit them on the sides of the road. By now everyone on The Hill had joined in -- sweeping, taking photos, shooing kids away from wires, finding ice chests to fill with beer.
We applauded (whooped, hollered) when the final chunk was pushed aside and the first cars could drive through. Darkness was falling by then, and groups of us headed into the parts of town that had electricity, in search of hot food eaten under bright lights. We sat together for hours, friends who know each other only because they share a street, then headed back to dark, silent houses.
Lying in bed I could see flashlights swooping and candles flickering in nearby windows -- rays of comfort against the blackness. We were alone, but together.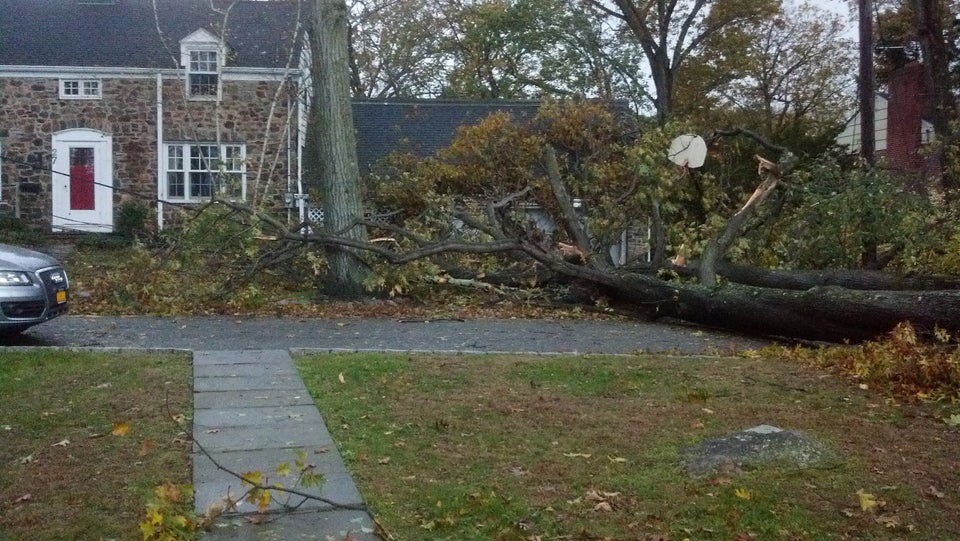 Hurricane Sandy Aftermath
Related