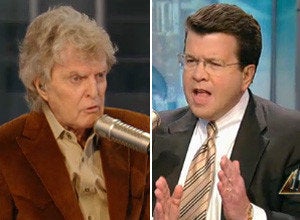 Imus had jokingly criticized his viewers for inconsistently tuning into his television show (giving him a ratings record one day and a less-than-record-breaking figure another day), and blamed them for his ratings. Cavuto, who frequently dishes out the insults during his appearances on the show, had a ready riposte for Imus. "Your ratings are not [consistent] because people don't like you," he said.
Imus responded by calling Cavuto "fat" and telling him that he was going to "ignore" his comment.
"You're blaming them for the fact that you might suck," Cavuto said to Imus. "It's not their fault...It's not their problem that your show is awful...and inconsistent. It is not viewers fault that you can't consistently hit it out of the park."
"Want to go back to 'Money For Breakfast?'" Imus joked, referring to FBN's morning news show that preceded "Imus in the Morning."
"You know what — I would!" Cavuto said. "At least...I knew what I was getting." Cavuto then named every other FBN host that consistently performs well, and told Imus that he was "mad at him."
Note: this post has been updated to clarify the joking nature of the conversation.
Calling all HuffPost superfans!
Sign up for membership to become a founding member and help shape HuffPost's next chapter