February 17 was a sunny, clear day in Washington, D.C., although temperatures barely topped the freezing point. Despite the cold weather, an estimated 40,000 people gathered on the National Mall to participate in the Forward on Climate Rally, urging President Barack Obama to tackle climate change and deny a permit to the controversial the Keystone XL pipeline.
On Fox News, host Neil Cavuto ridiculed rally-goers for protesting "global warming" during an arctic blast. "I think they might call this a case of, I don't know, bad optics," he said, as Fox showed footage of protesters bundled in hats and scarves. Cavuto was then joined by Fox Business analyst Charles Payne, who mocked not only the temperature, but the message of the rally. "Maybe that was it, maybe it was the icicles on their lips," said Payne, laughing. He then imitated protesters trying to say the word "fracking" through frozen lips, a gag he repeated later in the segment.
Yet the idea that climate change equals consistently hotter temperatures was dispelled long ago. "Global warming," which refers to long-term warming of the planet, can be a somewhat misleading term when applied to climate science, since "climate change" encompasses both hot and cold temperature extremes. According to NASA, climate change "includes warming, cooling, and changes besides temperature."
After an extreme winter storm in the Northeast earlier this month, the AP reported that warmer winters punctuated by strong blizzards are consistent with climate change. Warmer temperatures cause a buildup of moisture in the atmosphere, which leads to snowier days during the winter.
"Shorter snow season, less snow overall, but the occasional knockout punch," Princeton University climate scientist Michael Oppenheimer told the AP. "That's the new world we live in."
In his report on the Forward on Climate Rally, Cavuto suggested that environmental activists were merely changing their tune in the face of the cold weather. "It used to be that global warming was the cause, but, you know, if it's not warm outside then you had to change it to climate change to force that issue," the host explained.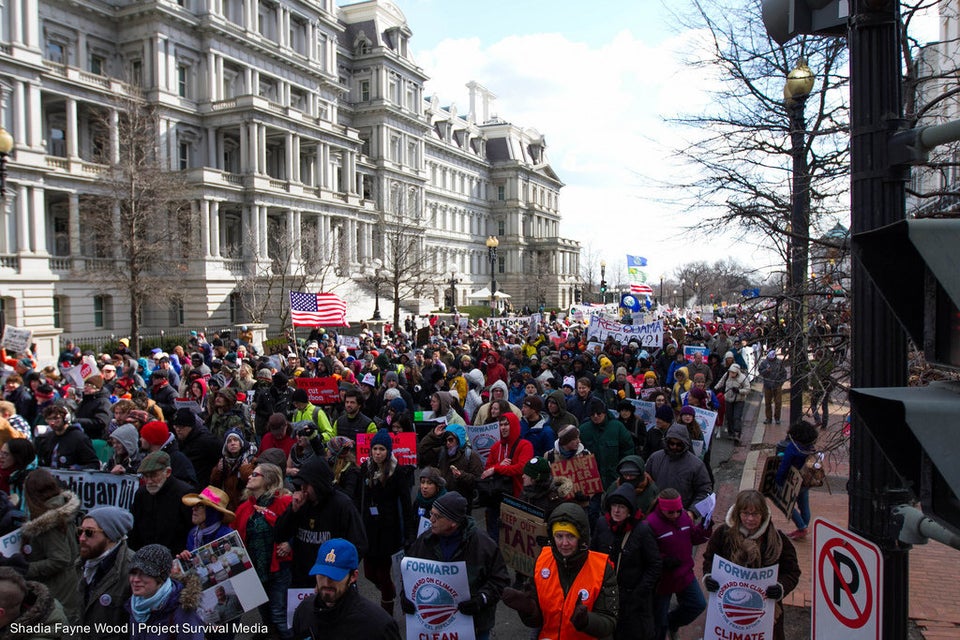 Feb. 17, 2013 'Forward On Climate' Rally