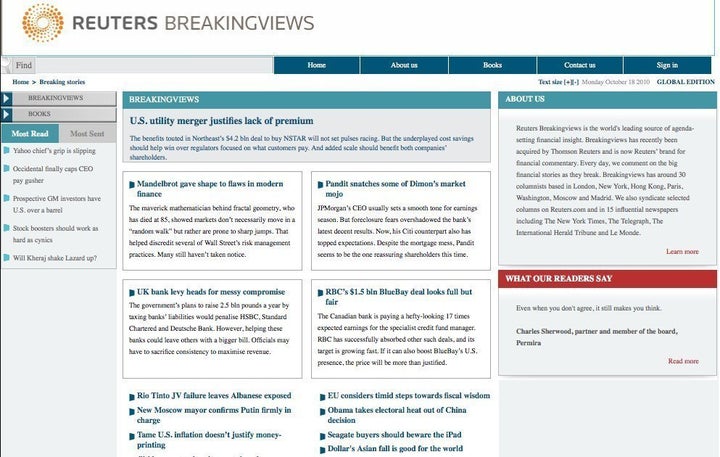 A columnist for Reuters BreakingViews, Reuters' financial opinion website, has resigned after it emerged that he repeatedly wrote about companies he had invested in.
The columnist, Neil Collins, resigned Friday after it was discovered that he owned shares in several companies he had written columns about, including BP, British retailer Marks & Spencer and the alcohol company Diageo. He also made trades on some of the companies after writing about them. The Guardian reported that, since March 2009, Collins wrote about 15 different companies in which he owned shares.
Reuters bans its journalists from writing about companies they own shares in, and from trading in companies they have written or intend to write about.
In a staff memo on Monday, Reuters editor-in-chief David Schlesinger said that "while we have no evidence the journalist was abusing his position for financial gain, we take such breaches extremely seriously and that journalist resigned with immediate effect during our investigation."
Reuters has added disclaimers to 53 columns written by Collins and two other commentators.
The paper also obtained the email Collins sent to Hugo Dixon, editor of Reuters BreakingViews. In the email, Collins said he was "saddened and embarrassed." He added, though, that while he felt he had committed a "serious, but technical breach of the rules," he firmly believed he had not abused his position at Reuters.
Referring to his columns about BP, he said that he "saw an opportunity" in the company when share prices plummeted in the wake of the Gulf oil spill.
"I failed to connect my comments for Reuters - among millions of words written on BP at the time - with the purchases. I had read Reuters' rules about share dealing on joining the company in March 2009, but my recollection was incorrect. I did recall the phrase 'The test is whether the editorial activity might continue to have an impact on the securities.' This is surely the point of the rules."
Thomson Reuters bought BreakingViews in 2009 for £13 million (nearly $21 million). The site's stories are used by many news organizations. In its article on Collins' resignation, The New York Times noted that BreakingViews stories appear five days a week in the paper's business section.
Note: An earlier version of this post stated, based on a Guardian report, that Reuters was also investigating two other commentators for similar ethical breaches. Reuters says this is not the case, and The Guardian has updated its story to reflect that fact. We have removed that sentence from this post.
Popular in the Community