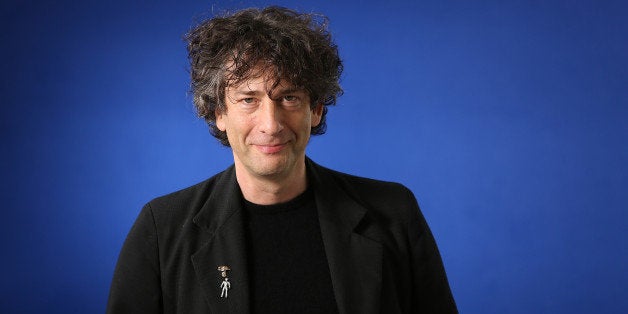 With Reddit a bonafide Internet answering tastemaker, authors keep taking to the website to better connect with their fans. Neil Gaiman, author of the "Sandman" graphic novels and modern fantasy classics including "American Gods" and "Anansi Boys," spent several hours fielding questions in the site's popular "Ask Me Anything" forum, answering whether HBO is still adapting his award-winning novel "American Gods," naming his favorite supporting characters in fiction and weighing in on the practice of releasing posthumous sequels to authors' books. He was joined by his wife, musician and performer Amanda Palmer, who chimed in on her husband's work and the surprising literary figures who influenced her music. Here are the best answers from their Q&A, which they cheekily called "An Evening With Neil Gaiman and Amanda Palmer."
Gaiman on the rumored American Gods HBO TV show: "There is an American Gods TV series in the works. It's no longer with HBO. The moment that things are ready to be announced I am sure they will be, either legitimately or via a leak in a big Hollywood Agency mailroom." (Gaiman added that he spent "about 35 years" researching the novel, though only a year or two of research during the actual writing process.)
If Gaiman pulled from his own childhood to write the child psyche in books such as Coraline: "Yes. That's pretty much it: it's the only childhood I went through, after all."
Palmer on her favorite Gaiman book: "My favorite writing of Neil's is probably the new book (The Ocean at the End of the Lane). But before that, it was the short stories collections (Smoke and Mirrors in particular)."
Palmer on unusual literary influences in her work: "There's actually a track on the new record called 'Judy Blume,' where I talk in the introduction to the song about how I realized--all of a sudden--that I'd never recognized her massive influence on me, as a woman, as a writer, as a embarrassing-truth-sharer... It was a real revelation." (Palmer also cited "my parents' copy of The Joy of Sex" and "one single novel by Jackie Collins called Rock Star that I read when I was 12" as influences.)
How Gaiman knows when a story is "done": "There's always a point where you have to let a story go. Art isn't finished, as many people before me have pointed out, only abandoned. And eventually you abandon your new child and hope that you'll get it right next time, or the time after that, and you never do."
Whether Gaiman would leave behind notes for people to write posthumous sequels to his works: "Oh, I hope that doesn't happen. In a perfect world I'll live long enough to write ALL THE BOOKS."
Calling all HuffPost superfans!
Sign up for membership to become a founding member and help shape HuffPost's next chapter