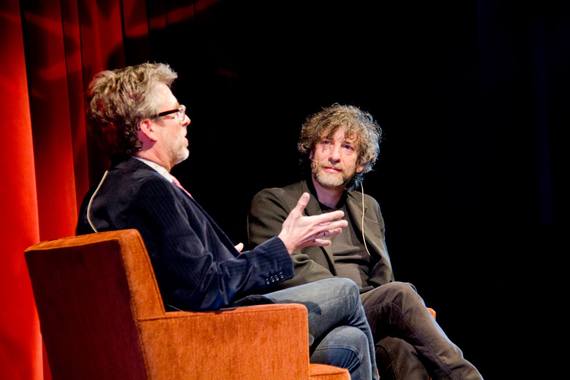 Whatever else Neil Gaiman had intended to talk about with fellow writer Michael Chabon onstage at the Jewish Community Center of San Francisco Thursday night, it was upended by the death of his close friend, the English fantasy writer Sir Terry Pratchett.
"It was a horrible morning," he said, describing how he learned of Pratchett's death that day from his wife, Amanda Palmer.
"I was so pleased that she was the one of us who had gone onto her phone first... and that I got to hear it from a human being," he said. He spent more than half of his stage time sharing intimate recollections of his longtime friend, captured in the video, below. That they had shared a fascination with death was not morbid, but almost comforting, in the end.
"It was that weird thing where you realize that the VENN diagrams of your minds match; you share headspace."
The awareness must have been mutual, because after that meeting, the more established Pratchett would call him when he was writing to bounce ideas off Gaiman.
"My phone would ring and I'd pick it up and 'Ere,' he'd ask; 'What's funnier?'"
After writing, Don't Panic: The Official Hitchhiker's Guide to the Galaxy Companion in the late 1980s, Gaiman hatched an idea for a fictional work written in the classic British humorous style. He wrote the first 30 pages or so and sent it to friends, including Pratchett, for feedback. Then, he was offered a deal to write a graphic series based on the character of the Sandman for DC Comics. Gaiman was deep into Sandman when he got another call from Pratchett. Pratchett wanted Gaiman to either sell him the idea and the opening, or to start co writing the piece with him, "because I want to find out what's going to happen next," he said, according to Gaiman.
"I told him I would write the book with him," Gaiman recalls. "Because I am not stupid."
Pratchett was already established as a fantasy writer; with The Carpet People and the first volumes of his Discworld series, he was on his way to becoming Britain's best selling author of the 1990s.
"It was like Michelangelo phoning and asking if you want to paint a ceiling together," Gaiman says.
Gaiman described how he collaborated with Pratchett on what would become the apocalyptic comic novel, Good Omens. In a time before email and texting, Gaiman explains, their method was to talk on the phone every day for about an hour, make each other laugh, come up with great gags, talk about what they were going to do next, and then hang up and race each other to write "the next bit." After long days and nights working on The Sandman, Gaiman would plunge into Good Omens in the early hours of the morning. By the time he awakened in the afternoon, there would be a phone message from Pratchett, usually dangling a challenge. They were complementary partners in writing, and the book was nominated for a World Fantasy Award.
By way of tribute, Gaiman reads aloud "a good bit," his first public reading of Good Omens since he and Pratchett went on tour in 1990.
The disease that claimed Terry Pratchett's life on March 12, early-onset rear brain Alzheimer's, gave him a chance to mount the steed of an important cause, as if confirming the Queen's decision to knight him in 2009.
"He did something huge and noble," says Gaiman, "which was that after his diagnosis he went public, and he went loud."
Having fought for years for his work in the fantasy genre to be taken seriously, eventually winning critical attention, he used his stature to raise public awareness about the pittance that has gone towards Alzheimer's research as compared to cancer research, which has seen so much progress towards cures as a result.
Then, Pratchett took another risk.
"Incredibly bravely, he decided he wanted the right to die at the time of his own choosing," Gaiman says. Since assisted suicide is illegal in Great Britain, Pratchett decided to do what he could to change the law.
He wrote brave angry articles, he made a fantastic documentary. As it was, he died naturally. He didn't get to do the good death that he wanted, and I don't know that he would have done it, but he wanted the right to do it.
A writer to the end, Pratchett at least wrote it the way he wanted. Gaiman describes Pratchett's last tweets, posted by his assistant Rob, on his Twitter account.
"AT LAST, SIR TERRY, WE MUST WALK TOGETHER," he posted at 3:06 p.m., recalling the figure of Death he had explored in his works.
"TERRY TOOK DEATH'S ARM AND FOLLOWED HIM THROUGH THE DOORS AND ON TO THE BLACK DESERT UNDER THE ENDLESS NIGHT," followed at 3:07 p.m..
And finally, moments later, "THE END."
"I miss my friend, I miss him so much," Gaiman says, welling with emotion.
Then he interrupts that trajectory. "But let me tell you a nice story about Terry," he says brightly.
And he does. It's a fantastic story. And you can watch it here, between 25:04 and 28:29.
Further anecdotes follow. As they will, forever.
Popular in the Community