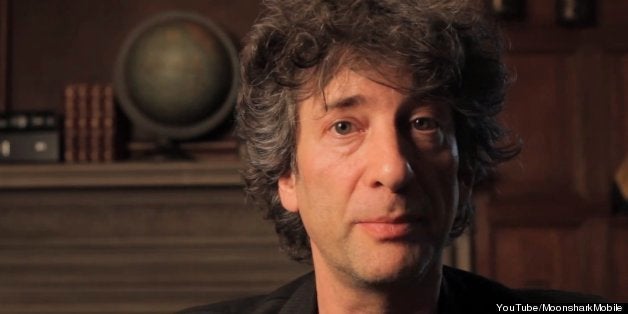 Neil Gaiman describes what he does as "trying to find the right medium to tell the right story." And now he's about to release his first video game, "Wayward Manor."
Inspired by the "crazy, mordant, playful funny weird things [filmmakers] made in the first half of the 20th century", according to the game's launch video, "Wayward Manor" is a puzzle/adventure game in which gamers play as a ghost trying to scare away the new owners of a New England home, the eccentric Budd family. The first part will be released this fall on Mac, PC and tablets.
It's being created by development studio The Odd Gentlemen, whose previous game "The Misadventures of P.B. Winterbottom" is described by Kotaku as "a stylish, excellent little brain-bending puzzle platforming game."
"Back in the late 1990s I spent a lot of time working with various gaming companies," he said. "What tended to happen is I put an incredible amount of work in these things and just as something was about to happen, the company was about to go bankrupt."
"The first [video game] I remember being involved with...there were several Sandman games going back to the days of CD-ROM. There was a company called Inscape. We plotted out this huge, elaborate Sandman game, which has never happened[...] there was an Alice Cooper game to go along with Last Temptation, I think it was Electronic Arts[...] and then it just vanished. More recently, there was a whole, huge... when the web happened, there was a bunch of online, interactive things which started, and then interactive web companies went the way of the dodo and the passenger pigeon...

[...]

I think it's a fascinating... I'm very, very fond of video games and the whole video world. It's just, I started feeling like some kind of evil Jonah. I, you know, things would happen, and they'd be really brilliant, and they would go down. And they would go down kicking and screaming, and I would get phone calls. And it was always before they'd ever handed over any money."

It looks like The Gaiman Curse may finally have been lifted. While fans have to wait at least until the fall for the release of the game, they can currently support it at different levels, in a Kickstarter-style fashion, including preordering the game for $10, buying the opportunity to have your name in the game ($1,000) and paying to join a spooky dinner in Los Angeles with Neil Gaiman ($10,000).
Will you play Neil Gaiman's first game? Let us know in the comments!
Related
Popular in the Community