In 1987, activists at Columbia University began a campaign to boycott Coors Brewing over its treatment of workers and the Coors family's funding of conservative groups such as the Heritage Foundation. Posters popped up around the New York City campus urging students to reject Coors beer and The Federalist Paper, a conservative campus publication that activists claimed was funded by Heritage.
The accusation irked Neil Gorsuch, an undergraduate who who helped found The Federalist Paper. 
"If we find out who did it, there's a possibility of a libel suit," Gorsuch told the Columbia Spectator, the campus newspaper, at the time. "I think the real issue is why these people are so fucking chicken and won't put their names on this poster." 
President Donald Trump on Tuesday tapped Gorsuch, a conservative judge on the U.S. Court of Appeals for the 10th Circuit, to fill a Supreme Court vacancy. A review of Gorsuch's commentary during his time at Columbia shows he was an outspoken conservative even then. He wrote columns and granted interviews to the Spectator criticizing campus activism on issues that included divestment in South Africa, neighborhood gentrification, and military recruiters on campus. He frequently argued that Columbia had been taken over by liberals and was hostile to conservative viewpoints.
In a 1987 column, for example, he accused Columbia students and faculty of rushing to embrace a liberal perspective without considering the alternative point of view or consequences. Divesting from South Africa, he argued, would hurt the school's endowment, which supported its need-blind admissions policy.
"Pro-divestment students call for the immediate withdrawal of University funds from all companies conducting business in South Africa. But in their haste to do the Right Thing, they are willing to overlook such mundane things as facts," he wrote. "Namely, that many of these companies are themselves in the act of divesting. Committee and coalition members seem willing to sacrifice the large income from the endowment ― which goes to pay for our need-blind admissions policy, among other things."
In the same column, Gorsuch asked: "Why don't we hear arguments that the modernization of our neighborhood might actually be good for the community?"
"Is it because such arguments would be Immoral, False, and Heartless? Or is it because it is not fashionable at Columbia to be anything other than a pro-Sandinista, anti-Reagan, ADHOC, uraniumpilfering protester? Truth is: Columbia does have a moral responsibility. It has a moral responsibility to overcome the tyrannical atmosphere of 'ideas' that has so dominated life on Morningside for the last 20 years; it has a responsibility to make the political, philosophical, and ethical experience here as diverse and varied as the cultural and ethnic experience."
Gorsuch also argued in favor of intellectual diversity in 1986, when former United Nations Ambassador Jeane Kirkpatrick declined to accept an award on campus because of objections from Columbia faculty, students and staff. He added that students protesting Kirkpatrick were a "radical fringe element."
"The crux of this issue is why can't we be open to an intellectual dialog with those with whom we disagree," Gorsuch told the Spectator.
As Gorsuch pushed conservatism on campus, an undergraduate activist named Jordan Kushner emerged as his liberal foil. It was Kushner whom Gorsuch accused of spreading the Heritage rumor. In a separate incident, Gorsuch said Kushner deliberately got arrested while protesting so he could get his picture in newspapers.
"He was the the most prominent right-wing campus activist," Kushner, now a civil rights attorney in Minneapolis, said in an interview with HuffPost. "We were obviously political rivals ― or not rivals, political enemies. We were on opposite sides."
Gorsuch was on the board of The Federalist Paper in 1987 when it published a story that said Kushner was dragged away by campus security while kicking and screaming near kegs of Coors beer in a grocery store. The Federalist Paper later partially retracted the story, but Kushner wrote a letter to the Spectator claiming the article was filled with "lies and distortions" and was authored by Gorsuch. Kushner said Gorsuch was embarrassed and apologized.
Despite their different political views, Kushner said Gorsuch was always kind.
"My memory of him personally was positive," Kushner said. "He was very affable and cordial and personable and humorous and witty, and so my conversations with him were fun conversations. When his name first came out, I actually had fond thoughts about him because he was such a decent guy in person. But then the positions he took, including his defamations of me, started to sink in, and then I started to think about what was substantively relevant to the whole situation."
In 1987, Gorsuch wrote a column defending then-President Ronald Reagan during the Iran-Contra scandal. The administration secretly sold arms to Iran, which had been sanctioned with an arms embargo, and used the money to fund Nicaraguan militants, whose aid had been cut off by Congress. Gorsuch weighed in on the power of the president ― an issue he may have to examine if he is confirmed to the high court. He conceded that the affair was a mess, but argued Reagan was acting within his authority.
"Jefferson, with his word alone, bought the whole of Louisiana and sent Louis and Clark off to explore it. More recently, FDR freely sent dozens of U.S. Navy vessels and arms to England before our entry into World War II," Gorsuch wrote. "These presidents did not ask, nor did they need to ask, Congress, Sam Donaldson, or those precious presidential pollsters. Simply because members of Congress, news commentators, and folks at Columbia may not like Reagan's action does not, believe it or not, make it illegal."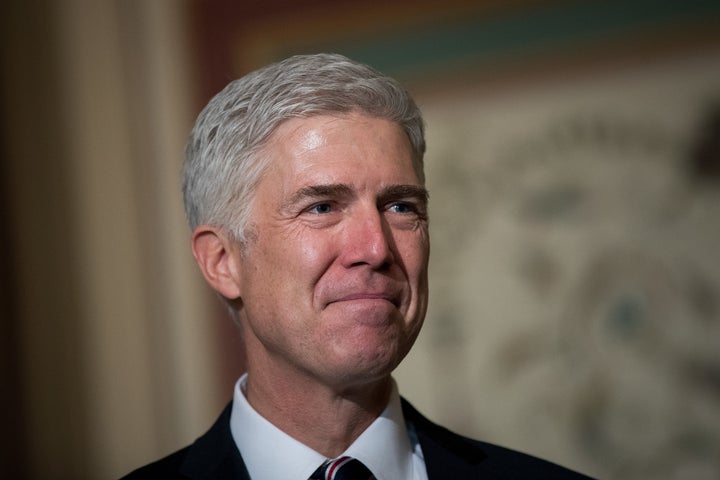 Early in his time at Columbia, Gorsuch ran for a seat on the University Senate, but was disqualified for breaking the school's rule against putting up posters. The school newspaper asked candidates about military recruiting on campus. Gorsuch framed it as a First Amendment issue.
"The question here is not whether 'the Marines should be allowed to recruit on campus' but whether a University and its community, so devoted to the freedom of individuals to pursue their own chosen lifestyles and to speak freely, has the right or obligation to determine who may speak on campus or what may be said," Gorsuch told the Spectator. In the same interview, he said AIDS patients shouldn't have to disclose their diagnosis.
"It would be, to my mind, a violation of AIDS patients rights and privileges of privacy to demand that they report their illness," he said. "I would hope, however, that the University will develop a positive and intelligent policy to ensure that all AIDS patients may receive competent medical attention." 
Kushner said Gorsuch insisted to him during college that he was a moderate, but the positions he took showed otherwise.
"He told me he was very moderate," Kushner said. "I guess you take a look at the positions her took, like denouncing South African divestment, and you know the kind of nasty attacks he made on people engaged in protest. I don't think the facts bear that out.
"We've got a very appealing face covering up a right-wing agenda."
REAL LIFE. REAL NEWS. REAL VOICES.
Help us tell more of the stories that matter from voices that too often remain unheard.
BEFORE YOU GO
PHOTO GALLERY
2017 Scenes From Congress & Capitol Hill