WASHINGTON ― Neil Gorsuch mastered the Supreme Court confirmation dance like only someone who's been groomed for this very moment can.
And without once saying a bad word about President Donald Trump, he still managed on Tuesday to emerge largely unscathed from his first full day of questions from the Senate Judiciary Committee ― an exhausting 10 hours of praise, hard questions and inquiries that revealed little about how he'd approach or rule on the issues that preoccupy Americans.
When Sen. Dianne Feinstein (D-Calif.) wanted to know his views about Roe v. Wade, Gorsuch simply said the ruling was "seminal" and "has been reaffirmed many times." Fielding an assist from Sen. Lindsey Graham (R-S.C.), he said he "would have walked out that door" if Trump had demanded, as a precondition for getting the job, that he would overrule the abortion rights decision.
When Vermont's Patrick Leahy (D) asked the judge if the Senate had been fair to Judge Merrick Garland, who could've sat in Gorsuch's same chair if Republicans hadn't refused to give him a hearing in the Senate, the nominee dodged and said he "can't get involved in politics."
And when Sen. Sheldon Whitehouse (D-R.I.) brought up money in politics and how anonymously funded interest groups spent millions to oppose Garland and several millions more to promote Gorsuch, the judge seemed rattled by the implication that he's in someone else's back pocket.
"You'd have to ask them," he told Whitehouse, who had asked him what made him so special that he's worth spending lavish sums on. The senator wasn't having it: "I can't because I don't know who they are. It's just a front group."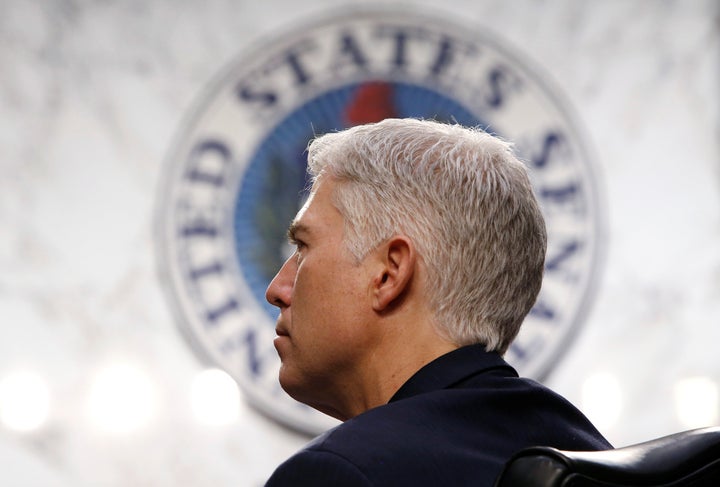 That tense moment was an exception. By and large, Gorsuch performed exactly as he has been trained to perform, sticking to a script that offered as few hints about his thinking, ideology and commitments as possible ― which Republican senators and activists insist is a principled stance because Justice Ruth Bader Ginsburg started the trend during her own vetting process.
"If it looks like I'm giving hints or previews or intimations about how I might rule, I think that's the beginning of the end of the independent judiciary," Gorsuch said early in the hearing, "if judges have to make effectively campaign promises for confirmation."
"I'm just saying that I know these people and I know how decent they are, and when anyone criticizes the honesty or integrity or the motives of a federal judge, I find that disheartening," he said, never identifying the "anyone."
And yet, despite these and other vague responses, it's no secret that Gorsuch got to this point precisely because Trump won the presidency. And that Trump won in large part because many who otherwise opposed him heeded the promise that he'd give them a Supreme Court nominee in the mold of the late Justice Antonin Scalia.
In a revealing moment, Gorsuch shared with Sen. Richard Blumenthal (D-Conn.) that he and Trump had discussed the topic of abortion during his job interview for the high court. The discussion, he said, was limited to how "divisive" the issue is for the country. 
At 49, Gorsuch is the complete package for Republicans — young, handsome, soft-spoken and impeccably qualified. More important, his near-assured confirmation — Democrats are in the minority and hold little chance of a successful filibuster — would guarantee a reliably conservative vote on the court.
Gorsuch would never admit that, but there's no need to. As Whitehouse illustrated on Monday, Gorsuch's vote is likely to side with the same bloc of justices who over time helped Republicans consolidate power ― in the areas such as voting rights and campaign finance where the Supreme Court can be more predictable than nominees would be willing to admit at a hearing.
"I don't appreciate how people ― when people characterize me, as I'm sure you don't appreciate it when people characterize you," Gorsuch said in an exchange with Sen. Al Franken (D-Minn.). "I like to speak for myself. I am a judge. I am my own man." 
REAL LIFE. REAL NEWS. REAL VOICES.
Help us tell more of the stories that matter from voices that too often remain unheard.
BEFORE YOU GO
PHOTO GALLERY
LGBTQ Reactions To Neil Gorsuch's Nomination