In a private ceremony at the Supreme Court and later in a public event at the White House, Gorsuch took separate constitutional and judicial oaths as the nation's 113th justice.
The lifetime appointment restores the court's half-century-old conservative majority. At 49, Gorsuch could serve on the bench for decades. It is also by far the biggest coup of President Donald Trump's chaotic first 100 days in office ― the confirmation process went relatively smoothly despite bitter bickering in the Senate, which blew up its own rules to get Gorsuch confirmed.
"I've always heard that the most important thing that a president of the United States does is appoint people ― and hopefully, great people, like this appointment ― to the United States Supreme Court," Trump said to the crowd gathered in the Rose Garden, which included every sitting justice now on the court.
"And I got it done in the first 100 days!" Trump boasted.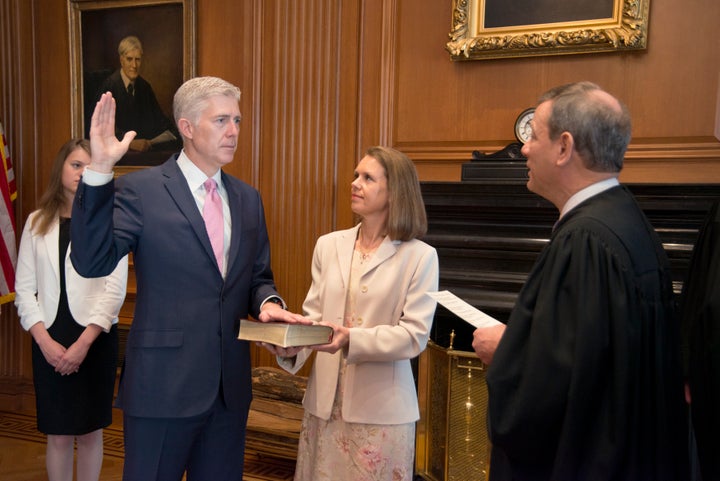 Gorsuch's swearing-in at the White House was also symbolic. His former boss on the high court when he was a young lawyer, Justice Anthony Kennedy, administered the oath.
"We as a people find our self-definition, our heritage, and our destiny in our Constitution," Kennedy said in brief remarks before he read from the judicial oath. As of Monday, Gorsuch became the first former law clerk to serve alongside one of the justices he worked with.
"I won't ever forget that the seat that I inherit today is that of a very, very great man," the new justice said following his swearing-in, referring to Scalia, whose seat remained unfilled for more than 400 days.
Three justices — Kennedy, Ruth Bader Ginsburg and Stephen Breyer — are all in their 80s or near it, and a death or retirement during Trump's first term is a real possibility. With the loss of a liberal justice or Kennedy, who often votes with them on issues such as gay rights, Republicans could entrench a 6-3 conservative majority on the Supreme Court.
After Monday's festivities, Gorsuch is expected to dive headlong into the work of the court. Later this week, he will convene with his eight colleagues for his first private conference, where the nine will consider which new cases to add to the Supreme Court's docket for the new term, which begins in October.
"I will never forget that to whom much is given, much will be expected," Gorsuch said as he closed out his remarks, which commended the roles of Senate Majority Leader Mitch McConnell (R-Ky.) and Senate Judiciary Committee Chairman Chuck Grassley (R-Iowa) during his confirmation. "And I promise you that I will do all my powers permit to be a faithful servant of the Constitution and laws of this great nation."
Kagan gave Gorsuch a taste of what that's like during a public appearance last summer in Colorado, according to The Washington Post.
Popular in the Community