UPDATE: Neil Patrick Harris clarified his engagement status with Burtka -- they've been engaged for a long time now!
"David and I did propose to each other, but over five years ago! We've been wearing engagement rings for ages, waiting for an available date," the star tweeted Saturday morning.
_____
As Americans of all stripes celebrated the passage of marriage equality in the New York State Senate, gay New Yorker couples affirmed their commitments to one another and began the 30-day countdown until they could finally say "I Do." Amongst them, one of New York's most famous gay couples jubilantly announced that they were getting married.
Neil Patrick Harris, the "How I Met Your Mother" star and Tonys host, became engaged late Friday night to his longtime partner, actor/chef David Burtka. Earlier in the night, Harris tweeted words of encouragement to the State Senate and said he'd "sure love to get married," and following the law's passage, Burtka took to Twitter and announced that the two were getting hitched.
"I'd sure love to get married. Please, NY Senate, vote in favor of marriage equality today. My family would really appreciate it," Harris wrote before the vote; once it was passed, he tweeted his excitement, saying, "It PASSED! Marriage equality in NY!! Yes!! Progress!! Thank you everyone who worked so hard on this!! A historic night!"
Burtka then gave the big news in a tweet to a fan. "I've already purposed, he said yes! Thank god!" he wrote, before adding, "he proposed to me as well. I said yes! Thank god!"
Of course, it only makes sense that the pair should be allowed to marry; together for at least five years, the pair are fathers to fraternal twins, Gideon Scott and Harper Grace, born via surrogate in October 2010.
Congratulations to the happy couple, and all the other loving pairs finally granted equal rights in New York State.
PHOTOS: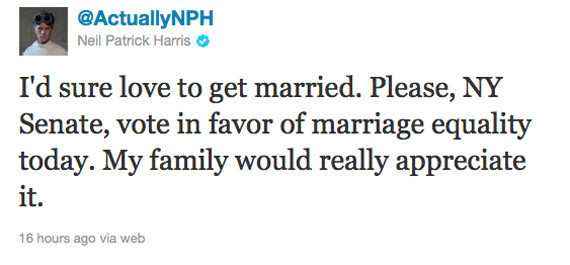 Popular in the Community