Harris wrote on Wednesday that he "should have know[n] better" and apologized for what he "thought was a funny comment" he had posted while watching the show.
Bloom, the star and creator of "Crazy Ex-Girlfriend," had also handled the backstage role at the Tonys last year, which Harris apparently forgot and set in motion an awkward Twitter feud the process.
During Sunday's Tonys broadcast, Harris tweeted about the "woman in the top hat backstage," and how his 7-year-old son Gideon kept remarking on her use of the words "like" and "oh my god." He didn't seem to know who Bloom was.
Not enthused by the remarks, Bloom responded by saying she was a big fan of Harris' and that she's met him numerous times.
The actress' response, in conjunction with Harris' first tweet, almost immediately went viral. Harris, a four-time host of previous Tony shows, responded to Bloom's response by saying, "thanks for the reminder," sans apology.
Since then, Bloom talked to GQ and revealed that Harris saying he didn't recognize her was "kind of" devastating.
"It wasn't a joke. Basically… I saw that tweet. And I was kind of devastated. I was actually going to tweet, 'This makes me sad,'" she told the publication.
"Look. I've met him a couple times. Very recently, backstage in the dressing room of a Broadway show. And we hung out for a solid 15 minutes with the star of this Broadway show. It was just bizarre to me that it wouldn't ring a bell. And also, that he wouldn't Google it."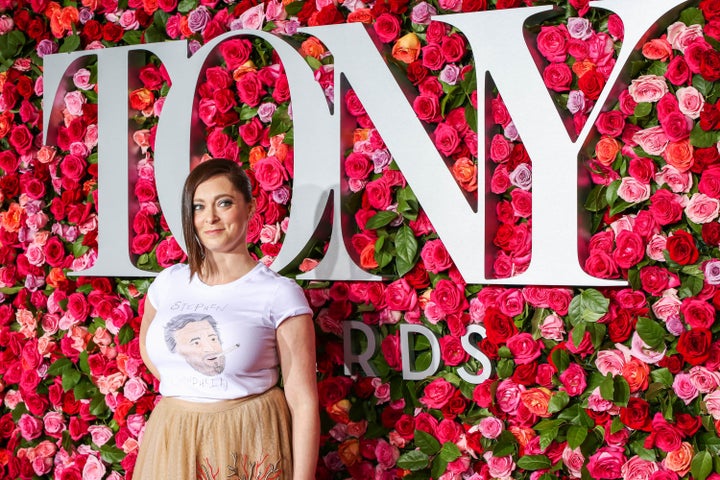 Bloom noted that with Harris' 27 million followers, it's easy to forget to be a "person first and a famous person second." 
"Fame does that to you — where you think every kind of random, unformed thought is a gem, because you get 10,000 likes from it. He has, like, 27 million Twitter followers. And that makes me scared about fame in general. The yes-men. Even if what you're saying is... kind of weird or unoriginal, you're still getting a lot of approval and dopamine surges for saying it," she said.
"And I really, really hope that I can surround myself with people who will call me out on my shit, so that — even if I ever were to have 27 million Twitter followers—I would be just kind of… a person first, and a famous person second."
REAL LIFE. REAL NEWS. REAL VOICES.
Help us tell more of the stories that matter from voices that too often remain unheard.
BEFORE YOU GO
PHOTO GALLERY
Tonys 2017 Red Carpet