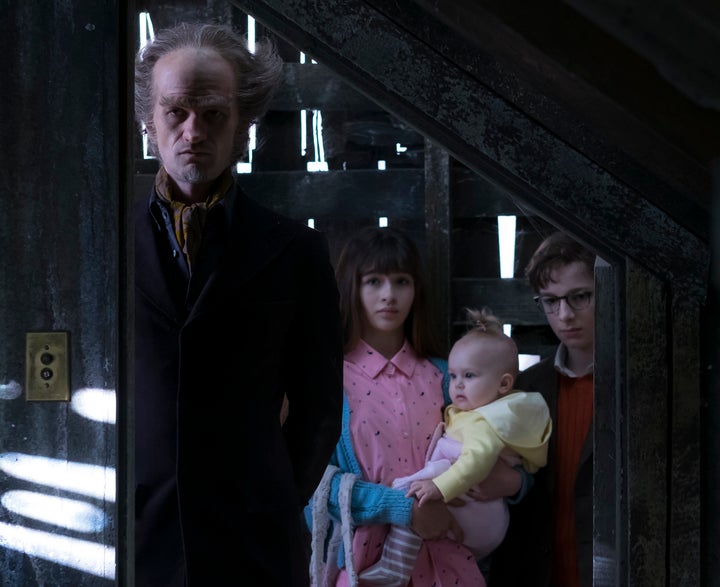 With the new adaptation of "A Series of Unfortunate Events" slated to hit Netflix at last next month, anticipatory viewers should be bracing themselves to watch the Baudelaire orphans face a heartbreaking number of tragedies, which will likely include a devastating fire, a very poorly written play, and an exceedingly dangerous and greedy uncle named Count Olaf.
Count Olaf will be portrayed by Neil Patrick Harris, who sat down with several media outlets, including The Huffington Post, to discuss how he dove into his villainous role in advance of the series' release.
The answer, apparently, was wholeheartedly. "I really wanted Olaf to be ... bad. To be a bad person," he said. "Otherwise I just don't think it justifies [the Baudelaire children's] constant fear of him." 
The darkly comic ― or comically dark ― children's books, written by Lemony Snicket (a pen name for author Daniel Handler), had previously been adapted for a Nickelodeon film starring Jim Carrey as Olaf, which crammed the first three books in the series into an hour and forty minutes. (The hoped-for sequels, adapted from the remaining books in the series, were never made.) 
Though the Carrey franchise foundered, the actor's slapstick, bullying take on Olaf has certainly left an impression.
Harris explained that he'd sought to differentiate his characterization by drawing directly from the source material:
I tried to just focus as much as I could on being as literary as possible and to try to really honor the way Olaf was described by Lemony [Snicket] and by Daniel Handler. So a lot of piercing darkness and sort of delusional dementia ― he thinks he's so handsome and he thinks he's incredibly charming and incredibly gifted as an actor, and yet he's not, and so I didn't want to be overly charming.

I was really just trying to be awful. Distinctly mean. And let the levity of the situation inform the takeaway for the viewer. I didn't want to make him like myself. I didn't want to add ― I think Jim added a lot of himself into the role, when I watched the movie version my takeaway was, I was watching Jim Carrey's take on Olaf, and I really wanted to sort of lose myself within Olaf. So we'll see how that goes.
Harris may be known for his personal charm and his family's adorable joint Halloween costumes, but he's played quite a few less cuddly characters onscreen. In antiheroes like Dr. Horrible, from "Dr. Horrible's Sing-Along Blog," and Barney Stinson from "How I Met Your Mother," he's embodied the conflicted villain ― a real bad dude with vulnerabilities, or who essentially means well. When asked how it felt to play a less complex, more cartoonishly evil guy, Harris didn't hesitate: "It was wonderful," he jumped in. "I didn't have to think about it at all. Because that's the hard part, is to try to add humanity to nastiness."
"And Olaf, by design, is not that, so it was refreshing," he said.
Harris also emphasized that the adaptation, which he says will devote two hours to each volume in the series, is "super faithful to the books." So mark your calendars, Lemony Snicket fans. The bad beginning is coming on Friday, Jan. 13.
Yep, that's Friday the 13th. If that disturbs you, this is an excellent time to go find a more cheerful show to stream.
REAL LIFE. REAL NEWS. REAL VOICES.
Help us tell more of the stories that matter from voices that too often remain unheard.
BEFORE YOU GO