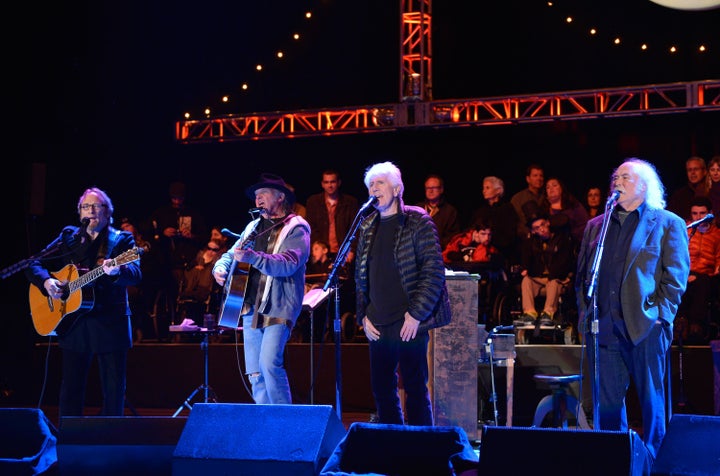 What would it take for Crosby, Stills, Nash & Young to reunite?
Both Graham Nash and David Crosby recently suggested their mutual disdain for Donald Trump could spark a reunion of the classic supergroup.
"I wouldn't do anything for Trump," Young quipped to HuffPost last month while talking about his new Netflix film, "Paradox."
As far as a CSNY reunion goes ― Trump-inspired or not ― Young doesn't have any current plans for it.
"I don't plan things like that. They either happen or they don't. I don't have a plan," Young said. "I want to make music with people who want to make music — that have the same sensibilities that I have. I don't care who they are."
Still, it sounds like other CSNY members think the current state of politics could serve as a catalyst. 
When asked in March if a fifth member, or mediator, could unite them, Nash told the Cincinnati Enquirer: "Maybe Trump."
"Just his existence," he clarified, saying the members' distaste for the man and his politics could propel the group ― known for their activism and politically inspired songs ― to reunite.
Crosby chimed in on Trump and a possible reunion back in February.
"We dislike him intensely because he's a spoiled child who can't do his job," he told The Hollywood Reporter. "So a reunion is possible. We don't like each other, but we like Trump a whole lot less."
Either way, the individual members would have to put aside their own differences before joining forces again. Nash talked with the Enquirer about the sometimes explosive dynamic among the group's four principals.
"There's three, sometimes four, very strong personalities. I've had people try to get into arguments with the four of us, and we've tied them in … knots," Nash said.
Nash doesn't speak to Crosby, for one, though he does talk with Young and Stephen Stills "regularly."  
"We don't get along, and we haven't gotten along for a while. They're all mad at me," Crosby told THR, but wouldn't elaborate on why. "You'll have to ask them," he said.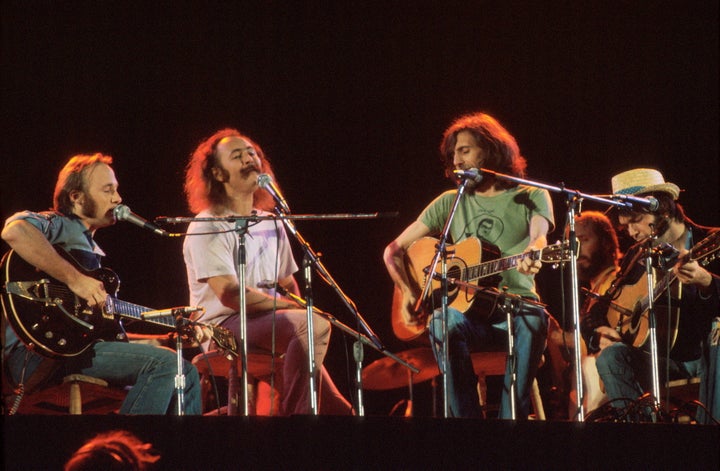 Young, meanwhile, said he'll hit the road when he has some new music, hinting that he'd like to play again with Promise of the Real, the band featuring Willie Nelson's son Lukas Nelson.
"I'd be out there playing with them more if I had more new material," he said. "But I don't have the new songs yet."
That said, new music could come at any time.
"If I start hearing a melody or words, I stop doing what I'm doing and I do that. So, I make time. I don't put aside time for that," he said. "I just keep going and when it comes, it comes. And I'm there. I don't go looking for it."
Young has put his musical archives online, featuring previously unreleased tracks, live recordings, copious rarities, song lyrics, films and photos.
Calling all HuffPost superfans!
Sign up for membership to become a founding member and help shape HuffPost's next chapter
BEFORE YOU GO