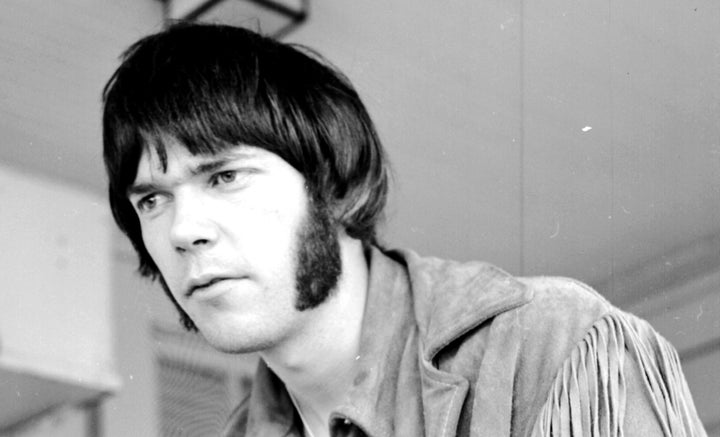 Graham Nash -- of Crosby, Stills, Nash & Young -- has a story about his friend, Neil Young, that has been almost too perfect to believe for nearly three decades.
As the myth goes, Nash was at Young's ranch just south of San Francisco when Young asked him if he wanted to hear something. (That something would become Young's now famous 1972 "Harvest" album, which features the track "Heart of Gold.") Nash, of course, said yes and suggested going into Young's studio. That wasn't Young's plan.
"He said, 'Get into the rowboat,'" Nash explained on NPR's Fresh Air in 2013. "I said, 'Get into the rowboat?' He said, 'Yeah, we're going to go out into the middle of the lake.'"
The two row out on the lake, with Nash assuming Young brought a cassette player and headphones with him.
"Oh, no," said Nash on NPR. "He has his entire house as the left speaker and his entire barn as the right speaker. And I heard 'Harvest' coming out of these two incredibly large loud speakers louder than hell. It was unbelievable. Elliot Mazer, who produced Neil, produced 'Harvest,' came down to the shore of the lake and he shouted out to Neil, 'How was that, Neil?'"
The best part is Young's apparent response to the situation. As Nash explained, "I swear to God, Neil Young shouted back, 'More barn!'"
This anecdote seems to have first appeared in a booklet that came with the 1991 Crosby, Stills & Nash album, "CSN." In 1996, the story was immortalized by Young fan Brad Brandeau, who created a shirt depicting the moment.
Although Nash has spoken about this moment throughout the years, you'd be hard-pressed to find Young's account. So with an opportunity to speak with Young for his new album, "Earth," The Huffington Post had to ask about the infamous lake scene.
"Well it's funny, it's just a little thing that happened one day and it keeps growing and getting crazier," Young said over the phone. "But I had the left speaker, big speakers set up in my house with the windows open. And I had the PA system -- that we used to rehearse and record with in the barn where I recorded 'Alabama' and 'Words' and a couple other things -- over there playing the right-hand channel. So, we were sitting in between them on a little lake and that's what we were doing."
When asked if the kicker of the legend was true -- whether he truly did yell back, "More Barn!" -- the singer laughed for a bit. Then he said, "Yeah, I think it was a little house heavy."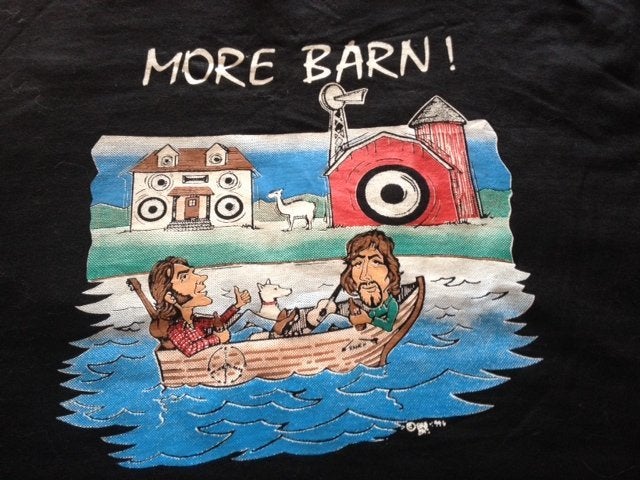 The ethos of Young's mid-lake listening party in this legend plays directly into his latest album, "Earth," which debuts June 24.
"Earth" is a live album featuring Young's backing band, Promise of the Real, but he mixes animal and other nature noises into the songs to replace the audience. "It's something I always wanted to do," said Young. "Whenever I hear the audience in a live recording, I always thought it sounded like something else. I always thought that the audience sounded like water, it sounded like ocean waves. It sounded like flocks of birds, it sounded like animals, you know howling coyotes, things like that."
The album will not be released on standard MP3, as Young prefers to use his own high-resolution service, Pono, instead. "I would never in good conscience sell an MP3," said Young. "In truth, it sounds like shit."
Young has clearly been an advocate for chasing the ideal listening experience for decades now.
Along with replacing the audience with sounds of nature, Young hired harmonizers to sing words such as "Chevron" and "Exxon" and "Volkswagen" throughout the album to creep in a dystopian dread.
"All I did was motivate [the singers] to sell," said Young of the decision. "I said, 'You know, I want people to feel like Monsanto is a great company. That it's never done anything wrong. There's nothing bad about it. It's pure as the driven snow and it's a beautiful thing and I just want you [the singers] to think about that. How you could share Monsanto with the world.'" In 2015, Young released an album called "The Monsanto Years," and multiple songs from the record are also on "Earth."
As Young sees it, because of these companies, it's now near impossible to find that special, middle-of-the-lake place. In the '70s, Young could blast an album named after agriculture among wild nature in a rowboat. Now, agriculture has gotten so big that even a sound system made out of a barn and a house couldn't be loud enough to drown out the actual sounds of our harvest.
Young said "Earth" is an album about "how we've dealt with the power we have."
"Our history of what we've done," said Young.
The singer's stance over time has certainly evolved to "Less barn!"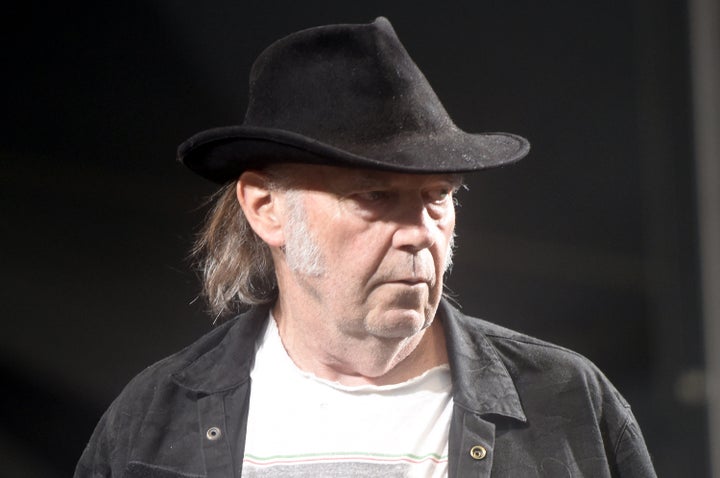 Support HuffPost
The Stakes Have Never Been Higher
Before You Go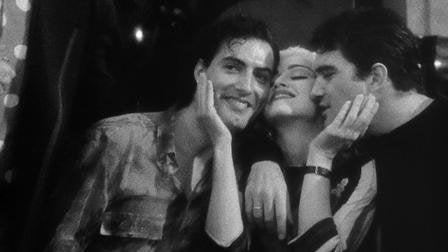 14 Music Documentaries Worth A Watch
Popular in the Community