 When considering the social media approach for an upscale retailer, it is hard not to draw comparisons with couture design. Appealing to a design-conscious fashionable consumer requires a well-constructed, custom approach where content, not short-term promotions, rules. As with clothing, timeless style trumps fleeting fads in a flawless social media execution.
Gabrielle de Papp, VP of Public Relations for Neiman Marcus, shared insights on how the brand has successfully engaged its audience with a mix of carefully chosen content and channels, along with a meticulous operational process.
Here are some best practices de Papp and team embrace that fit the Neiman Marcus customer perfectly:
Behind the Velvet Rope. As an upscale retailer, Neiman Marcus has an incredible team of creative directors, stylists, buyers, and other specialists making magic happen both in the stores and in the advertising of the firm. De Papp indicates that by highlighting the expertise of these style leaders through social media content, Neiman Marcus can provide value to an audience that wants an insider view into the world of fashion.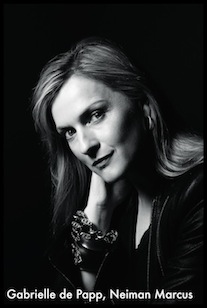 While these team members are highlighted in social media updates regularly, events like New York Fashion Week (NYFW) really showcase the talent and coordinated team effort that happens behind the scenes. This insider view allows unprecedented insight into how products are chosen for the Neiman Marcus consumer.
Ready for a Close Up. While Facebook may be the largest social media channel by follower/fan count, Neiman Marcus focuses strong content on smaller channels where there is strong engagement. For example, Instagram and Pinterest have become central to its strategy based on the instant feedback through fan-generated likes and shares to visual imagery shared. Engagement determines wisely where effort is allocated. Larger channels are not ignored, but the visual nature of some networks lends itself beautifully for upscale retail.
Backstage Pass. Woven into the content shared by Neiman Marcus on Facebook and Twitter, imagery is provided by specific store locations. Every image sourced from the specific store locations fits with the overall Neiman Marcus social look and feel, and that is by painstaking design. De Papp indicated that the public relations leadership team took great effort to enrich the local stores with training on how to capture product imagery appropriate for the various social media channels. Coordinating this type of training for all of the locations required much planning. However, the result is clearly worthwhile: consistent and beautiful images highlighting the inventory and local style and tastes of the individual stores.
Editor's Choice. When asked what Neiman Marcus customers seek when they follow the firm in different channels, de Papp indicated that editorial content is key. While the brand may run an occasional contest when appropriate (usually in association with an event or brand partnership), the Neiman Marcus customer really desires insights related to trends and styles; content shared by the social media team informs the audience base on how to be a trendsetter and timeless. By focusing on the needs of the customer and staying on brand with this content type, Neiman Marcus serves as a trusted adviser and provides fashion inspiration between visits to the stores. Content and expert fashion insight trump sales and contests in the Neiman Marcus social world.
A Bold Pattern. As with its fashion choices, Neiman Marcus is not afraid to take chances in social media. It was an early pioneer in mobile social networks, running promotions through SCVNGR and Foursquare to drive local engagement at the stores (including a unique Foursquare scavenger hunt for Nancy Gonzalez clutches). Despite the smaller participant bases of these services, the promotions allowed the social media team to gain valuable insights about the consumers visiting the stores. And the innovation continues. As part of NYFW, the firm is already employing Twitter's new Vine video vignette app to engage followers. By testing and learning new mobile and social technologies, Neiman Marcus learns about its customers through multiple channels, allowing the brand to refine its approach across all channels.
In talking with de Papp, a recurring theme was the amount of operational work it takes to have a smooth execution in social channels. Just like a runway show, much effort happens behind the scenes for a flawless execution on stage. From deputizing local stores to provide content to integrating customer service follow-up in social channels, a coordinated team effort has to occur to translate the refined Neiman Marcus experience seamlessly into social media. With a deep understanding of what its customers want (and more importantly, don't want), the brand is able to engage its user base around the clock and provide the type of editorial content and insider access customers seek.
This post is part of my ongoing investigation into the Connected Consumer. If you would like to share how you use mobile and social technology as part of my Ph.D. program research, join the study online.
Popular in the Community