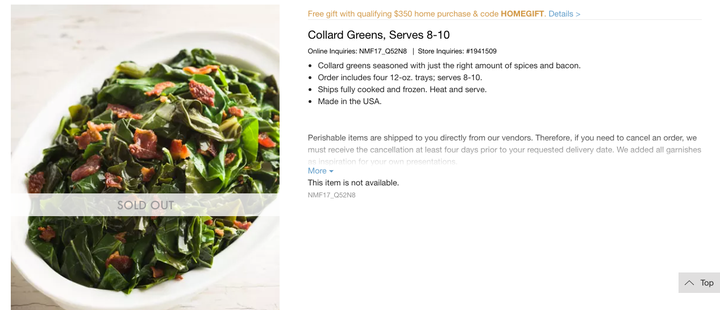 People are spending serious green on collard greens.
Just two days after the internet had a collective conniption fit about Neiman Marcus selling pre-cooked and frozen collard greens for $66 plus $15.50 for shipping, the luxury department store has sold out of the insanely marked up side dish.
"[They] better taste like unicorn tears and Prince's bath water,""
On Nov. 1, multiple outlets began to report on the item described on Neiman Marcus' website as being "seasoned with just the right amount of spices and bacon" and "ships fully cooked and frozen."
"[They] better taste like unicorn tears and Prince's bath water," The Root, a black-focused website, so eloquently wrote on Twitter in response.
Yet, it wasn't just the price point with which people took issue. Many felt that Neiman Marcus' move was an appropriation of food culture.
"The food that was considered poor people's food, or Southern food, or black food, is now being advertised and sold by a luxury brand," Nicole Taylor, author of "The Up South Cookbook," told The Washington Post yesterday. "I've heard people from the South say that they were ashamed that their family cooked collard greens."
The hashtag, #gentrifiedgreens, popped up on Twitter not long after the media coverage of the costly collard greens hit the internet, and users began to express their distaste:
The Huffington Post reached out to Neiman Marcus for comment and did not hear back, though it did tell NPR:
The Neiman Marcus Collard Greens are a new item we are carrying this year. The order arrives in four 12 oz trays so you choose how much you would like to serve. Overall, the four 12 oz. trays serves eight-10 people.
This is not the first time the company has sold food at a cost that caused some to loss their cool. Last year, it sold tamales for $92.
Or, at the very least, $80.