"Nec Temere, Nec Timide" is a phrase in Latin, which one could translate to "neither rashly nor timidly." These words have been the motto of Gdansk for many years and yet it perfectly describes the way that we see shaping the future of our city.
Our strategic goal is to shape a strategy of development for Gdansk till 2030. Almost 15 years from now, the children born in 2015/2016 will become young adults, able to make their own decisions about their personal future; what university to enter, how to manage their career, whether to stay in Gdansk or move to another city.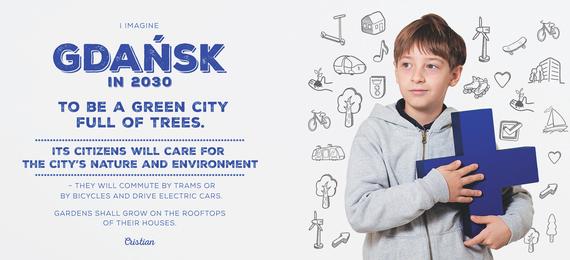 We definitely want Gdansk to be a first-choice city, not only for children of people born here but also to be a place attracting new inhabitants. That is why we are currently working out the Gdansk 2030 PLUS Development Strategy and strengthening metropolitan cooperation. We are doing both things in a nec-temere-nec-timide way, seeking the best, sustainable ways of development for Gdansk and the region.
We are fully aware that we cannot ignore the wider, global context. In the days of globalization and far-reaching interdependence, no area will be able to fully use its potential by acting individually. Cooperation between cities and various levels of government is a must.
Last year we made a great step towards tighter cooperation between the cities of our metropolis. After a long discussion, we reached an agreement which led to the creation of the Metropolitan Area Gdansk-Gdynia-Sopot, consisting of 54 local governments, operating on a total area of nearly 6,700km², and inhabited by 1.55 million inhabitants. It was a great success for us!
Among the main goals of our metropolitan area is to ensure our role as one of Poland's leading transportation hubs (the two largest Polish seaports are Gdansk and Gdynia), to ensure stable inflow of companies investing in the area, to foster cooperation between science and business, and to care better about our environment. Simply - our goal is to make living here better.
An ambitious task for us will be running the Integrated Territorial Investments until 2020, a year when the EU budget will end its seven years period. Probably for the last time, Poland and our metropolitan area can expect such generous financial support from the EU, therefore - we need to spend it in the smartest possible way. The most important projects will be:
Integrated rail and bus transport management system, including better integration of small cities in the region and dealing with the issue of creating a single ticket for various transport companies
System of local centers for career development - 36 such centers are planned
Further improving the quality of bike infrastructure (Gdansk is often called "bike capital of Poland") - building new bike roads, bike parking lots. A great thing will be building a common system of bike sharing, like it is done in Vienna or Helsinki
Building a geriatrics hospital for better care of our seniors
Increasing energy efficiency of buildings belonging to local governments
The upcoming years will be full of challenges and many new projects will enter into the development phase. Although many Western countries have already established their way to cope with metropolitan issues, this is quite a new task for us. I'm sure that the "metropolitanization" process will bring a new boost for Gdansk, its society and economy.
REAL LIFE. REAL NEWS. REAL VOICES.
Help us tell more of the stories that matter from voices that too often remain unheard.