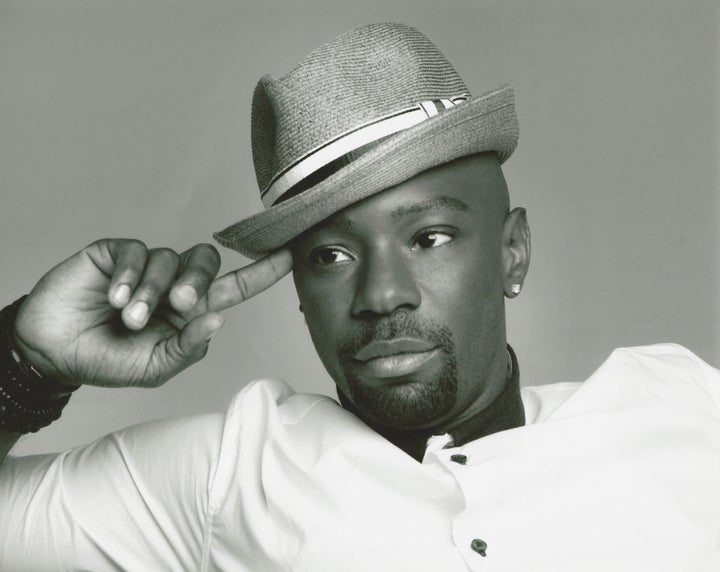 Though you may not recognize actor Nelsan Ellis by name, any television fan would likely recognize his face instantly -- particularly with caked-on layers of eye makeup.
As the sharp-tongued short-order cook Lafayette Reynolds in the vampire-centric HBO hit "True Blood," Ellis has earned a devoted fan base and a reputation that has led to other high-profile opportunities, including roles in "Secretariat," "The Help" and the forthcoming "The Butler."
But acting is not the only thing keeping this suburban Chicago-born, Los Angeles-based actor busy these days. Ellis recently returned to the Windy City to direct Katori Hall's Olivier Award-winning "HooDoo Love," the inaugural production of the Collective Theatre, a company he co-founded.
The Huffington Post recently interviewed Ellis about his Memphis-set production, his Chicago-area memories and, of course, we tried our best to secure some "True Blood" spoilers.
The Huffington Post: First off, tell me about the Collective Theatre and about this specific production, "HooDoo Love."
Nelsan Ellis: The Collective was started by myself, Francois Battiste, Veronda Carey, Le'Mil Eiland, Metra Gilliard and Jasond Jones. We basically all went to high school together and were the theater kids and the speech club kids. We have remained friends and Francois and myself still act, Veronda is a theater educator, Metra works at a marketing organization and Le'Mil is getting a theater Ph.D. We all went our separate ways, but came back together to this in Chicago. Our inaugural play was picked by Le'Mil and Veronda and it's a brilliantly written play that's extremely tough to do. If you get it wrong, you get it really wrong.
HP: What makes "HooDoo Love" such difficult material to work with?
NE: It's the language. It's such a heightened piece of material and yet if you play it that way throughout the play, then it is overkill. Katori Hall's language is dealing with some complex parts of humanity. A woman is assaulted and abused by a man and she wants a man who doesn't belong to her. She comes into the relationship with these problems. Originally, Veronda compiled a list of three directors she wanted to us to choose from and when I saw that list I put my name on it. They chose me only because we felt that for our first play we should probably bring some fresh new ideas to the table.
HP: You were born in Harvey and moved back from Alabama to the area to finish high school. Do you have fond memories of your time spent here?
NE: When I moved to Chicago, I was coming from a school that didn't have any arts in Alabama. I essentially came from a town where the arts didn't exist and the desire for education didn't exist and wasn't valued. We had a huge number of people who didn't graduate from high school. If you valued education there, you were considered a nerd.
From that, I came to a school where not only did the kids value education, but all these extracurricular activities were going on and people were eager to do them. My friends on speech team became my first-ever role models. I was like, "These people want to go to college and do something with their lives." Jasond and them were at the top of their class at Thornridge [High school] and they looked down on you if you didn't have your stuff together. Thornridge started a journey in the right direction for me.
HP: You attended a public school and we are in the midst of a historic teachers' strike at our public schools at the moment. Do you have any thoughts on the walkout?
NE: I think it's a shame. If the city has devalued their educators, I support what the teachers are doing. For us in the Collective Theatre, they are the ones who put us on our tracks and sculpted our esteem. Our drama teachers Tim Sweeney and Bill Kirksey made a huge impact. They're basically the ones who told us they thought we could be great at this and that they believed in us. Teachers should be valued and, if they're not, I support them striking.
HP: You recently filmed "The Butler," in which you are playing Martin Luther King Jr. What is it like to step into the shoes of such a historically significant role?
NE: It's completely unnerving and mind-boggling because you have to play a character that is so widely known and the expectation is to get it right. I don't know if I got it right. I was working with all these Oscar winners and that was definitely unnerving to be in a scene with Forest Whitaker and Liev Schreiber, with Cuba Gooding Jr. and Lenny Kravitz and Terrence Howard. And then Oprah walks by and it was like, uh, OK.
HP: What is it like being back in Chicago for the production?
NE: I will be there for two months and have been here a month already. I've been enjoying myself, sir.
HP: Any particular places in town you're itching to check out while you're here?
NE: Definitely the Green Mill and some museums I'll take my kids to, like the Children's Museum at the Pier. And there's A Tavola, a restaurant I absolutely love.
HP: Now, I've got to ask you some questions about "True Blood." Lafayette is such a strong, sassy character, I'm curious if you ever find yourself slipping into his character outside of when you're shooting the series?
NE: Dude, all the time. It's so funny because I pull it off in everyday life unknowingly. I'll do a hand thing or, just yesterday, I started into it while I was directing. I've played the character for five years now and it still absolutely leaks into my life.
HP: Can you offer up any hints about what lies ahead in season six of the series? Or do they keep you in the dark on such details?
NE: Yes, they keep us in the dark so we can't leak anything. I don't know what's going on until the first day of work.
HP: Playing such a popular character, do you ever have strange moments in your everyday life when a fan recognizes you? Is that tough to deal with?
NE: It's not tough because it's the fan appreciating the character, but it gets weird when a woman comes up with her husband and says, "Just call me 'bitch,' call me 'hooker!'" Her husband says it's OK and you can do it, but it's a little weird in that respect.
Popular in the Community