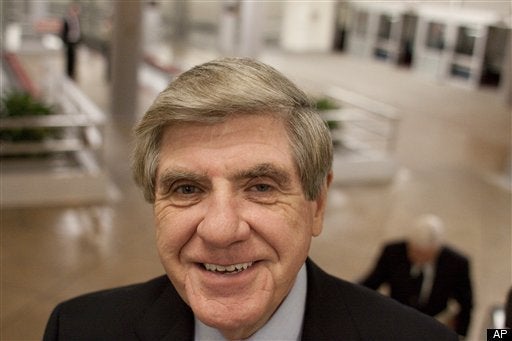 Sen. Ben Nelson's pledge to filibuster the nomination of Craig Becker to the National Labor Relations Board does not help the Obama administration's efforts to make political hay out of Republican obstructionism.
The Nebraska Democrat said in a statement Monday evening that he would join what will likely be a united Republican caucus in voting against cloture on the Becker nomination. It couldn't have come at a less opportune time for Democrats.
That's not just because the Senate considers Becker's nomination today - a leadership aide confirmed that a vote would take place despite the high probability that he won't be confirmed. It's also because in the past few days the president and his team have ratcheted up their campaign to paint the Republicans as the ones holding up legislative business and mundane appointees.
News over the weekend that Sen. Richard Shelby (R-Ala.) had placed a blanket hold on more than 70 Obama nominees, hoping to get two pet projects passed through Congress, breathed a bit of political life into a White House needing a narrative change.
"Let's be clear: Sen. Shelby is preventing qualified nominees who will help protect the American people from being confirmed," Communications Director Dan Pfeiffer wrote on the White House blog. "He's not alone, though. This is just the latest example of this kind opposition for opposition's sake that the President talked about earlier this week."
On Monday, a senior administration official confirmed to the Huffington Post that the White House was going to make the gratuitous use of the filibuster a "big issue" in the weeks ahead. "The basic point is that the GOP is using the filibuster not just to block things it disagrees with but to grind the senate to halt period even on the non controversial stuff," said the aide.
Nelson's move takes some of the sting out of the charge, granting Republican leadership the chance to point to members of Obama's own party who want to slow down the president's agenda. The filibusters are now bipartisan.
In coming out against cloture, the Nebraska Democrat insisted that he is saving the administration from itself. Becker, Nelson said, "would pursue a personal agenda there, rather than that of the Administration."
It's hard to imagine that the White House - which nominated Becker twice - feels the same way.
Asked for comment on how Nelson's filibuster pledge complicates the White House's efforts to cast Republicans as obstructionists, the same senior administration official who communicated with HuffPost on Monday did not immediately respond. On the Hill, the groaning was widespread.
"It's not helpful," said one Senate Democratic aide. "The fact is, we are going to run into this countless more times in the future even if we have Nelson on board. We are going to have to show the American people who is obstructing progress, even if they are on our side."

Popular in the Community