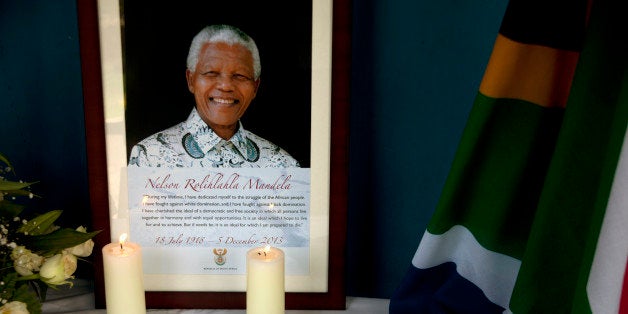 "He that is greatest among you shall be your servant." The late Nelson Mandela, former President of South Africa, modeled servant leadership in action. His leadership focused on the importance of community-building and empowering others to lead social change. On July 18, 2015, as we celebrated Nelson Mandela's 97th birthday and honored Nelson Mandela International Day, we are challenged to discover the leader within. For many, this leader may be lying dormant like a sleeping giant, since your leadership path is uncertain and your vision is unclear. For others, you may be developing your leadership skills, but have yet to take action by leveraging your influence to advance social justice. No matter what stage you are in your leadership development, you can learn key lessons by exploring the leadership legacy of Nelson Mandela and principles of servant leadership.

The foundation of servant leadership is a shared vision that inspires followers to make a difference. This vision focuses on a moral commitment to serve and aid fellow community members in reaching their full potential. According to leadership scholar Peter Northouse, vision has five identifiers, which are "picture" (image of a better future), "change" (in the way of doing things), "embodiment" (in values), "map" (provides direction/purpose) and "challenge" (to create change). The servant leader is called upon to cultivate each of these key characteristics by supporting the community's vision for the future.
Nelson Mandela's vision was to create a more just world and he used his leadership (influence) to help make this vision a lived reality. He reflected upon this vision when he stated:
During my lifetime, I have dedicated myself to this struggle of the African people. I have fought against white domination, and I have fought against black domination. I have cherished the ideal of a democratic and free society in which all persons live together in harmony and with equal opportunities. It is an ideal which I hope to live for and to achieve. But if needs be, it is an ideal for which I am prepared to die.
Through these words, Mandela motivated others to pick up the mantle of leadership and work to end apartheid.
A servant leader's true motivation is to inspire others to lead and cultivate their leadership strengths. The servant leader recognizes that he/she is not a sole actor, but must foster collective engagement to realize the common vision. Mandela demonstrated the power of collective engagement when he stated: "lead from the back -- and let others believe they are in front."
During this process of engagement, connectedness and interdependence is fostered while stronger communities are built. In essence, the progress of a servant leader is evaluated by raising the question, "Do you grow the people you lead?" Servant leadership, coined by Robert Greenleaf, is a facilitative approach that supports growth and development during which the traditional roles of leader and followers are transcended.
Servant leadership is manifested through the leader's exercise of influence. Greenleaf warns of the importance of recognizing the impact of influence on one's self and others since net effect (of an exercise of influence) can be uplifting, empowering or diminishing. This self-awareness reminds servant leaders that they have influence, thus they must be wise stewards of this influence. In the face of injustice, the servant leader is called upon to eradicate social injustices and facilitate social change. Servant leadership is community-focused, as it seeks to shift leadership authority and power to each member of the community as they emerge from follower to leader. This process aids in the development of the leadership potential of every individual involved.
As a leader, Nelson Mandela demonstrated "greatness" through his service to others and commitment to advancing the cause of the cause of justice. He leaves us with three simple principles to guide us in the process of discovering the leader within: 1) free yourself, 2) free others and 3) serve every day.
Mandela's leadership legacy provides us with a daily challenge to make an impact through service in the global community. We are reminded that it is #Time2Serve and the time to serve is always now.
REAL LIFE. REAL NEWS. REAL VOICES.
Help us tell more of the stories that matter from voices that too often remain unheard.