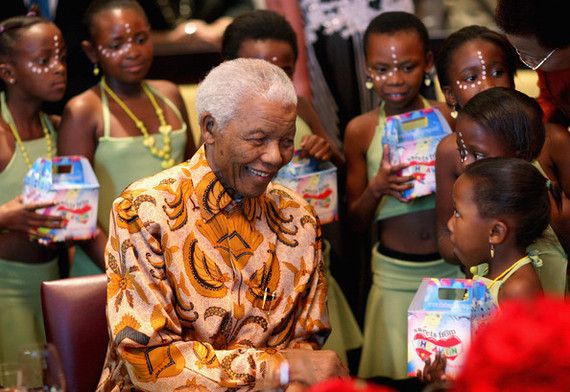 Tata Mandela at a benefit for the Mandela Children's Fund -- Cape Town
In South Africa, Nelson Mandela is called 'tata' by our children. Tata means 'father,' a fitting tribute to the father of our nation and a man who always had a great love of young people. To commemorate the passing of President Nelson Rolihlahla Mandela, here are some of his famous and not-so-famous quotes on children and youth.
History will judge us by the difference we make in the everyday lives of children. -- Luncheon hosted by United Nations Secretary General Kofi Anan at the special session of the UN for Children, New York City May 9, 2002
Few things make the life of a parent more rewarding and sweet as successful children. -- Letter to Amina Cachalia, written on Robben Island, 3 March 1981
Our children are our greatest treasure. They are our future. Those who abuse them tear at the fabric of our society and weaken our nation. -- National Men's March, 1997
Education is the most powerful weapon which you can use to change the world. -- University of the Witwatersrand South Africa, 2003
No one is born hating another person because of the colour of his skin, or his background, or his religion. People must learn to hate, and if they can learn to hate, they can be taught to love, for love comes more naturally to the human heart than its opposite. - Long Walk to Freedom
The true character of a society is revealed in how it treats its children. -- Launch of the Blue Train, Worcester Station, Worcester, South Africa, Sept. 27, 1997
It always gives me great pleasure to be surrounded by the beautiful children of our land. Whenever I am with the energetic young people ... I feel like a recharged battery, confident that our country can look forward to great things. -- Food for the Life Festival, Durban, South Africa, April 23, 1997
Together as a nation, we have the obligation to put sunshine into the hearts of our little ones. They are our precious possessions. They deserve what happiness life can offer. -- Lunch for sponsors of his birthday party for children with life-threatening diseases, South Africa, July 4, 1997
We understand and promote the notion that while children need to be guided they also have an entrenched right to be whatever they want to be and that they can achieve this only if they are given the space to dream and live out their dreams. -- Annual Children's Celebrations, Bloemfontein, South Africa, Sept. 27, 2003
Calling all HuffPost superfans!
Sign up for membership to become a founding member and help shape HuffPost's next chapter