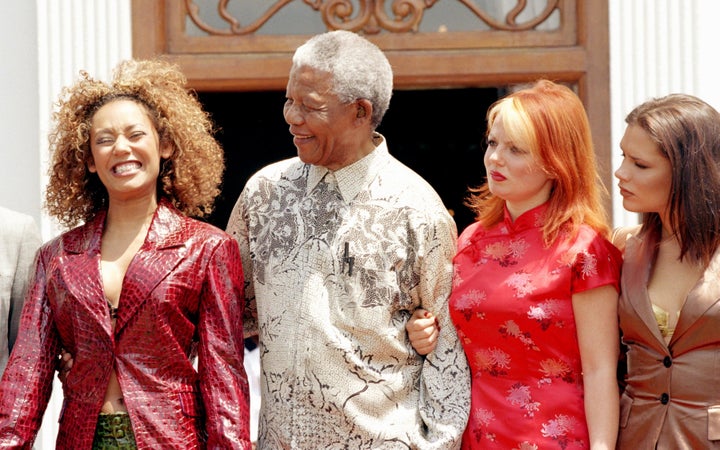 The Spice Girls single "Wannabe" debuted in the U.S. 20 years ago this week. Here is a look back at an unlikely encounter the group had with South African President Nelson Mandela and Prince Charles of Wales in 1997.
Standing atop a red carpet on a red podium of steps and sandwiched between two Spice Girls wearing red outside his presidential residence in Pretoria, South Africa, Nelson Mandela could barely keep from smiling.
"You know, these are my heroes," Mandela told a crowd of reporters and onlookers, referring to the British girl group, the Spice Girls, who were at the top of their fame on this day in November 1997.
After various Spice Girls chimed in that Mandela was their hero as well, the president continued, "It's one of the greatest moments in my life."
A Spice Girl yelled, "Wicked!"
This improbable meeting and photo shoot officially took place because the Spice Girls agreed to play a charity concert in South Africa. The concert supported the Nation's Trust, an organization founded by Mandela and the British monarchy in 1995 to help South African entrepreneurs.
The more heartbreaking reason this bizarre yet incredible gathering occurred, however, is that Prince Charles' wife, Princess Diana, had just died in August of that year.
British media had attacked Prince Charles ever since the death, determining he was too much of a "fuddy-duddy." (British tabloids are notoriously harsh.) As an additional media play, Prince Charles brought his young son, Harry, to South Africa to meet the group and attend the concert.
Surrounding himself with the Spice Girls and Nelson Mandela was conceived as a clear PR win for the Prince.
"By bringing Prince Harry to the Spice Girls' concert, Prince Charles is being seen as trying to expose his children to the kind of fun-loving event that were Princess Diana's trademark," ABC News reported at the time.
Charles ended up posing with Mandela without Harry, joining the Spice Girls and the president on the red steps. After Mandela's comment about this being a lifetime highlight, Prince Charles said that this meeting with the Spice Girls was actually "the second greatest moment in my life." He then clarified, "The greatest was the first time that I met them."
Reportedly, a Spice Girl grabbed Charles' butt during their first meet-and-greet.
This time around, it was Mandela who had more of a physical interaction with the girl group, as they all had "a big cuddle" before stepping in front of the cameras.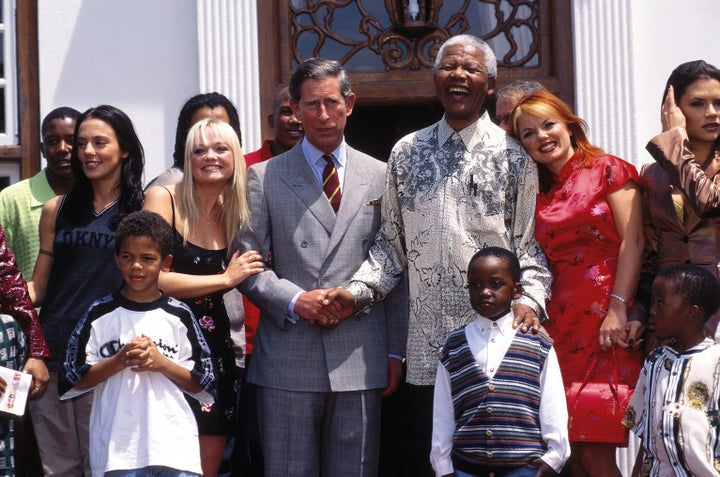 At one point on the red steps, Mel B told pushy photographers to "stop being aggressive." Then, she turned to Mandela and endearingly barked, "Tell them, Nelson."
Geri Halliwell gave a short speech while standing next to Mandela, stressing a belief that the Spice Girls and the South African president were fighting for similar causes.
"I think there's a classic speech that Nelson Mandela did, I can't remember exactly, but he mentioned [to] never suppress yourself, never make yourself feel small for others' insecurities," said Halliwell. "And that's what girl power is all about. So I think we're on the same level, in that view."
Responding to all the compliments from the girl group, Mandela said, "Well you must realize, of course, that they are talking about an old man," causing various Spice Girls to yell, "No!"
Mandela went on to claim that young people are "always generous to an old man." He then immediately blew his nose on the podium.
A Spice Girl apparently responded, "You're as young as the girl you feel, and I'm 25."
By the end of the trip, the British media made fun of Prince Charles for the posturing. Charles dressed his young son in a suit to go to the Spice Girls charity concert, something it was determined Princess Diana never would have done.
Referencing Mel B, who also went by the moniker "Scary Spice," The London Observer ran a story with the headline, "Charles turns on the charm. Scary, isn't it?"
After Mandela's death in 2013, a few of the Spice Girls tweeted their condolences. Halliwell wrote, "Rip Nelson Mandela, it was a absolute honour to meet such an inspiring man, he was amazing, incredibly charming and warm."
You can still watch a tragically too brief clip from the encounter below:

Hit Backspace for a regular dose of pop culture nostalgia.
Before You Go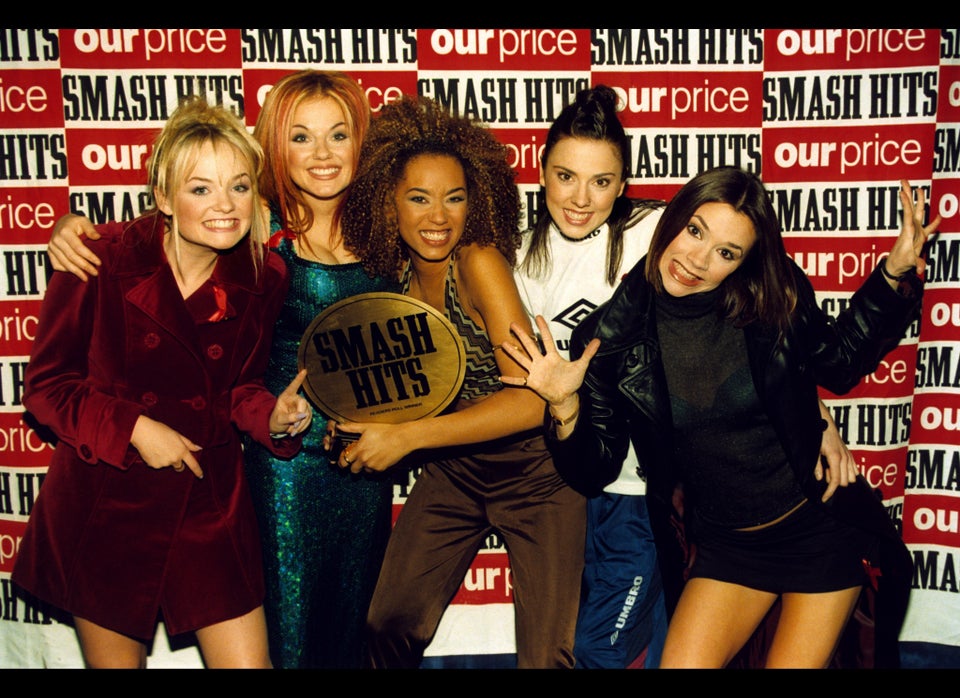 The Spice Girls
Popular in the Community