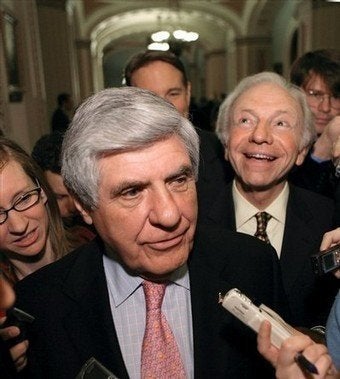 Throughout last winter, Sen. Ben Nelson, the Nebraska Democrat, was trailed through the Capitol by reporters curious where he stood on the amount of stimulus spending needed to pull the economy back from the edge of the cliff.
He and a trio of Republicans -- Susan Collins and Olympia Snowe of Maine and now-Democrat Arlen Specter -- worked to trim the previous package back to an arbitrary but politically acceptable price.
The White House started the negotiations last winter by insisting on a package substantially below a trillion dollars and, once the centrists and conservatives ate their pound of flesh, $787 billion was left.
This time around, the White House is pushing back against new spending, though it is making an exception for jobs money, according to a recent article in Politico, which is often used as an outlet for administration messages to Congress.
January's State of the Union address, the report said, will focus on cutting the deficit. Democrats did the same thing in 1937, as the economy was recovering from the Great Depression, and plunged the country back into recession.
White House budget chief Peter Orszag said that the administration is aware of the dangers but is committed to bringing down the deficit. "The President strongly believes that as the recovery strengthens and job growth returns, we will have to take the tough steps necessary to return our nation to a fiscally disciplined and sustainable path. We recognize that the projected medium-term deficits are too high, and as part of the FY 2011 budget process, we are committed to bringing them down," he said in a statement to Politico. "Our challenge is to tackle those out-year deficits in a way and at a time that does not choke off economic recovery, and the FY 2011 budget will reflect our best judgment about how to walk that line."
In any case, Congress is moving ahead. And now that it is mulling more spending, Nelson will again be occupying center-scrum territory.
While the economy hasn't collapsed into a heap, largely thanks to the stimulus, it wasn't enough to turn unemployment around -- as economists at the time predicted. Instead, the jobless rate has broken the 10 percent mark and real unemployment is much higher.
Indeed, the numbers are bad enough that Nelson says he is open to another round of spending -- as long as it's couched in the right language.
"Obviously, the unemployment figures are greater than anticipated [sic] and raise the question as to whether something should be done. If the decision is to do something, then of course the second question is: Do what? The transportation bill is going to be required in any event, so I would take a look at that," he told reporters Monday night.
Nelson was referring to the annual appropriations bill for the Department of Transportation, which some Democrats want to use as a vehicle for more stimulus -- although the word stimulus is being shunned. Democrats argued unsuccessfully last time around that the stimulus bill should be dubbed a recovery package. This time, they're calling it a jobs bill.
"I don't think there's much of an appetite for a second stimulus package. If it's in connection with the transportation bill, in the ordinary course of the Senate's business... that's a different story altogether," Nelson said.
The jobs picture is bleak enough that Senate Republicans are will to at least consider looking at something Democrats propose. Calling the first stimulus a "gigantic failure," Senate Minority Leader Mitch McConnell (R-Ky.) added, "But we'll take a look at what they're recommending. Certainly joblessness is a big problem."
Congress has reacted with belated alarm to the rising unemployment and the failure of the economy to create jobs as the midterm elections draw near. Statewide losses in Virginia and New Jersey have stoked fears that an anti-incumbent wave could sweep vulnerable Democrats out of their seats. Even Mayor Michael Bloomberg was nearly swept out by an unknown, vastly outspent opponent.
Worried that too much time has been spent on health care and not enough on jobs, House Democratic leaders huddled Monday to craft a way forward on a second stimulus -- or jobs bill.
Since health care has moved through the House, the lower chamber has time on its hands while it waits for the Senate to act.
At a Tuesday briefing, Majority Leader Steny Hoyer (D-Md.) told reporters that leadership spent "a substantial period of time" in a meeting the day before on job creation "and we're going to do so today and in the days to come."
The shape, size, name and legislative course of the bill are still being worked out. "Clearly. 10.2 percent unemployment is unacceptable and is causing great pain to literally millions of people around the country. All the economic analysts have indicated that it's going to be very difficult to bring down the jobless rate, but we are hopeful to make progress on that," said Hoyer.
"I wouldn't characterize it as a second stimulus. I don't think it'll be as broad as that. I think it'll be very targeted on jobs. The Recovery and Reinvestment Act, of course, was a very broad ... investment in medium- and long-term recovery."
Hoyer said that he and Senate Majority Leader Harry Reid (D-Nev.) are still hoping to adjourn the current session of Congress by December 18th. If they hit that deadline, it'll be the first time they've made one all year.
There are a variety of ways Congress can spend money either inside or outside the transportation bill. "You can name them as well as I can, a whole list of options that are available. I think clearly we need to move on the unemployment insurance and the COBRA. Beyond that, you mentioned a couple: public jobs, job tax credits, infrastructure, there are a lot of options available. We're discussing those, discussing with economic advisers as to what is the most effective, and frankly there are differences of opinion on that. States' assistance," Hoyer said.
Congress recently passed an extension of unemployment benefits, but it doesn't apply to folks whose benefits run out after the first of the year. COBRA refers to subsidized health insurance for the unemployed -- an extremely popular benefit -- and "states' assistance" refers to money for states to cover crippling budget shortfalls that lead to layoffs. Assistance to states was meager in the first stimulus because Collins and Nelson wanted it trimmed back significantly.
"I would certainly want to see us move something on jobs before [adjournment], and we are working on it now. The Speaker's asked the committee chairs, including most of the committees that deal with any kind of economic issues, to deal with this and make suggestions," Hoyer said.
Those suggestions might all get wrapped into one bill, Hoyer added, skipping the committee process altogether.
Senate Appropriations Committee Chairman Daniel Inouye (D-Hawaii) said he was open to a jobs bill through the appropriations process. "As soon as we get something [from the House], we'll pass it," he told HuffPost. According to the Constitution, spending bills must originate in the House.
There is uneasiness, however, about more jobs spending. Sen. Claire McCaskill (D-Mo.) said that such a bill would need to be "very targeted."
"I think we've got to be really careful in thinking that we can spend government money to get us out of a recession. We all know that employment is a lagging indicator in a recession. We all know that there's been a lot of cost-cutting done and that's why you see the stock market recovering, because companies are profitable again because they have cut costs. But now they need to grow, and the government cannot provide enough money to allow every company they need to grow. Now, having said that, I think maybe more important than talking about a second stimulus is taking some of the TARP money that's been repaid and creating a small business loan fund that would be very low interest and that is money the taxpayers would get back and it would provide that additional capital," she told reporters before a weekly Tuesday lunch with her caucus.
Sens. Snowe and Collins, who backed the last stimulus, were both skeptical when asked by HuffPost if they would support a second one.
"I haven't heard discussion of that," Collins said.
"We're dealing with the first stimulus. That's my view," said Snowe. "Until we get through, I don't think it would be wise at this point to be considering a second stimulus. We need to be working on what's in front of us."
And the deficit hawks are ready to swoop in. "I think it would be an even bigger insult than the first one was," Sen. John McCain (R-Ariz.) told HuffPost.
"They've got such a serious fiscal problem going that anything they do that isn't funded in some form or fashion that's just adding to the debt, I think they'll get a lot of pushback even from within their own party. Generally I like transportation projects," said Sen. Mike Johanns (R-Neb.), "but they're kind of between a rock and a hard place on the money they've spent that hasn't delivered anything. They should've done this the first time."
Minority Whip Jon Kyl (R-Ariz.) said he'd oppose it. "I don't think that would be a good idea," he said.
McConnell agreed, but was willing to talk. "The first stimulus certainly seems to have been a gigantic failure," he told HuffPost. "We'll take a look at what they might be proposing, but I'm always reminded of a saying by a good friend from out in the country: 'There's no education in the second kick of a mule.'"
The strength of the Senate has been so taxed by the fight over health care, McCaskill added, that there might not be enough energy left for much else.
"After you do one really, really big, really, really hard thing that makes everybody mad, I don't think anybody's excited about doing another really, really big thing that's really, really hard, that makes everybody mad," she said.
UPDATE: The administration is behind congressional efforts boost jobs, an aide said. "There is not a day that goes by that the President and his economic team don't discuss ways to put Americans back to work and continue to grow the economy. The President is looking forward to continuing to work closely with Congress on job creation measures," a White House aide said in an e-mail.
Before Obama left for Asia, he announced a "Jobs Forum" that he'd be hosting at the White House.
"Small businesses and large firms are demanding more of their employees, their increasing their hours, and adding temporary workers -- but these companies have not yet been willing to take the steps necessary to hire again. Meanwhile, millions of Americans -- our friends, our neighbors, our family members -- are desperately searching for jobs. This is one of the great challenges that remains in our economy -- a challenge that my administration is absolutely determined to meet," Obama said.
"We all know that there are limits to what government can and should do, even during such difficult times. But we have an obligation to consider every additional, responsible step that we can to encourage and accelerate job creation in this country. And that's why, in December, we'll be holding a forum at the White House on jobs and economic growth. We'll gather CEOs and small business owners, economists and financial experts, as well as representatives from labor unions and nonprofit groups, to talk about how we can work together to create jobs and get this economy moving again.
"It's important that we don't make any ill-considered decisions -- even with the best intentions -- particularly at a time when our resources are so limited. But it's just as important that we are open to any demonstrably good idea to supplement the steps we've already taken to put America back to work. That's what this forum is about."
On November 6 in the Rose Garden, Obama said that his economic team "is looking at ideas such as additional investments in our aging roads and bridges, incentives to encourage families and businesses to make building more energy-efficient, additional tax cuts for businesses to create jobs, additional steps to increase the flow of credit to small businesses, and an aggressive agenda to promote exports and help American manufacturers sell their products around the world."
With reporting by Jeff Muskus. This story was updated to include additional interviews and information.
Calling all HuffPost superfans!
Sign up for membership to become a founding member and help shape HuffPost's next chapter