Every week, we bring you one overlooked aspect of the stories that made news in recent days. You noticed the media forgot all about another story's basic facts? Tweet @TheWorldPost or let us know on our Facebook page.
UPDATE 3/7: Russian authorities detained Anzor Kubashev and Zaur Dadayev as suspects in the killing of Russian opposition leader Boris Nemtsov.
Last Friday, opposition leader and Kremlin critic Boris Nemtsov was shot by unknown assailants on a Moscow bridge. Russian President Vladimir Putin wasted no time offering his condolences to Nemtsov's family and even said he would personally oversee the investigation into the politician's killing.
Nemtsov, a former deputy prime minister in the Yeltsin administration, was a vocal critic of Putin and one of the most prominent voices against Russia's role in the war in Ukraine. While critics argue that the Kremlin is responsible for Nemtsov's death -- if not for the killing itself, then for creating an anti-opposition atmosphere in which radicals could act -- Russian authorities have denied any involvement. Instead, Putin said the crime had a "political subtext" and was intended to weaken the Kremlin.
The probe into Nemtsov's murder is not off to a good start. Investigators have not named any suspects, located the killers' getaway car or announced a motive. It is unclear whether security cameras near the scene captured the crime.
Looking at the way Russian investigators and prosecutors have handled the deaths of other slain Russian dissidents, it doesn't inspire much hope for the Nemtsov probe. In this week's forgotten fact, The WorldPost looks back at two of those cases: the assassinations of Anna Politkovskaya and Natalya Estemirova.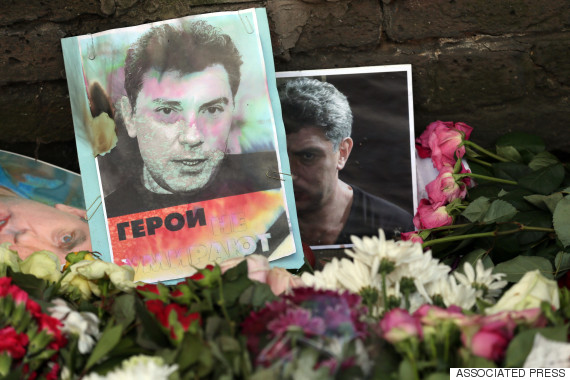 Flowers are placed outside the Russian Embassy for the slain Kremlin critic Boris Nemtsov in Kensington, London, Tuesday, March 3, 2015. (AP Photo/Tim Ireland)
Journalist, author and activist Anna Politkovskaya was gunned down in the elevator of her Moscow apartment building on Oct. 7, 2006 -- Putin's birthday. Politkovskaya was one of Russia's best-known adversarial journalists, and a fierce critic of the Kremlin and its policies in Chechnya in particular. She received numerous death threats from militants, soldiers and armed groups in the years leading up to her death, and was even slipped a cup of poisoned tea on her way to cover and negotiate in the 2004 Beslan hostage crisis.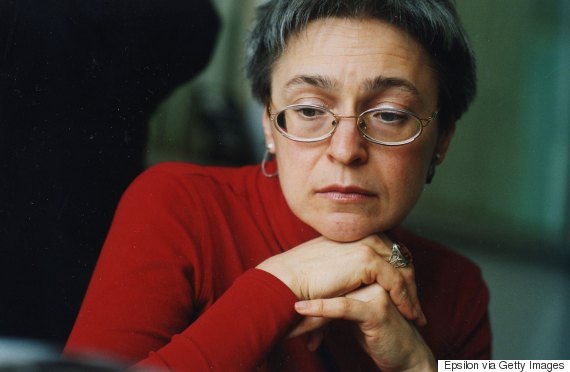 Anna Politkovskaya pictured at work. (Novaya Gazeta/Epsilon/Getty Images)
After initial acquittals, Moscow's highest court in 2014 convicted five men in the Politkovskaya murder. The court found Rustam Makhmudov guilty of shooting Politkovskaya. Makhmudov's brothers, Ibragim and Dzhabrail, were convicted as accomplices. His uncle, Lom-Ali Gaitukayev, was ruled to have received the order to assassinate the journalist from another party, allegedly because of her reporting on human rights issues. Former police officer Sergei Khadzhikurbanon was also convicted as an accomplice. Another former member of the police, Dmitry Pavlyuchenkov, had already been convicted as an accomplice in December 2012.
Despite the investigations and subsequent convictions, it remains unclear who actually ordered Politkovskaya's killing. Gaitukayev's client was never identified. Family members, friends and colleagues of the late reporter have accused the Russian government of showing no interest in finding the culprit.
In their own investigation of the case, Politkovskaya's former colleagues at the Novaya Gazeta newspaper allege that officers with the police's elite secret department and Russia's Federal Security Service were involved in the murder. They also say that Dmitry Pavlyuchenkov, the police officer convicted in 2012, has more information on the details of the murder than he is revealing. Investigators initially accused Pavlyuchenkov of having orchestrated the assassination, but later reduced the charges as part of a plea deal.
The Committee to Protect Journalists explains:
Under the arrangement he made with investigators, Pavlyuchenkov was obligated to fully confess his role in Politkovskaya's murder and to name its mastermind, Novaya Gazeta reported. But Pavlyuchenkov has done neither, the journalist's family and colleagues said.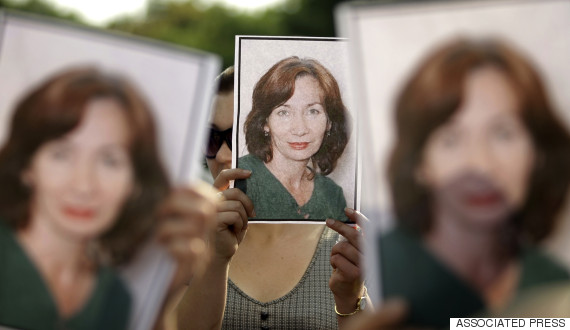 People hold portraits of murdered activist Natalya Estemirova during a rally in Moscow, Thursday, July 16, 2009. (AP Photo/Sergey Ponomarev)
Human rights campaigner and Nova Gazeta columnist Natalya Estemirova was abducted near her home in the Chechen capital Grozny in the summer of 2009. She was found dead a few hours later in the nearby region of Ingushetia with her hands bound and gunshots to the head and chest.
Estemirova was one of the few activists fiercely speaking out on human rights violations in Chechnya. She drew the ire of Chechnya's Kremlin-backed leader, Ramzan Kadyrov, after she accused militias linked to him of grave violations.
Investigators alleged that Estemirova was kidnapped and killed by Alkhazur Bashayev, a Chechen militant who died in a shootout with police four months after the murder. The investigators said Bashayev targeted the activist because she had connected his militant group to the kidnappings of civilians. Investigators also said that Bashayev's brother, Anzor, may have been involved in the assassination. Anzor Bashayev received political asylum in France.
The investigators' case, which came together months after Bashayev's death, was based on their claim of having found the murder weapon during a search of Bashayev's deserted house. Investigators said they also found other weapons and a car that fit the description of the one used to kidnap the activist.
Estemirova's friends and family have complained, however, that the case simply does not hold up. "What we are seeing is the fabrication of an investigation, not an actual investigation," said Svetlana Gannushkina, a member of Memorial, the Moscow-based group Estemirova worked for, in 2011.
In its own investigation of the murder, Novaya Gazeta argued that the evidence against Bashayev was weak.
A cache with a gun that killed Estemirova and phony police photo identification with Bashaev's picture was "found" -- but from the text of expertise insist that Bashaev could not have fabricated this documentation; in addition, the investigation has not taken an interest in the powerful guided missiles found in the cache. They also found a car, VAZ-2107 -- the same brand as the car which Estemirova was taken in -- and its plates, which state that the car belonged to Bashaev, and a silencer to the gun. Only here there is no trace of the abduction, which couldn't help being left; according to another expert, Natalya was shot not using a silencer. The list of impossible to ignore "oddities" does not end there.
Most damning, Novaya Gazeta said, is that investigators never compared the DNA found under Estemirova's nails and on her fingers with the DNA of the accused. The paper said that when it conducted its own private analysis and compared the DNA of the Bashayev brothers to that found on Estemirova's body, it did not match.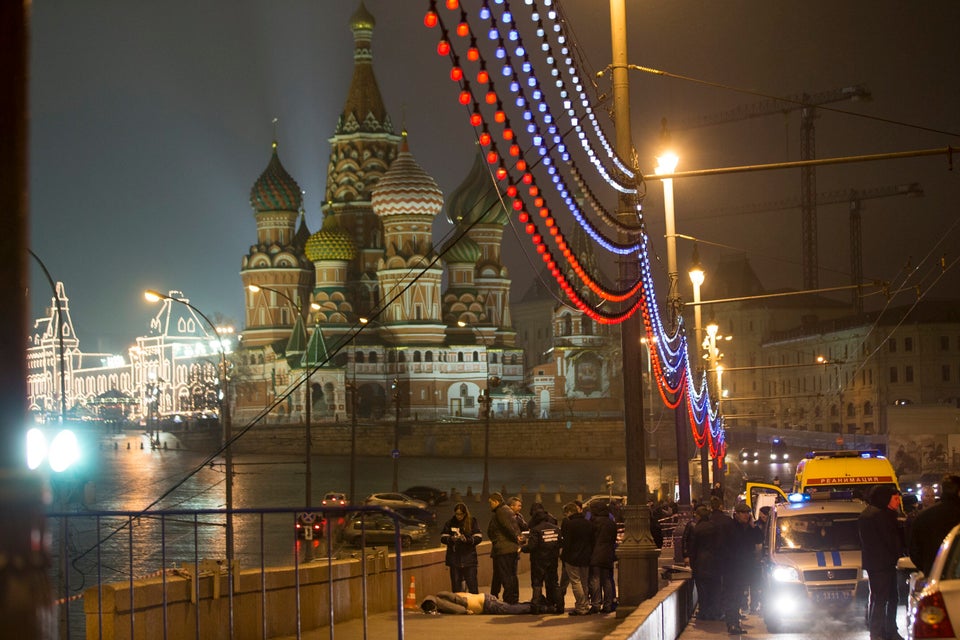 Kremlin Critic Killed
Popular in the Community