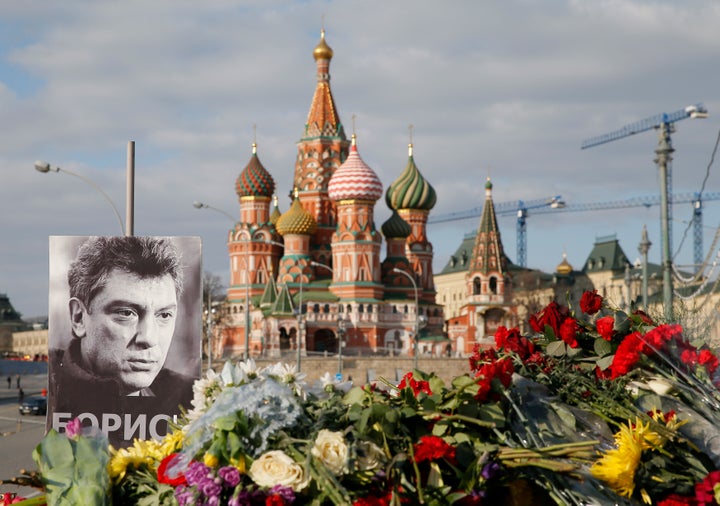 MOSCOW ― Today marks the anniversary of the assassination of a great reformer, my friend and ally Boris Nemtsov. But two years on, the significance of his murder is still not fully understood. Nemtsov's story warned us of Russia's accelerating political degradation and the suppression of truth.
Such methods of attack have increased even in the years since Nemtsov's death, and there is a danger that with the world distracted by shockwaves coming from the U.S. and Europe, Putin will further build on these tactics to advance his agenda.
Domestically, Putin is tapping into a longing for a return to Soviet-era Russian greatness. He is also using the oligarchic system. Supporters and stooges like Aleksandr Onishchenko, Nikita Mikhalkov and Dmitry Kiselev, are being used to foster dissent, divide allies and push propaganda and, while helping to advance a return to Russia's Soviet past, they are also attacking its post-Soviet history.
"Recent years have demonstrated the lengths the Kremlin is prepared to go to exert its influence."
In the weeks following the death of post-Soviet Russia's first president Boris Yeltsin, among the great and the good eulogizing the old man was Oscar-winning film director Nikita Mikhalkov. If Russia's development took its natural course, Mikhalkov said, then Yeltsin would be remembered as "a man who changed the course of history." But Mikhalkov cited an old description of Russia as "a country with an unpredictable history." It was possible, he said, that Russia would develop in a different way and "then Boris could be among the names that will be, so to speak, abhorred by the people, God forbid."
That was then. And today? In a vivid illustration of unpredictable history, Mikhalkov now abhors Yeltsin.
Standing in the upper house of Russia's parliament this past December, the famous filmmaker declared the Yeltsin center in Yekaterinburg "loathsome, semi-Asiatic, barbaric, treacherous and vile" and demanded that it change its ways. He then went on in an interview with the Russian news agency Interfax, to blame the collapse of the Soviet Union on Yeltsin and on former USSR leader Mikhail Gorbachev: "Their 'achievements' have led to the collapse of our country," he said.
And in an obvious allusion to Vladimir Putin's own almost identical words in 2005, Mikhalkov then said, "This is the greatest geopolitical catastrophe which occurred during [the 20th] century."
"While helping to advance a return to Russia's Soviet past, [supporters and stooges] are also attacking its post-Soviet history."
Soon Russian Culture Minister Vladimir Medinsky chimed in, describing the center as "depicting Russian history as an ill-fated alternation between absurdity and benightedness."
The Boris Yeltsin Presidential Center promotes the "development of civil society, democratic institutions and the rule of law." Most importantly, it celebrates Yeltin's political legacy as the man who stepped aside to allow a peaceful succession, naming Putin as the next president.
Whatever his own private feelings about his predecessor, Putin, together with Prime Minister Dmitry Medvedev, dutifully showed up for the complex's opening. But it wasn't long before Mikhalkov began raising the alarm, claiming that it distorted history and calling it a "symbol for the destruction of Russia."
Though regularly ridiculed by Russian liberals, Mikhalkov is well-established as a voice for nationalist revival. Through media appearances, including his own TV program, he reinforces and dramatizes the Kremlin's own paleo-conservatism ― harking back to past Soviet glories and of course railing against the wicked West.
"With the 2018 presidential election in Russia just one year away, it is vital that Kremlin aggression is recognized and addressed."
But are Mikhalkov's rants against Yeltsin truly his own, or do they reflect Putin's own attitude? It is in his name that history itself is under attack in Russia's schools, with new curricula and textbooks expunging the darker elements and emphasizing the triumphs. It's on his watch that the state-dominated Russian media have made whole segments of political thought, including Boris Nemtsov's and my own, disappear from public discourse.
If indeed these individuals are acting on Putin's behalf, it is fair to say that the Yeltsin center and the lessons of Russia's history are under serious threat. Further, these methods of attack are being used geopolitically to realize expansionist ambitions, with insufficient challenge from the west.
My message is one of vigilance and hope. With the 2018 presidential election in Russia just one year away, it is vital that Kremlin aggression is recognized and addressed.
Ilya Yashin is Russian opposition politician and co-founder of Solidarnost, a liberal democratic political movement
Related
Popular in the Community