Three years ago, at a business networking event in Skopje, the capital of Macedonia, I met Kris and Nenad. Dressed in their fashionable, tailor made suits, they told me that they just launched their own business, focused on tailor made suits for men. – We want to create the country's first ever global, fashion brand for custom made suits, they ambitiously told me. By the way they were living their brand, I knew it wouldn't take them a long time to make their dream a reality.
Fast forward three years, their brand, Signori, makes the country's finest tailor made suits. Kiril Lazarov, one of the world's best handball players is the brand's global ambassador and with stores in the UK and Serbia, their dream of global domination in the men's fashion business is slowly but surely, becoming a reality.
I recently sat down with Kris and Nenad and asked them to share their fascinating story with you. it is a story of hard work, big dreaming and most importantly, the finest tailor made suits your eyes have ever seen.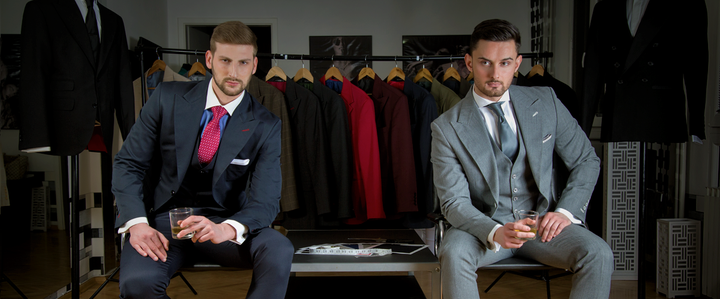 Guys, how did you come up with the idea to launch Signori?
The idea came up couple of years ago when we needed to get suits for a very important event. As we were looking for suits, we just couldn't find anything that would differentiate us from the others nor could we find the right, impeccable fit/design. We started looking for photos of suits on Instagram and we knew what we wanted but we simply could not get that in Macedonia.
Traveling abroad and spending over $3,000 was out of the question on brands such as Tom Ford and Armani. So we came to a conclusion that we should check out a local tailor and create something of our own. We knew exactly the styles we wanted and printed them out to present it to the tailor. When the tailor started asking us whether we want a wide peak, 2-button, ticket pocket, double vent blazer and single pleat pant, we looked at each and realized that we didn't have a clue what he was talking about but we were very sure of what exactly we wanted. So, we made the suits and wore them at the event and soon afterwards everyone was asking us where we got the suits. We realized that all men were facing the same issue- where to get the perfectly made, tailored suit that doesn't cost a fortune.
After months of research and experimenting with local tailors we generated a business plan and saved up the minimum amount to open a business in Macedonia. We only needed a name. We didn't want to name it after ourselves as most designers, we wanted a name that people can recognize and separate us from the rest. It had to be Italian and must sound powerful. So we asked ourselves lets Google translate a few words. We came to the word "Gentleman" hitting the enter key was a sign "SIGNORI". We said that's it! That's what the brand needs to be called. Then we needed a logo. After numerous days of drawing and looking at ideas we found the "fluer de lis". As a strange coincidence the symbol of Piazza dei Signori is the fluer dei lis. Soon afterwards, we rented our first office space (20m2). We proudly hung up our logo on the wall, put four suits on the rack, got some minimal furniture and on June 4th 2014 we were finally open for business.
What makes Signori different from other brands for tailor made suits?
SIGNORI is more focused on creating a long lasting relationship with our clients. Time is the ultimate luxury and we want to cater to their needs. We make sure to conduct a face-to-face consultation to understand the client's personality, features, business they are in, how they want to present themselves, and daily style. We understand that most men do not want to have the headache of getting up in the morning and combining colors/textures and patterns with their new suit. So we simplify that by understanding what they own and what do they need to own.
What were some of the challenges that you experienced in the beginning?
One big challenge we faced was how we will convert men from wearing regular suits to custom suits. The idea itself scared us as Macedonia is not a fashion mecca and people where OK with wearing normal, retail suits. We wanted to break that barrier and focus on individuality. We also noticed that working with clients face-to-face is very delicate so we wanted to make sure that we can adapt to our clients needs. In the first 6 months we where consultants, fitters, accountants, marketers, secretaries, logistics and cleaners. We worked long hours and said goodbye to the weekends and private lives and put the needs of our company first. We noticed that making money was going to be a long term goal and our main focus should be growing the brand and offering our clients and employees a unique shopping experience.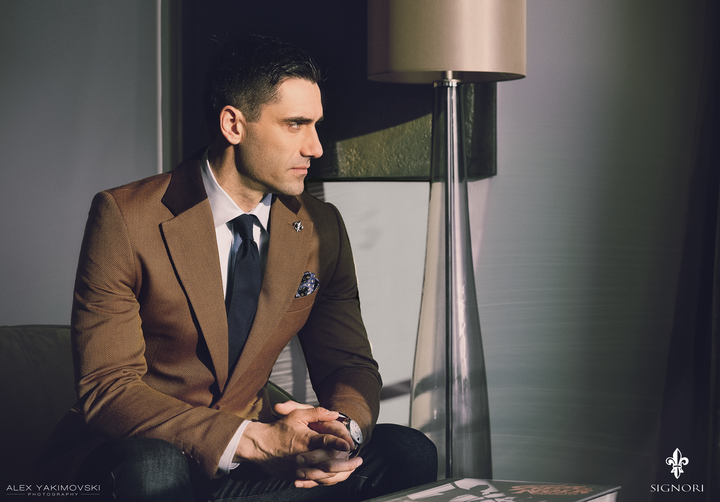 What are the challenges of running this kind of business from a small country like Macedonia?
To be honest, we are the first start-up custom men's wear brand in the Balkans. This gave us and extreme advantage when it came to trial and error. Although we constantly compete against world known bands and custom men's wear designers, our social media has attracted more followers than we ever anticipated. Macedonia does have its challenge since men here were used on wearing black suits only. Breaking people out of this habit is pretty difficult, as well as finding a quality work force that is flexible and understands what we want to accomplish. Every suit needs special attention and care, where as a off the rack suit comes in sizes. Our craftsman have been extremely patient with our orders and expectations. Another key challenge was team organization and system processes. As a business owner you want to do everything and feel scared about leaving responsibilities to others.
What are your plans for 2017?
2017 will be our third year in business. We have already expanded to our third location based in Belgrade, Serbia, a country that has shown a high demand in luxury men's clothing. As custom clothiers our goal is to improve the perfect fit every year and broaden our clientele. We are ready to launch our Tuxedo Collection which offers a variety of styles, fabrics and designs. Our ultimate goal is to set up an online ready- to-wear store to fulfill clients' needs.
Now, let's talk a bit about fashion, what are some of the most important things that every man should have in his closet?
One the three most important pieces every gentleman should own is a custom-made crisp white shirt. There are so many occasions we see men take off their suit jacket and have either too tight or loose of a shirt and this really takes away from the attention to detail and looks cheap. Second is a custom tailored Navy suit. This is one of the most versatile pieces a man can own. It will never go out of style and can be dressed up and down for any occasion. It is crucial that the suit fits your body perfectly or else it looses the impact. Lastly, a nice pair or dress shoes. We at SIGNORI prefer a brown oxford shoe as it can be versatile with any business attire
What are some of the trends that we will see in 2017 when it comes to men's suits?
As you will notice in our Tuxedo Collection, Velvet has made its return. This is the ultimate James Bond feel for your special day. The wide-peak suits are making a statement whether formal or business attire. Men are starting to appreciate the aesthetics of how a wide peak lapel makes you appeal wide in the shoulder and thin in the waist, giving your body posture a more masculine tone. Lastly we are noticing high demand in custom double breasted vest, as they are the extra detail to take your suit to the next level.
Support HuffPost
The Stakes Have Never Been Higher
Related
Popular in the Community