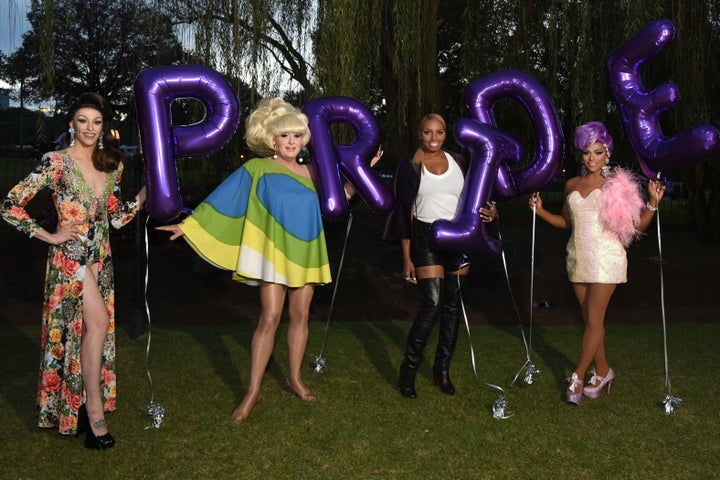 She might have hung up her "Real Housewives of Atlanta" hat, but NeNe Leakes is anything but out of the spotlight. The veteran reality star joined forces with Barefoot Wine & Bubbly to kick off Atlanta Gay Pride this week, and she'll also be a recurring guest star on E!'s "Fashion Police" this season.
HuffPost spoke to Leakes on Thursday about her Barefoot partnership, her upcoming projects and, of course, her feelings on her old "Celebrity Apprentice" boss, Donald Trump.
You're hosting the Barefoot Wine Bear Garten event tonight in honor of the gay community. What is it about the gay community that you connect with so deeply?
I've always loved supporting the LGBT community. I grew up with a couple of gay guys. Besides loving the gays personally myself, I feel like they influence everything, from nail polish to high heels to lip gloss to everything you can think of. I've been a supporter of the LGBT community for a very, very long time, and tonight is another reason for me to go out and support. I always participate in gay pride. If I can go out and show up, I always do.
The trailer for this coming season of "Real Housewives of Atlanta" came out a couple days ago, and it looks drama-filled, per usual. How are you feeling as the show prepares for its return to TV? Any nostalgia? Any regrets?
No, I don't have any regrets. I'm not the kind of girl that looks back. I love Bravo. They are my family. I will always work with them in [a] certain capacity. I have not seen the trailer. I wish all the girls the best. That's all I can say. The only feeling that I really had over leaving the show was that I started the show and I've done it for a very long time so I wanna have my hand in it somehow. I want it to stay successful.
While we're discussing "RHOA," Kim Zolciak recently suffered a mini-stroke. Have you been in touch with her? How is she doing?
I did visit her when she was in the hospital. As far as I know, she's doing good, she's doing fine. 
She brought awareness to this medical issue that I don't think a lot of young women think of, you know?
No, I don't know, because I don't know what her medical issue is. I just heard her saying something about a blood clot, and that doesn't have an age on it. So, you know, when people speak out and say things like, "I never thought I would because I'm 37" -- I mean, really? Blood clots have no age. You keep your foot in a cast long enough, you can get a blood clot from that. You see people walking around with these boots on their foot and you don't let your foot get circulation, you can get a blood clot from that. We're in 2015. I think it's a little crazy when people are like, "I'm 20, I didn't know I could have a heart attack." Well, ya know, really?
That's true. I meant more in terms of giving this condition visibility, but you're correct -- blood clots are an ageless ailment. 
It is an ageless ailment. 
Pivoting to another TV show you've starred on, "The Apprentice." You've spoken kindly of Donald Trump since your run on the show. Would you vote for him?
I think Donald's doing a great job. I think he's gaining a lot of momentum, and he knows how to work that press, and I'll tell you what – I've never looked at a debate before and I've been watching. It's so interesting. He's so funny to me. I like Donald, I like working with him and all those things. But actually, I'm not a Republican.
So you wouldn't vote for him.
Got it. How's working on "Fashion Police" been?
Working on "Fashion Police" has been amazing. I love fashion. I love just critiquing these girls' fashions and having fun with it because I think it's all about having fun. I don't feel like we're tearing anybody down. I feel like in the past it's been a little bit negative, but I think we've found a way right now to make it really fun and funny and just say, "Oh, she's so gorgeous, but I don't think that dress was right for her body type." And it's only our opinion – it's not like the world's opinion. We're only having fun with fashion because we all love it.
Have you ever had ["Fashion Police" co-star] Brad Goreski style you?
Brad hasn't styled me, and I don't really need a stylist. To me, using is a stylist is not showing your own personal style. I like to show my own personal style. I know what works for my body better than anybody. 
And lastly, Halloween's right around the corner. What are you dressing up as?
I might dress up as the queen bee. ... I love to be the queen and [my husband] Greg to be the king. I don't like to do the scary costumes, you know? Maybe I'll be Donald Trump. That'll be pretty good. [Laughs] Yeah. Maybe I'll be Donald Trump for the day.
This interview has been condensed and edited for clarity.
PHOTO GALLERY
The Real Housewives
REAL LIFE. REAL NEWS. REAL VOICES.
Help us tell more of the stories that matter from voices that too often remain unheard.