 They come from all over the country. Their heads shaved, yearning for the 1920s, comrades in black shirts with their bodies marked by the symbols of hate (swastikas, Fascist bands and Celtic symbols). The meeting is scheduled to take place in the main piazza in Predappio (Benito Mussolini's birthplace, in the region of Emilia-Romagna, north of Rome) on Sunday, October 28th, when Italy's black soul will gather together to celebrate the 90th anniversary of the Fascist's March on Rome. It happens every year, and a natural sense of anti-Fascist indignation seems to have been replaced with a more convenient sense of resignation. They will march and pray, blessed by a Fascist priest, the famous Father Tam, ideologically close to Fascists everywhere, and who made a name for himself after having exhibited a Roman salute during a skinhead protest march held in Milan. Predappio is his home turf, although he travels across Italy to hold memorials for dead Republicans, giving masses that have become ritual appointments for an increasingly young and angry black horde.
These yearly meetings around their sanctuary – Benito Mussolini's tomb – became a pilgrim destination tolerated not only by the inhabitants of Predappio, but also by the local government, which has not raised so much as a voice worthy of notice in protest, not so much as a whisper aimed at preventing these marches. Maybe it's because Mussolini tourism puts cash in the coffers. The two hotels in Predappio are completely booked. "If you wanted a room, you should have called us a month ago," say the owners of facilities in Predappio. "This year the rooms filled up quickly, because the anniversary seems to be gaining importance."
Ninety years later, the March on Rome is scheduled to be memorialized Sunday morning in Piazza Sant'Antonio, the main square. Participants will then march to San Cassano cemetery, where Father Tam will recite a holy rosary. As with every year, there will be no shortage of Roman salutes (even if Italy's equivalent of the Supreme Court recently condemned it).
The buzz has been growing on social networks for months now. The main Facebook group ("90th anniversary of the March on Rome") has just over 100 members. In addition to the event, there will also be a special luncheon with Father Tam. "But the seats are all taken," according to the event organizers. "The restaurant is sold out, and has been for some time. There is going to be a lot of us this year."
Comrades are coming from all over Italy. In some cases people have organized tour buses (seats can be reserved via Facebook). The program notes: "On Saturday the 27th we'll depart from Littoria by bus, then spend the day at Predappio to visit Mussolini's family residence, where the museum boasts one of the world's richest collection of Fascist memorabilia. Then we will visit Benito's tomb, commemorating an Italian who paid for his love of Italy with his life."
Another bus will depart from Ivrea (in the northern region of Piemonte). The organizer, Pierluigi, is a frequent visitor of Mussolini's sanctuary. "I've been organizing this trip for 12 years now. Two younger guys who are members of the Force give me a hand." And expectations are high, "because this is a 90-year anniversary. I expect more than 6,000 people will participate." The city of Varese, in the northern region of Lombardy, is hosting a 'nostalgic dinner', organized by national-conservative party La Destra. ANPI (the National association of the Italian Partisans), will be taking the streets to protest the dinner: "The promoters of the initiative scheduled for October 28th," stated the local ANPI President Angelo Chiesa in a press release, "have confirmed once again, if ever there was a need, their truly reactionary and revisionist orientation. Today we cannot call for repetition of the dramatic experiences that took place during the 1920s. How much attention are the authorities paying to political initiatives that, like this one, create problems for public order?"
The organizers of the "March on Predappio" include Gianni Musetti, the national secretary of Gioventù italiana, the youth movement for La Destra. "Those who choose not to participate are not our comrades," he wrote on his Facebook page. The mayor of Predappio, Giorgio Frassineti, a member of the social-democratic party), has given up.
"I'm against these marches. We stood against them in the past, too, but I'm not the one making the decisions," he stated. According to the mayor, the police are responsible for banning these kinds of events, during which the laws governing the defense of Fascism are publicly flaunted. "It's not my decision to make," he said.
Emanuele Fiano, deputy for the social-democratic party who has spent his career combating neo-fascist (and anti-Semitic) movements, is protesting the event as well. On various occasions he has solicited Italy's Ministry of the Interior to intervene. He repeated his request for this year's event. "Unfortunately we're witnessing, here in Italy, a progressive tolerance for the use of words, signs and symbols that glorify the criminal fascist regime responsible for all the horrors we witnessed during Italy's fascist period," he said.
Before You Go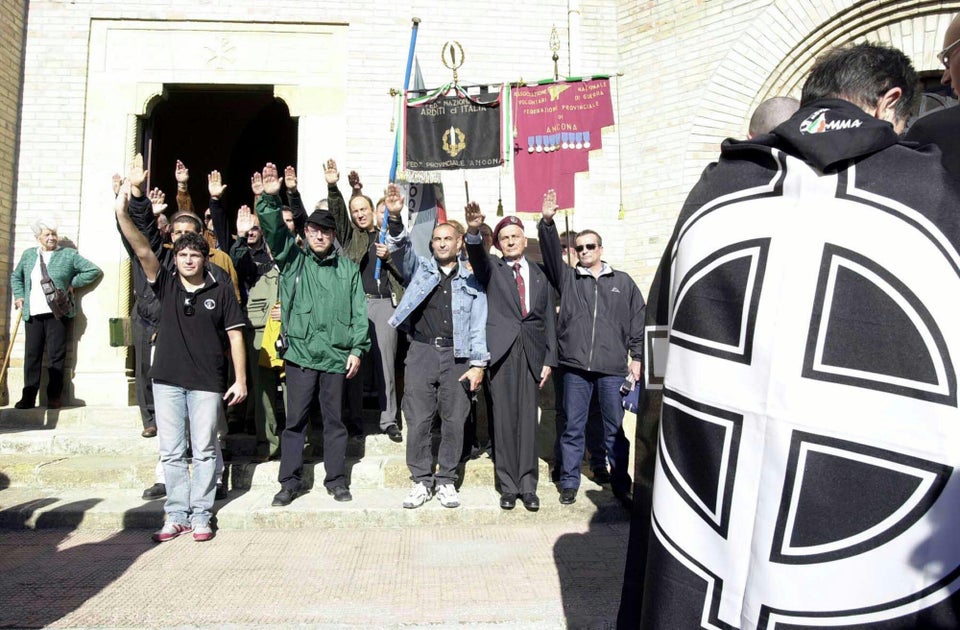 Neo-Fascists In Predappio
Popular in the Community