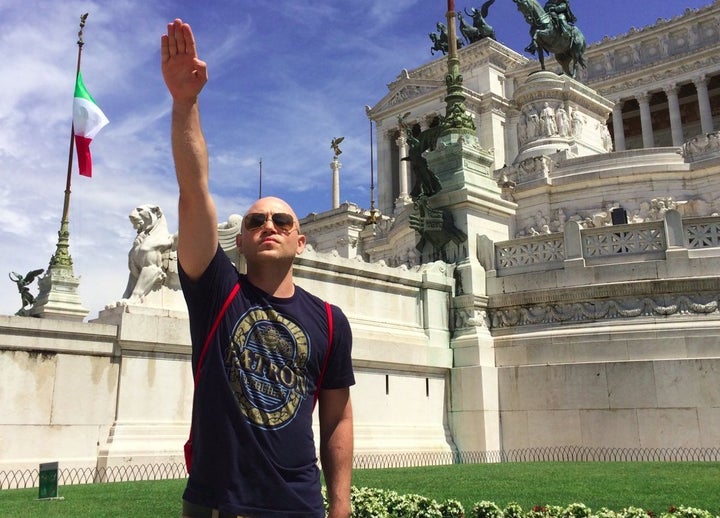 A Montana federal judge on Wednesday ruled that a Jewish woman's lawsuit against Andrew Anglin, the publisher of the neo-Nazi Daily Stormer website, cannot be dismissed on First Amendment grounds, dealing a major blow to Anglin, who had hoped to use a free speech defense to shield himself from liability for an anti-Semitic harassment campaign he orchestrated.
Tanya Gersh, a real estate agent in Whitefish, Montana, sued Anglin in April 2017 claiming invasion of privacy, intentional infliction of "emotional distress" and violation of a Montana anti-intimidation law. The lawsuit accuses Anglin of using his website, which is a key radicalization hub for the white supremacist movement, to target Gersh, who had become involved in a real estate dispute with Sherry Spencer, the mother of white nationalist Richard Spencer.
Gersh and her family, including her 12-year-old son, received more than 700 threatening and harassing communications from Anglin's readers, whom he has dubbed his Stormer Troll Army.
"Day of the rope soon for your entire family," said one.
"Six million are only the beginning," said another.
The trolls played Gersh recordings of gunshots when she answered her phone. Anglin posted images of her and her son superimposed over the gates of Auschwitz and threatened to hold an armed neo-Nazi march through the small ski town where Gersh lives. When Gersh sued Anglin a few months later with the help of the Southern Poverty Law Center, he went on the run. According to his attorney, Marc Randazza, Anglin is now based in a secret overseas location.
Randazza, who represents numerous other far-right extremists and often resorts to their trollish tactics in the courtroom, filed a motion a year ago to dismiss the Gersh case on the grounds that everything Anglin had published on his site ― such as contact information for Gersh and her family, along with instructions on how to harass her and content with which to harass her ― was protected speech. Randazza contended that Anglin could not be held liable for the speech of others, even it was unprotected.
In May, however, a magistrate judge found that Anglin's "troll storm" deserved no First Amendment protection and recommended that the motion to dismiss be denied. On Wednesday, Chief Judge Dana L. Christensen of the U.S. District Court for the District of Montana agreed with the magistrate judge and denied the motion.
In his order, Christensen shot down Anglin's argument that Gersh is a limited public figure and that Gersh had "injected herself" into a matter of public concern by arguing with Sherry Spencer over the sale of a building in Whitefish owned by Spencer.
Christensen found that Anglin's speech "involved a matter of strictly private concern" and that Anglin's argument that it was of public concern may have been intended to mask an attack over a private matter and insulate the neo-Nazi from liability for exploiting his readers' prejudices to target Gersh. Publishing information about an alleged real estate dispute that Gersh did not initiate and giving her contact information did nothing to inform the public about a matter of public concern and was instead based on Anglin's "personal hostilities," according to the judge.
"The harm alleged by Gersh is precisely the type of harm not only anticipated but requested by Anglin in his Daily Stormer posts."
"Anglin launched a campaign of unrelated personal attacks on a Whitefish realtor, her husband, and their son because of a perceived conflict between Gersh and the mother of Anglin's friend, another white supremacist," Christensen wrote. "Although Anglin drew heavily on his readers' hatred and fear of ethnic Jews, rousing their political sympathies, there is more than a colorable claim that he did so strictly to further his campaign to harass Gersh."
For the same reason, Christensen also found that Anglin could be held liable for authorizing and directing his readers' threatening and harassing messages to Gersh, who at one point was so terrified that she considered fleeing Whitefish with her family. Anglin knew what his readers were doing. In a series of posts over several weeks, he urged them to keep it up.
"[T]he harm alleged by Gersh is precisely the type of harm not only anticipated but requested by Anglin in his Daily Stormer posts," Christensen wrote.
HuffPost has reached out to Anglin and Randazza for comment and will update this article if they respond.
A serial harasser and slanderer, Anglin routinely advocates violence against Jews, minorities, women, journalists and other groups. He has bragged on The Daily Stormer about his influence on Dylann Roof, who killed nine black people in a Charleston, South Carolina, church in 2015. He has called for "an end to what is known as the United States of America."
For Anglin and the entirety of the far-right, which has for years relied on its ability to use the internet and social media to form harassment mobs and terrorize their perceived enemies, the Gersh case is a pivotal lawsuit that could determine whether the extremists can continue to use the First Amendment as cover for their malevolent actions.
"Today's ruling underscores what both we and our client have said from the beginning of this case ― that online campaigns of hate, threats, and intimidation have no place in a civil society, and enjoy no protection under our Constitution," said David Dinielli, deputy legal director for the Southern Poverty Law Center.
Popular in the Community