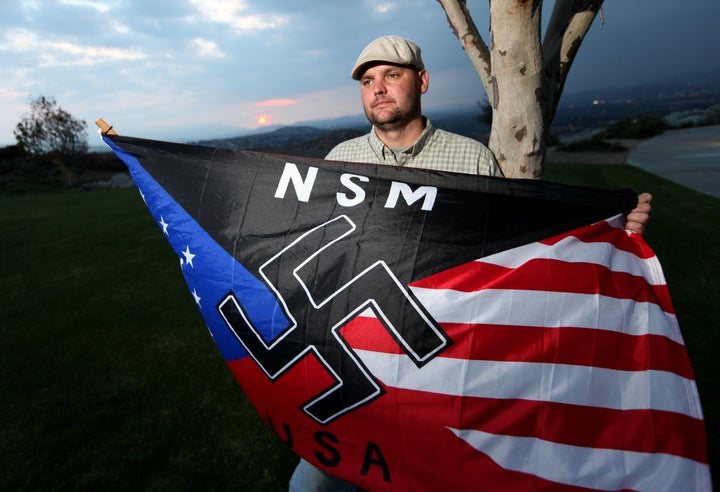 Authorities in Southern California are investigating the slaying of a well-known white supremacist leader who was shot and killed yesterday morning -- possibly by his own son.
Jeff Hall, 32, was found dead inside his Riverside home in the 5400 block of Lauder Court at about 4 a.m. Sunday. Hall died of a single gunshot wound from a "known assailant," the Riverside County Sheriff-Coroner said in a press release.
According to the Riverside Police Department, authorities have detained Hall's 10-year-old son. Contacted by The Huffington Post, a watch commander stopped short of calling the boy a suspect but did say investigators are not looking for any additional persons of interest.
"[His] juvenile son has been detained for further investigation," Lt. Bruce Loftus said. "He is the only one being detained."
Loftus, citing the ongoing investigation, declined to comment further.
Hall has been cited by multiple sources as a neo-Nazi and regional director of the National Socialist Movement. The organization's website describes the group as the "largest National Socialist Party operating in the United States of America today." They claim their core beliefs include "defending the rights of white people everywhere" and the "promotion of white separation."
Hall held a monthly meeting for the organization inside his home on Saturday afternoon. Roughly a dozen members of the group, along with a reporter from The New York Times, were present for the meeting. Hall reportedly discussed several items, including an upcoming "patrol" that was planned for the Mexican border in Arizona.
"This is a very active area right now," Hall told those present, the Times reported. "You guys get your Glocks cocked and get ready to rock. We're going to the border. That's how we do it."
On Sunday, the NSM posted a brief message about Hall's death, saying the father of five was dedicated to the organization and spent "countless volunteer hours ... leading Patrols in efforts to halt illegal immigration. ... Thank you for all the memories Brother. We miss you."
Some of Hall's Lauder Court neighbors, who claim to have been intimidated by Hall and the NSM, have had a different reaction to news of his death -- speaking as if an era of fearfulness had ended.
"Honestly, I feel like it's over," neighbor Juan Trejo told the Riverside Press-Enterprise. "It was scary here. Hopefully we'll never see any of them again."
Calling all HuffPost superfans!
Sign up for membership to become a founding member and help shape HuffPost's next chapter